*articles contain affiliate links*
Fanny packs are typically associated with music festivals of the 90s, but they are growing in popularity again due to good reason. Fanny packs can be extremely functional as well as stylish. As you may know, a nurse may need to carry around a lot of medical tools. Having a nurse fanny pack can prevent those digging of the pocket moments that we have all been through. It helps you feel more organized and prepared and also helps give your patients peace of mind that they are well taken care of. While most medical settings have a nurse's station where you have all your necessities, it is helpful to have all your supplies on hand. To help you determine if a nurse fanny pack is right for you, we break down everything you need to know about them. We also take a look and review some of the top products on the market to help you choose the best one for you.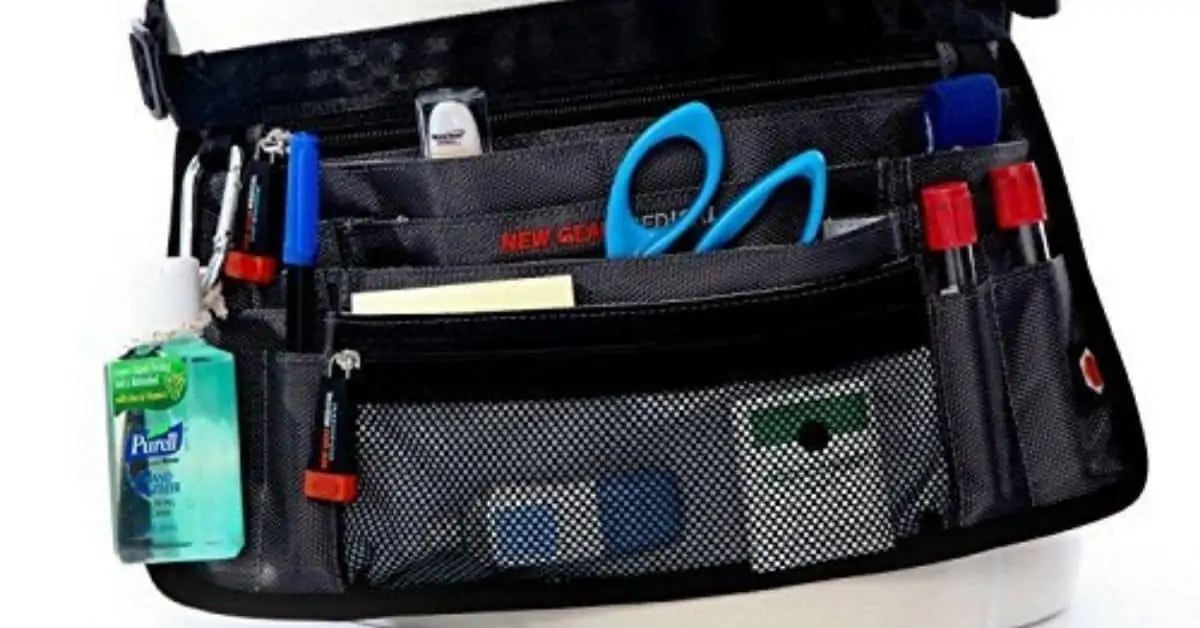 What are Nurse Fanny Packs?
A nurse fanny pack is similar to a normal everyday fanny pack but has notable differences. A fanny pack is a small pouch or bag that is typically worn around the hips. The fanny pack became popular during the '90s when athletic wear crossed with streetwear. The fanny packs of the '90s were usually of small size and came in neon or bright colors. They eventually grew out of style and became dubbed as the uncool bag that you wear on your waist. More recently, there has been a resurgence in the popularity of these fanny packs with the rise of athleisure. Some people choose to wear it across the body instead of on the hips. For nurses, they are a functional item that can hold a wide variety of tools including scissors, penlights, flushes, alcohol swabs, calculators, stethoscopes, and much more in the functional pockets. Most nurses carry these tools around in their pockets or grab them from the station when they need them. This belt bag eliminates that extra step, and the pockets also help to keep everything organized and available. Nurse fanny packs typically have a durable design that is water-resistant to protect from any contaminants. They also typically have plenty of pockets for added storage. While the product is mostly functional, it can also be a stylish choice that helps nurses do their job better and more easily.
Why You Need a Nurse Fanny Pack
You may be wondering why you need one if most scrubs come with pockets already. If you are a nurse you probably have left something in a patient's room and had to go back and get it. Especially at the beginning of your nursing days, it may be helpful to have this additional organization tool. It not only helps you look more professional but allows you to do your job more efficiently. As nurses, we constantly run around to different patients' rooms already, so having a fanny pack can help you save trips to the nurse's station or back to a forgotten item. The pack helps you carry less in your hands, which lets you have both hands free for the patient.
Especially since now that fanny packs are back in style, they may be something that you want to try out. The bag can not only save you precious time but helps you provide better care to your patients. It keeps your supplies organized during your shift and keeps them available at all times. Nursing shifts are already busy and hectic enough so a pack like this can keep you from making extra trips for tools that you can easily carry around.
What to Look For in a Nursing Fanny Pack
Storage Compartments- The number of storage compartments is important since it helps you stay organized. While a traditional fanny pack may be able to fit all the necessary tools you need, you want to be able to access your supplies easily and quickly. Ideally, you want 1 or 2 larger pockets and a number of smaller pockets that allow you to keep your supplies separated.
Convenience- This refers to how easily you can access your necessities. Some medical fanny packs may come with pen pockets, mesh pockets, and clips or buckles that work well with storing nursing supplies.
Material- While for a typical fanny pack, the material may not be as important, a medical fanny pack requires a water-resistant, waterproof material, or durable design. This is due to the fact that hospital settings are prone to spills or contaminants like bodily fluids. The last thing you need is for contaminants to seep through your pack to all your supplies. You also want to look for one that can withstand the busy lifestyle of a nurse. Ideally, a nurse fanny pack should be easy to clean, and safe from accidents.
Straps- The strap on a nursing pack is important because comfortability is crucial during a long nursing shift. An adjustable strap can fit your exact waist size, making sure it isn't a hindrance to your work. The buckles are also important since they can become uncomfortable after a while. Ideally, you want to look for a padded strap or a thin fabric one that you can barely feel.
Style- While functionality and comfortability are the most important factors, there is no reason to sacrifice style when choosing a pack. Feeling good about yourself can help you care for the patient. Your fanny pack should fit your ideal style and can be a great way to add personality. Especially for those that work with kids, a small pin on the strap can bring a smile to anyone's face.
Added Features- Many products have added features that can add to the convenience and portability of the pack. While some may not want all the bells and whistles or the more comprehensive fanny packs, there may be some added features that you value. Some of these added features include a zipper pocket, stethoscope holder, cross – body strap, liters of storage, pockets for lip balms, pump strap, removable tape strap, and more.
7 Top Picks for Nurse Fanny Packs
Check Price
This KangaPak Nursing Tool Belt Fanny Pack is compact in size but has compartments to store all your nurse supplies. The pack features a microfiber material that feels comfortable all throughout your shift. The bag has 9 pockets with a mesh fabric so you are able to see everything inside. The bag itself has a slim design that won't get in the way while you work. The elastic belt makes for a comfortable adjustable waist strap. This bag also comes with additional features such as a tape strap to help you access your supplies when you need them.
Pros:
– slim design
– 9 mesh pockets for easy access
– comfortable adjustable waist strap
Cons:
– strap can loosen over time
– mostly horizontal pockets
Check Price
This is another stylish, yet functional nurse fanny pack that features a durable canvas material that is water-resistant. There are plenty of pockets for all your supplies, as well as a zippered pocket for other items. The waist comes with a removable waist strap and can be worn as a crossbody, shoulder bag, or as a neutral hip pack with its pocket clip. An additional feature of this bag is its front ID window for quick access and personalization. This is a versatile pack that can make your shift much easier.
Pros:
– comes in variety of colors
– removable straps add versatility
– functional pockets
Cons:
– a bit on the heavy size
– smaller size
Check Price
This 4-in-1 pack gets the job done and features a high-quality water-resistant nylon material. The nurse fanny pack is slim and compact, perfect for a busy nursing shift. The fanny pack comes with removable straps that allow you to wear the bag in different ways. It also comes with a removable tape strap that is great for extra rolls of medical tape. The pack also comes with plenty of pockets and even has pen pockets for easier access. This is an all-in-one pack that comes in a compact size.
Pros:
– Large capacity for its size
– 4 different ways to wear
– durable material
Cons:
– belt may not be long enough for some
– belt loop is small
Check Price
This Medinava pack is a nursing belt pack that organizes all your supplies in one place. The bag is made from a high-quality nylon material that is waterproof and features heavy-duty velcro closures for easy access. The medical help belt is lightweight, durable, and portable. It features 6 smaller pockets as well as a larger zippered pocket. The belt comes with a heavy-duty waist strap that stays in place and also has an easy, quick-release buckle. This product keeps nurses in mind with its optimum storage organization for ultimate convenience.
Pros:
– lightweight material
– waterproof
– ample storage space
Cons:
– strap is not a detachable waist strap
– does not come with removable tape strap
Check Price
This Medical Gear Hip Bag has antimicrobial properties that are perfect for hospital settings. This pack is lightweight but has ample storage for all your necessities. The bag features smaller pen pockets and compartments, and larger mesh pockets for larger supplies. The adjustable waist strap is thin so you won't feel the weight over the long shift. This is a larger storage belt with extra storage for those with more supplies.
Pros:
– antimicrobial properties
– extensive storage space
– washable material
Cons:
– strap is not detachable
– no exterior zipper pockets
Check Price
This AsaTechmed Medical Belt Kit comes with necessary nursing supplies. The bag features extensive storage space with front pockets and rear pockets. The utility kit comes with an adjustable belt to fit your size. This pack is stocked with all the basics and also features a durable yet lightweight material. The bag has antimicrobial properties and is easily washable. This is an all-in-one kit that is extremely versatile. You can wear it as a crossbody, or on the waist.
Pros:
– ample storage space
– comes in a fun purple, pink or other colors
– antimicrobial properties
Cons:
– some may not want a full kit
– little expandable space
Check Price
The Endeavor Medical Organizer comes with ample storage space for all your nursing supplies. The bag is lightweight and durable for those hectic nursing shifts. The multipurpose pockets come in different sizes for all types of supplies. It also comes with a detachable tape strap for added functionality. It comes in a dark blue color that works with most hospital settings. This is a great option that has everything you need at an affordable price.
Pros:
– multipurpose pockets
– adjustable waist and tape strap
– high-quality construction
Cons:
– fabric is a bit firm
– straps are not detachable
Final Thoughts on Nurse Fanny Packs
A nurse fanny pack may be a tool that you never thought you needed. Speaking from experience this handy pack can save you countless trips to and from the nursing station. With all the different options on the market, you are sure to find the one for you. With your nursing fanny pack, you are on your way to focusing less about forgotten supplies and on the patient instead.
More Nursing Resources
As you continue to care for patients as a nurse, here are some more resources that will help keep your organized and on track:
Download Nurse Bingo Today!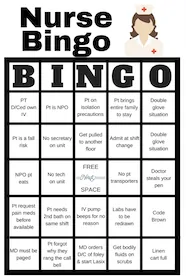 Liven up any shift with a fun game of bingo. See who can fill a row first!
Fill a whole card and lose grip with reality.
Your privacy is protected. We will never spam you.