*articles contain affiliate links*
Stethoscopes are one of the most essential tools nurses use on the job. You carry it everywhere to listen to your patient's heart and lung sounds or do manual blood pressure. Since you spend so much time with this handy tool, why not make it cute, too? Stethoscope manufacturers know that nurses like their equipment to be functional and match their style, so stethoscopes now come in various colors, patterns, and styles. If pink is your favorite color, check out these cute, functional, perfectly pink stethoscopes!
Our Picks for Pink Stethoscopes
We've outlined some of the best pink stethoscopes in this comparison table to make it easier to find the one that is right for you. You can click "Read More" on any of them in the table to jump to the section in this article outlining more information about it. Or, you can click the "Buy from Amazon.com" or the "Buy Now" button to pick it up immediately.
Check Price

The Littmann classic is the go-to stethoscopes for nurses and nursing students alike. It perfectly marries function and performance with affordability and comes in a vast range of colors.
They make three different shades of pink stethoscopes – rose pink, raspberry, bubblegum pink, and pearl pink, as well as variations on the type of metal you can pair it with. Check out this one in raspberry with a rainbow metal finish!

Check Price
If you work with children, you know how difficult it can be to listen to their heart and lung sounds. They are scared, the stethoscope is cold, and they cry or squirm for you. This pediatric stethoscope by the American Diagnostic Corporation (ADC) is perfect for distracting little kids. These light pink stethoscopes have interchangeable animal heads to attract the attention of little ones, helping you keep them still and occupied while you get your assessments done.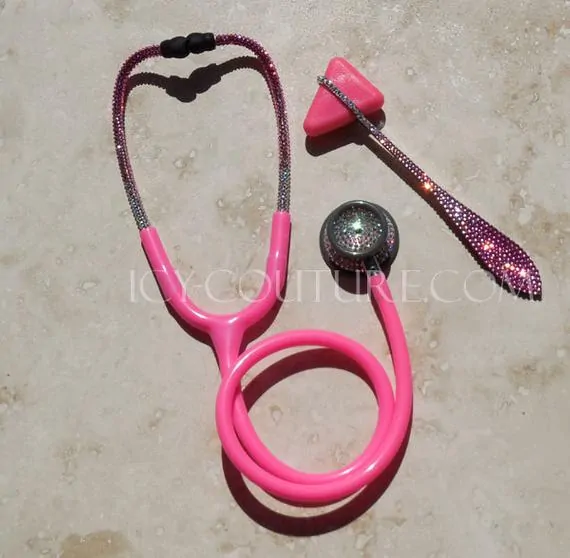 Check Price
If bling is your thing, then you will love this ultimate stethoscope! It is a regular Littman Cardiology stethoscope embellished with hundreds of Swarovski crystals. While the price tag is not cheap, you are getting a spectacular stethoscope that is also excellent quality. For more affordable options, check out these sparkly stethoscopes.

Check Price
This stethoscope is so unique you'll have all your coworkers in envy! With its black and pink camo pattern, you will listen to lungs sounds in style!

6 – ADC Electronic Digital Stethoscope
Check Price

This stethoscope is a perfect marriage of function, technology, and style at the higher end of the price spectrum. This digital stethoscope amplifies sound up to 18x, allowing you to hear faint breath sounds or listen through clothing. You can effortlessly adjust the volume on the sleek LCD display. Plus, it comes in this gorgeous metallic raspberry color!

Check Price
Another classic by Littman, this stethoscope, is popular with people who work with different populations – adults and children. With its dual-sided bell, you don't have to carry two different stethoscopes with you; merely flip the bell from adult size to pediatric size quickly and easily. It comes in two shades of pink – rose pink and raspberry – to ensure you are listening in style!

8 – Hopkins Frosted Dual Head Stethoscope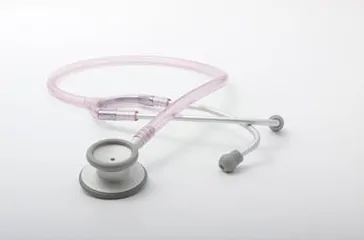 Check Price
These affordable pink stethoscopes are a budget-friendly alternative, selling for around $20. While the acoustics may not be as good as other models, it more than makes up for it in style and price! The tubing on this model is clear, with a light pink frost, making this stethoscope very unique and stylish.

Check Price

Another affordable option is this stethoscope by Prestige that has a resin head, helping you hear more clearly in loud environments. There are many color options, including this hot pink number, and a few options for heads, including a pink ribbon breast cancer awareness option.
More Great Stethoscopes for Nurses
Looking for something different? Perhaps you want something a little more high-tech, like a bluetooth stethoscope? Check out our comprehensive nurse stethoscope buying guide, outlining the best stethoscopes for nurses in every price range.