*articles contain affiliate links*
Highly-educated nurses are increasingly depended on for primary care due to physician shortages. And, when it comes to the medical field, the number of programs nurses can take to further their education is countless.
But, with so many programs out there, how is one to choose the path that's right for them? Looking at factors such as work experience, passions, available time for studying, and financial goals is a good first step. Check out this infographic below, which compares two nursing programs: nurse practitioner and doctor of nursing practice.
Are you certified for either? Let us know your experiences in the comments below!

Infographic Source: Maryville University Master of Science in Nursing Online
Key Takeaways:
-You must possess your BSN to obtain your NP, but an MSN to get your DNP
-Average salary for nurse practitioners is $90,583, while the average for doctor of nursing practice is $98,826
-Approximate time to get a nurse practitioners license is 28 months, while it takes about 18 months to get a doctor of nursing practice
-The American Association of Colleges of Nursing has recommended that the DNP replace the MSN as the minimum education requirement for APRN's by 2015
Download Nurse Bingo Today!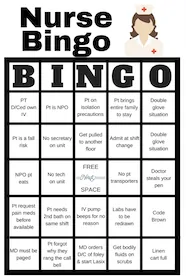 Liven up any shift with a fun game of bingo. See who can fill a row first!
Fill a whole card and lose grip with reality.
Your privacy is protected. We will never spam you.