*articles contain affiliate links*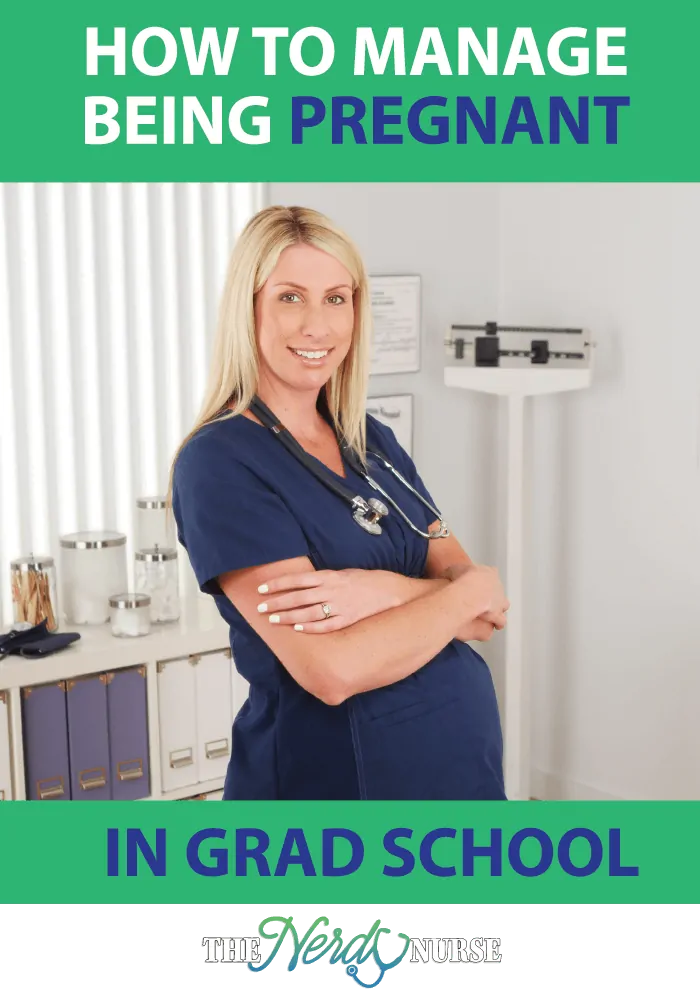 Congratulations on your pregnancy. For most it's a time of celebration and joy, but also a challenge at any academic level in nursing school- often leaving a package gift of joy and stress. I also participated in the unconventional scenario of being pregnant in grad school, formulated so my due date would be timed after graduation.
How to Manage Being Pregnant in Grad School
Whether your pregnancy was planned or by surprise, these step by step strategies will help bring balance to your academic endeavors. With strategic planning, it is attainable to finish nursing school successfully during your pregnancy. Implementing these effective but often over-looked easy steps into your life will have a tremendous effect on your success in college. You can use all or a few of these strategies that fit your lifestyle.
Be Proactive & Intentional with Appointments
There is nothing more frightening than feeling overwhelmed by the uncommon combination of pregnancy and the pursuit of college goals. There is also nothing more powerful than believing you have control of your future outcomes and achievements. Therefore, it is essential to be proactive and intentional with appointments during your pregnancy. Because pregnancy requires routine checkups, pre-scheduled appointments that do not interfere with your school schedule are a must. If possible, try to schedule your appointments on opposite days of your school schedule. Pregnancy appointment visits and times will vary depending on your health, risk factors and how your pregnancy progresses.
If feasible, try to schedule most doctor's appointments in advance throughout the semester. To do this, explain to your health care provider that you are balancing college studies along with your pregnancy. Some health care providers may or may not allow you to pre-schedule appointments in advance, but you have nothing to lose by asking.
When scheduling appointments, schedule the earliest time on days when you don't have school. Current studies show that Wednesdays are best to schedule doctors' appointments, followed by Thursdays. If possible, avoid scheduling appointments on Mondays, Tuesdays and Fridays, as these are the busiest days and wait times will be longer.
The most popular requested appointment times are 10 am and 2pm. Therefore, to get in and out within a reasonable amount of time, choose the opposite of popular demand. This means scheduling your appointments on Wednesdays or Thursdays before 10am or after 2pm.
If an earlier time slot becomes available, let the receptionist know you will take the earlier time. If someone cancels their appointment in advance, the receptionist will call you and give you that appointment time.
Schedule Your Priorities
Calendars not only help us be clear and succinct about our priorities, but it decreases any disorder, chaos, and unnecessary stress that may seep into our lives. By using a calendar to schedule important priorities, you will less likely be swayed off course. Wall calendars are by far the best organizational tools to use for planning and scheduling your priorities, goals, and deadlines. Invest in a wall calendar and write all scheduled appointments, exam dates, to-do lists, and deadlines. It's important to keep this calendar within view so you can quickly refer to it daily as a reminder of upcoming events. Don't make assumptions that you will remember these important dates, because during your pregnancy forgetfulness will take over unwelcome space in your brain. Also, be sure to schedule the enjoyable simple pleasures in life that make you smile and relax your mind. Whatever your favorite ritual is, be sure to include it and make it a priority. Put a check-mark next to each task that was completed; that check-mark will not only give you a sense of accomplishment, but will provide needed motivation during challenging times. In addition to your wall calendar, purchase a portable calendar to write any changes made to your school schedule or appointment times. Make it a habit to update the other calendars immediately when you get home. If you prefer, you can use your phone calendar and can set alarm reminders one or two days prior to important dates. Today, all cell phones include a basic calendar with reminder alarms that can be easily accessible. Knowing important events and deadlines beforehand will not only ensure success in college, but will be a daily reminder of what you are aiming for.
Develop and Execute a Plan of Study
Regardless of where you are in the academic curriculum, it's crucial that you develop a plan of study with your academic advisor and instructors as soon as you find out about your pregnancy. Communicating clearly and honestly with your academic advisor and instructors will help you formulate realistic academic goals, anticipate potential obstacles, and plan strategies in advance. That said, it doesn't hurt to formulate a backup plan and strategies for any potential obstacles that you may encounter. From personal experience in undergraduate and graduate programs, all academic nursing school instructors and advisors were supportive. I have seen many instructors adjust exam times, project due dates, and even allowed students to listen to class lectures by speakerphone because they could not be in class due to a medical reason. Each instructor and class requirements vary, so be familiar with your school policies. Most academic instructors are willing to help a student get through a nursing program if the student puts forth effort into studying and maintains clear line of communication. With perseverance, clarity, and a diligent focus on your academic goals will give you necessary energy to overcome challenges.
Take your priorities seriously
Prioritizing simplifies your life by emphasizing important things that bring balance, harmony, and meaning into your life. Obliviously, pursuing personal growth through nursing school academics is probably a significant priority for you, along with your health and family. However, each person is unique and what may be a top priority for one person may not be important to another person. Only you can decide what your top priorities are in your life. The first step in prioritizing is to create a kitchen-sink list of everything that is important to you. Once your brainstorming list is complete, edit your list by deciding what items on the list are most paramount in your life. By meticulous editing, you eliminate items on the list that do not make the cut. During this editing process, it will become clearly obvious what is important to you. After your list is completed, write your list on a sticky note and place it where you can see it every day. The purpose of viewing your priorities each day is to assist you in making daily life decisions. Each time you are faced with deciding on a potential commitment obligation, ask yourself if the commitment will enhance and assist with your life priorities. Respond with a polite no if the time commitment does not align with your priorities.
Learn the art of time management
Time management is key to balancing college obligations, work, and family during your pregnancy. Learning the art of time management will allow you to focus on your priorities to get things done. Think of time as an absolute precious resource in your life and ruthlessly guard it. People, ceaseless things, and unnecessary obligations, can easily distract us and devour our precious time. This leaves us with a Pandora's box of stress, frustration, and guilt because of our wasted, irretrievable time spent on minuscule things. Here are some ways to manage your time while in college.
When commuting to and from school or work, be savvy by investing in educational nursing NCLEX reviews that you can listen to during your driving time. Focus on topics that you are currently learning in school. These audio lectures are used to enhance- rather than substitute your lectures given by your instructors.
Make your own flash cards and carry it with you so you can periodically refer to them while waiting in lines or doctors' appointments.
During your scheduled study time, put your phone on airplane mode or do not answer your phone (unless you must in certain situations).
Join or form a study group with your classmates. Although the current online college trend today is moving away from the idea of study groups, I would argue adamantly for the opposite. Participating in a study group will expand your access to information and increase retention of material through repetition. Research has shown that students learn information and concepts better when participating in a study group than when studying alone.
Surviving nursing school during pregnancy requires large quantities of planning, and may at times feel like a seemingly impossible task, but through clear defined goals a successful outcome is within reach. Managing your schedule, time, priorities, and goals is truly the highest form of taking care of yourself and completely within your control. Most importantly, you will be spending your time in ways that benefit you and everyone around you.
About the Author
Joan Peperone RN, BSN is critical care nurse that has has been nursing for 19 years. She is currently pursuing a graduate degree as a nurse practitioner and wants to teach part time.
This post contains affiliate links
For more information on being pregnant in grad school check out:
Best Graduate Schools 2017 Trying to pick the best grad school can seem like a daunting task. Don't go into it blindly, research the best grad schools in one easy to use place.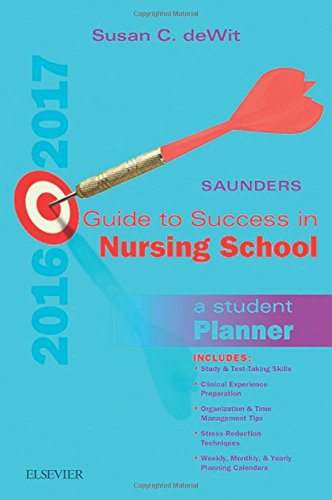 Saunders Guide to Success in Nursing School: A Student Planner Get your nursing school schedule under control with this Student Planner made just for nursing students.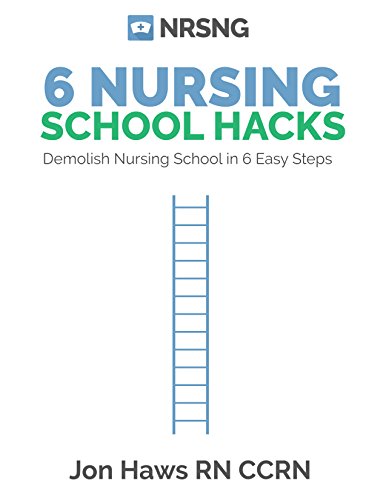 Demolish Nursing School in 6 Easy to Implement Steps Show nursing school who is in charge. Nursing.com gives great tips and hacks for how to not just survive nursing school, but demolish it!
Save
Save
Download Nurse Bingo Today!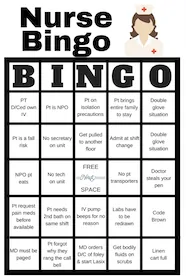 Liven up any shift with a fun game of bingo. See who can fill a row first!
Fill a whole card and lose grip with reality.
Your privacy is protected. We will never spam you.