*articles contain affiliate links*
Are Designer Scrubs Really Worth It?
I get it! You want to look your best the entire shift. You have your nurse makeup looking flawless and your nurse hairstyle is always on point. But are those designer scrubs with the big price tag really worth it?
The lack of many functional and fashionable scrubs is a common complaint among medical professionals. That's because there is nothing appealing about the boxy and baggy scrubs. Not only are they ill-fitting, but most scrubs that are available today are boring. Think about it. When you wear something that's uncomfortable for over 10 hours a day, you won't feel good about yourself. Obviously, it doesn't mean that the scrubs need to fit snugly, but you want your scrubs to be appealing and comfy so you can go about your job with great confidence. And it doesn't just come down to comfort; when you're wearing scrubs that are a terrible fit and super baggy, it makes for a unprofessional look as well.
Thankfully, help is at hand, in the form of designer scrubs.
So are these scrubs any good? Worth the extra cash? Let's take a look and find out…
Designer scrubs means work wear you'll love to wear.
Specially developed scrubs offer comfort and style, but buying scrubs has always been an inexpensive affair for many nurses, who don't think the designer scrubs are good enough to justify the costly price tag that they carry.
However, the range of designer scrubs available is getting bigger than ever, and nurses and medical staff are finally realizing that their pros far outweigh their cons. That's mainly because designer scrubs are a departure from bog standard scrubs when it comes to sizing, style and comfort.
Sizing
Regular scrubs typically come in large, medium, and small sizes. But generally, sizing is off. For instance, some of the small size scrubs in the market are so baggy and boxy, they literally fall off you.
Then take plus size scrubs. Many nurses find that they are either too baggy they look sloppy or the fit is just horrible, tight in spots, too loose in others.
That goes to show that there's a lot of room for scrubs to improve in terms of sizing. This is precisely where the designer scrubs come in.
Designer scrubs are the kind that fit properly and give the right amount of shape and figure. But what makes them much more alluring and fashionable to wear is that you can just go out with your family and friends at the end of a shift and not feel crazy about your outfit.
Comfort and style
Made with advanced performance-driven and lightweight fabric, designer scrub sets take your sense of styling to the next level. Some scrubs are very special in that they are made from high quality materials (with the best of the best featuring durable fabric with moisture-wicking, antimicrobial and wrinkle resistant properties) and include fit that is totally comfortable. What's more, these scrub sets come in many different colors and contemporary styles, such as button down tops, v-neck tops and jogger pants, giving you more options.
There you go. From trendy, fashion-forward styles and designs to comfortable active wear, designer scrubs have something to offer for medical professional of all tastes.
Grey's Anatomy, Koi, IguanaMed and Baby Phat are a few brands that have quickly become a fashion staple for the medical community. As fashion-forward brands, they bring a lot of innovation to the table and make a wide range of colors and styles in a comfortable and durable material.
We combed through their line of scrubs and picked out some of the best designer scrubs you can find in the market. Here you go.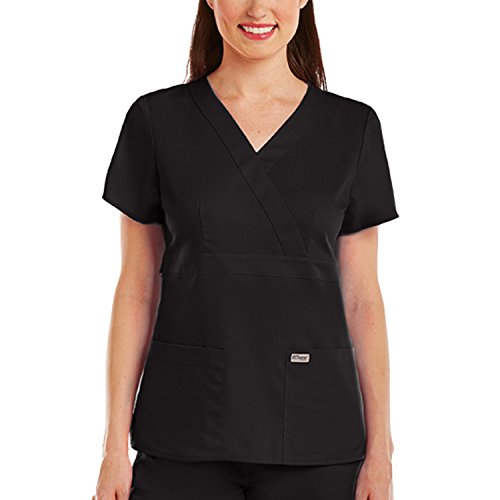 This stylish V-neck scrub top from Grey's Anatomy features a super-soft material with 77% polyester, 23% Rayon; well finished panels and slits on the side; two patch pockets in front; and a handy little pocket on the chest. Available in a wide range of colors and sizes to suit every nurse out there.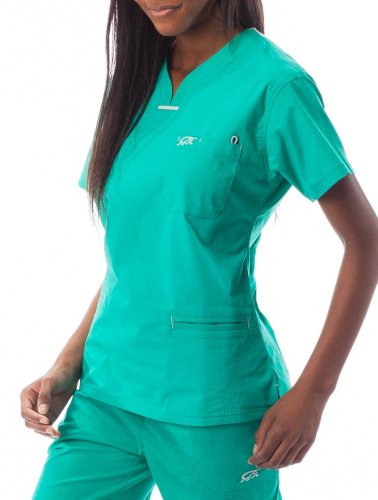 All scrubs from Iguanamed are special but the Medflex II Scrub Top deserves singling out. Super comfy and styled with accents, this top has a unique blend of Polyester, Cotton and Spandex material; a couple of deep pockets in front with inside pockets; and a well placed chest pocket. These scrub tops come in a wide range of colors and sizes. Check out my post on these best scrubs and save on your order.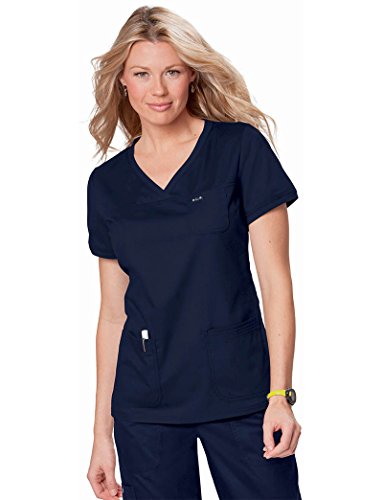 Koi makes some of the softest and most stylish scrub sets in a wide array of colors. This pullover style scrub top from Koi is made from a superior cotton-polyester blend and has two patch pockets and a small pocket on the chest. This soft top, unlike ordinary scrubs with scratchy edges, features neck trim at ribs and sleeves to keep you comfortable.
Do you purchase designer scrubs? Do you think they are worth it?
For more information on scrubs, check out these:
Download Nurse Bingo Today!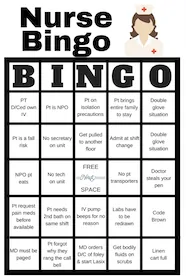 Liven up any shift with a fun game of bingo. See who can fill a row first!
Fill a whole card and lose grip with reality.
Your privacy is protected. We will never spam you.