*articles contain affiliate links*
Nursing, caring, serving. It is what we do. Our hearts are in our jobs. But sometimes, it just feels so good to laugh about all the crap (literally) we deal with! If you want some inspirational nurse quotes, moring quotes to get you going, or nurses week quotes to remind you how amazing you are, I have those too. This post is all about the light-hearted side of life. I bet you relate to ALL of these funny quotes about nurses!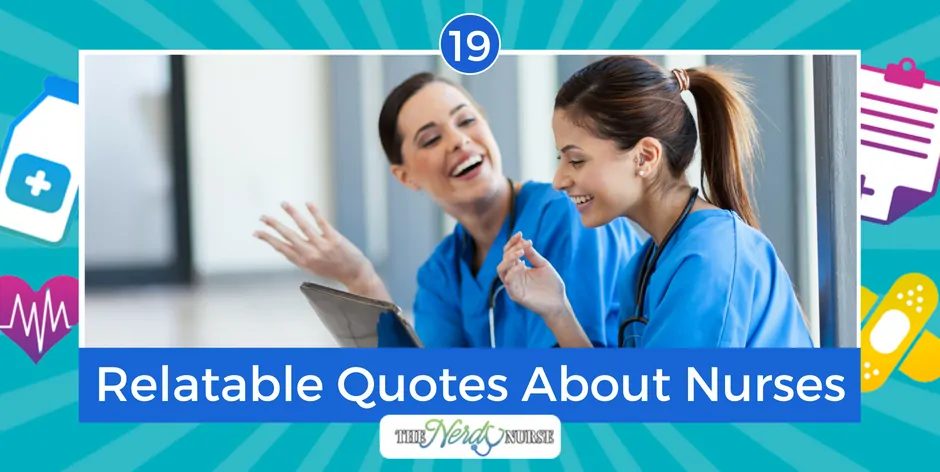 19 Hilariously Relatable Quotes about Nurses
1.) That Best Friend Pam
Every nurse has a best friend Pam:
Lorazepam
Diazepam
Clonazepam
-Anonymous
2.) How Nurses Eat
I like keeping my metabolism on its toes. Like what's it going to be today – starvation or 6,000 calories? – Anonymous
3.) Empathy In My Shoes
If you walk a mile in a nurses shoes, you'll walk a whole lot farther than a mile, and your back will kill you at the end. – Anonymous
4.) Rarely Short on Caring
Bound by paperwork, short on hands, sleep, and energy…nurses are rarely short on caring. – Sharon Hudacek
5.) Going Above & Beyond
The definition of a nurse: To go above and beyond the call of duty. The first to work and the last to leave. The heart and soul of caring. who will pass through your life for a minute and impact it for an eternity. An empowered individual whom you may meet for only a 12-hour period, but who will put you and yours above theirs. -Anonymous
6.) We Make the Conflict Bearable
The doctors may be mapping out the war games, but it is the nurses who make the conflict bearable.
—Jodi Picoult
7.) Fear, A Thing of Newness
A new nurse gets scared when a doctor yells. An old nurse yells back. – Anonymous
8.) The Power of A Kind Word
Too often we underestimate the power of a touch, a smile, a kind word, a listening ear, an honest compliment, or the smallest act of caring, all of which have the potential to turn a life around.-Leo Buscaglia
9.) A Nurse is A Nurse
Whether a person is a male or female, a nurse is a nurse." – Gary Veale, RN
10.) Document That Crazy
You can't fix crazy, all you can do is document it. – Anonymous
11.) The hospitality of the Hospital
Nurses are the hospitality of the hospital. – Anonymous
12.) Marathon Nurse
Why yes I do marathons. It's called 12.5+ hour nurse shift run 3 times a week. – Anonymous
13.) The Best Patch Adams Quote
You treat a disease, you win, you lose. You treat a person, I'll guarantee you'll win. – Patch Adams
14.) What Day Is It?
People who ask me what I'm doing tomorrow probably assume I even know what day of the week it is. – Anonymous
Womens Night Shift Is Awesome NURSE What Day Is It T-shirt Medium Heather Blue

15.) Compassion in Scrubs
A nurse is compassion in scrubs. – Lexie Sage
16.) Going Off Shift
The nurse that can smile when things go wrong…is probably going off duty. – Anonymous
17.) Making a Difference
We often think of nursing as giving meds on time, checking an X-ray to see if the doctor needs to be called, or taking an admission at 2:00 a.m. with a smile on our faces. Too often, we forget all the other things that make our job what it truly is — caring and having a desire to make a difference."
— Erin Pettengill, RN
18.) Every shift
I silently mouth WTF at least 20 times each shift. – Anonymous
19.) It's Our Passion
It's a beautiful thing when a career and a passion come together. – Unknown
Which of these 19 quotes was your favorite? All of them are either super funny or at the least very relatable. Share them with a nurse that you know, and brighten their day.
See also:
Nurse Cute Enough to Stop Your Heart Wooden Box 4

Funny Nurse Gift – 10 oz Red Stainless Steel Stemless Wine Glass with Lid -Nurses Need Wine Too

I'm Trying To Be Awesome Today Funny Coffee Mug 11 oz – Birthday Gift For Men & Women, Him or Her – Best Cup & Father's Day Present Idea For Dad, Mom, Husband, Wife, Boyfriend, Girlfriend, Coworkers

Mens Trust Me I'm (Almost) a Nurse! Nursing Student T-Shirt 3XL Pink

Download Nurse Bingo Today!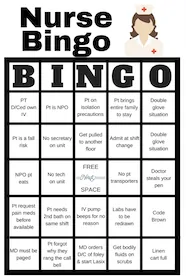 Liven up any shift with a fun game of bingo. See who can fill a row first!
Fill a whole card and lose grip with reality.
Your privacy is protected. We will never spam you.