*articles contain affiliate links*
They say laughter is the best medicine. From nurse jokes, and funny nurse memes, to nursing school memes, and nurse cartoons, I try and share things to make you laugh. I found 7 funny nurse videos that I just had to share with you! I hope you enjoy them as much as I do. Share these with your friends. Funny videos are better when you share and laugh together.
Funny Nurse Videos
Please note: Some of these videos include some dirty words and themes a little more risky than we typically post. Please proceed with caution.
Things I Never Thought I'd Say As A Nurse
My favorite line? "I really prefer vomit to poop." She's really funny, and what she says is so relatable. She has so many poop jokes! Really, when you are surrounded by it, you gotta make jokes about it.
Dancing At the Operating Table
These nurses all sure do know how to let loose and have fun! If you don't know what's coming, it's even funnier! Send this to an OR Nurse for a good laugh.
Nurse Nurse Help Me
This girl actually does a really good job rapping her cover of Ice Ice Baby. I think my favorite line is: "needle in ya arm / no I won't mishandle / startin' IVs / nobody holds a candle."
ER RN – Uptown Funk Parody
Uptown Funk is one of my favorite songs to dance to – so I'm glad I found a funny parody of it! This is such a light-hearted song about a very serious and stressful job. "ER / RN/ We about to save ya, honey, / break it down!"
Know a nurse that works ER? Send this video to them!
The next video is a really funny bit about what people say to nurses. A Lot.
Things People Say To Nurses
Nurses – I bet you can guess what the patient in this video tells the nurse when she asks her "what is your pain on a scale of 1-10?" Watch this! It's the best!
Things Nurses Say – Meme Edition
FabulousRN put together a montage of memes and scenes from TV/movies that are all way too relatable for nurses. I can't decide if "that's not how it works" or "I need a holiday" is my favorite.
25 Truths All Nurses Know
I saved my favorite one for last! These are real nurses and their honesty is just all too real. Like how we worry about a patient that hasn't peed in 8 hours but we haven't peed in 12. And how we have to remind people we are not their personal servants. And my favorite? Is how surprising it is how many different forms of body fluids you can get on you in one day.
There you have it! These are just a few funny nurse videos on the internet. I know there are a ton more! If you find some, let me know on Facebook or Twitter. I'd love to see them!
Nurse Coloring Book: Sweary Midnight Edition – A Totally Relatable Swear Word Adult Coloring Book Filled with Nurse Problems (Coloring Book Gift Ideas) (Volume 2)

Nurse's Diagnosis- A Nurse Coloring Book Of Snarky, Sweary Nurse Humor (Adult Coloring Books) (Volume 14)

Educated Drug Dealer Nurse Life T Shirt

Rogue River Funny Coffee Mug Wolds Okayest Nurse Novelty Cup Great Gift Idea For Office Gag White Elephant Gift Humor (Nurse)

Download Nurse Bingo Today!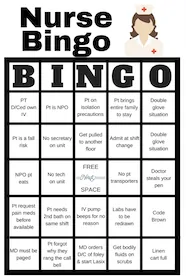 Liven up any shift with a fun game of bingo. See who can fill a row first!
Fill a whole card and lose grip with reality.
Your privacy is protected. We will never spam you.