*articles contain affiliate links*
Did you learn a nursing mnemonic in nursing school that saved your sanity? There's so much information as a nurse that crowds our brains. These little memory helpers make storing that information just a little bit easier.
Nursing Mnemonics
Complications of Birth Control Pills – ACHES
A – Abdominal Pain
C – Chest Pain
H – Headaches
E – Eye Problems
S – Severe Leg Pain
Birth control brings its own sets of issues. Just remember ACHES to know the complications from this medication.
Severe Preeclampsia – HELLP Syndrom
H – Hemolysis
E – Elevated
L – Liver enzymes
L – Low
P – Platelet Count
Preeclampsia alone is dangerous, but the HELLP Syndrom is life-threatening. Like preeclampsia, it usually occurs during the late stages of pregnancy or even after childbirth.
The HYPERKALEMIA "Machine" – Causes of Increased Serum K+
M – Medications – ACE inhibitors, NSAIDS
A – Acidosis – Metabolic and respiratory
C – Cellular destruction – Burns, traumatic injury
H – Hypoaldosteronism, hemolysis
I – Intake – Excessive
N – Nephrons, renal failure
E – Excretion – Impaired
Hypernatremia- "You are fried!"
F – Fever (low grade), flushed skin
R – Restless (irritable)
I – Increased fluid retention and increased bp
E – Edema (peripheral and pitting)
D – Decreased urinary output, dry mouth
EKG Lead Placement
White on the right, Smoke (black) over fire (red)
Nurses have created their own variations of this mnemonic. This is just one of the most popular ones. If you've created your own or heard a different variation, share it here.
Nursing Diagnosis: "A Nice Delicious PIE"
A – Assessment
ND – Nursing diagnosis
P – Plan
I – Interventions
E – Evaluation
Epiglottitis – AIR RAID
A – Airway Inflammation
I – Increased Pulse
R – Restlessness
R – Retractions
A – Anxiety Increased
I – Inspiratory Stridor
D – Drooling
Epiglottitis is the inflammation of the epiglottis or the flap at the base of your tongue. It's what keeps food from getting into your airway. Use this mnemonic to remember what to look for to see if it is inflamed.
Health History Assessment – SAMPLE
S – Symptoms
A – Allergy
M – Medications
P – Past Medical History
L – Last Oral Intake
E – Events leading up to the illness or injury
This is a fantastic nurse mnemonic for nurses that check patients in first thing. It will help you remember to ask everything so the doctor can diagnose properly.
Treatment for Myocardial Infarction – MOAN
M – Morphine
O – Oxygen
A – Aspirin
N – Nitrates
Parkinson's Disease Symptoms – TRAP
T – Tremor
R – Rigidity
A – Akinesia / Ataxia
P – Postural Instability
I don't know why, but every time I use this mnemonic, I think of Star Wars. This one helps me remember all the symptoms for a possible diagnosis.
Warning Signs of Cancer – CAUTION
C – Change in bowel or bladder habits
A – A sore throat that does not heal
U – Unusual bleeding or discharge
T – Thickening or lump in the breast or elsewhere
I – Indigestion or dysphagia
O – Obvious change in wart or mole
N – Nagging cough or hoarseness
Sign Vs. Symptom – I & HYM
I in Sign – A sign is something I can see, even if the patient is asleep
Hym in Symptom – A symptom is something subjective, only the patient can describe
The difference between a sign and a symptom is this: a sign is an objective. Anyone can observe it. A symptom is subjective, only the patient can experience it and describe it.
Postpartum Assessment – BUBBLE
B – Breasts
U – Uterus
B – Bowels
B – Bladder
L – Lochia
E – Episiotomy / C-Section Incision
Beta Blocker Memory Helper
B1 Blocks the heart (you have only one heart)
B2 Blocks the lungs (you have two lungs)
Circulation Loss On a Limb – 5 P's
Pain
Pallor
Pulselessness
Parasthesia
Poikilothermia
Diabetes Reaction
Hot and dry: sugar high
Cold and clammy: need some candy
How you treat a diabetes reaction depends on the type of reaction. This mnemonic is such a simple way to always remember, based on the signs they are showing.
Parkinson's Medications: "Ali Loves Boxing Matches"
A – Amantadine
L – Levodopa
B – Bromocriptine
M – MAO inhibitors
Suicide Risk Factors – SAD PERSON
S – Sex / Single / Sickness
A – Age
D – Depression
P – Previous Attempt
E – EtOH
R – Reality Testing
S – Social Support
O – Organized Plan
N – Note / No Spouse
I have to admit…using the mnemonic SAD PERSON to remember all the risk factors for suicide is oddly appropriate.
Pinpoint pupils: Drugs, drops & nearly dead
Drugs: opiates
Drops: meds for glaucoma
Nearly dead: damage in the pons area of the brainstem
Dilated pupils: Fear, Fits & Fast Living
Fear: panic, extreme anxiety
Fits: seizures
Fast Living: cocaine, crack, phencyclidine (PCP)
There you have it! These are 18 of the best nurse mnemonics online. I know there are a ton more. As long as nurses have to remember stuff, like pharmacology for nurses, they will create easy ways to store that information. Please share this with your nurse friends. And let me know if there are more you want to be added to this list.
For more on Nursing Mnemonics check out:
Nursing Mnemonics – Pass The NCLEX!: Nursing Made Easy!

Mosby's Pharmacology Memory Notecards: Visual, Mnemonic, and Memory Aids for Nurses

Nursing.com Nursing Mnemonics

Nursing Mnemonics: The Ultimate Tips and Notes For Nurses

Memory Notebook of Nursing: A Collection of Images and Mnemonics to Increase Memory and Learning

Download Nurse Bingo Today!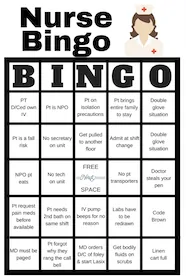 Liven up any shift with a fun game of bingo. See who can fill a row first!
Fill a whole card and lose grip with reality.
Your privacy is protected. We will never spam you.