*articles contain affiliate links*
Gearing up for the NCLEX(R) exam can be frustrating at times, but our list of resources for practice NCLEX questions and study aids may make it easier.
There's no doubt about it- the NCLEX is a pivotal exam. With a lot riding on your result- admittance, potential job opportunities, etc. – you'll want to make sure you are preparing for the NCLEX so you are ready when exam day comes. And, you have to have special test prep to ensure yourself the best chance at passing the exam.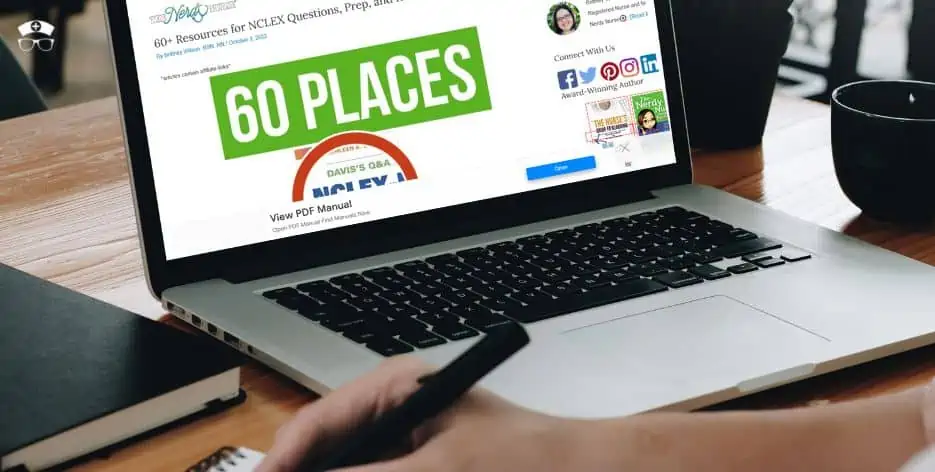 60 Best Resources for Nclex Questions, Prep, Review Practice
We know that giving you the confidence that you can do well is one important in knowing how to pass the NCLEX. This is why we've put together this comprehensive list of resources to help you better prepare for the NCLEX-RN. Because knowledge is power.
This blog post will provide resources for free NCLEX questions, paid tools and programs, and other nursing school study tools. Be sure to comment and let us know what program you liked best. We especially want to know if it's not on our list, so we can include it!
NCLEX Questions, Cheatsheets, Courses, and More at NRSNG
Let's just start by taking a look at some of the offerings of my favorite NCLEX and nursing school study resources: Nursing.com. We feel its the best NCLEX review because they offer a vast assortment of study tools including free cheat sheets, podcasts, books, software and apps, and courses. One of my favorite resources for NCLEX questions is the Nursing Practice Questions. If you're struggling with Cardiac, Endocrine / Metabolic, Ethical / Legal, Fundamentals, GI / GU, Hematologic / Immunology, Integumentary, Labs, Mental, Health, Musculoskeletal, Neuro, OB / Peds, Oncology, Pharmacology, Prioritization / Delegation, or Respiratory, this NCLEX question bank is one of the best resources available.
NRSNG Courses include:
Handheld Study Tools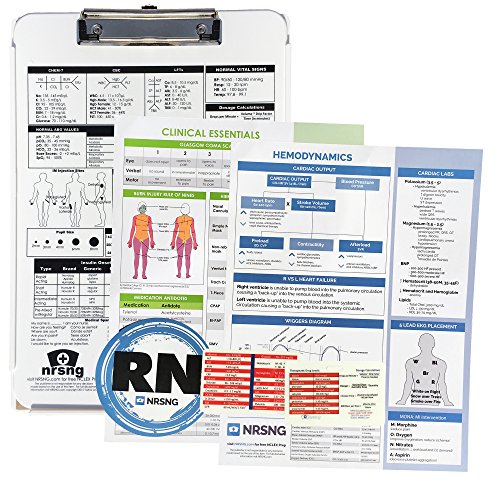 I also really appreciate that they offer a few physical products like Scrubs Cheats pocket cards, study clipboard, and a nursing student tool box.
NCLEX-RN Review Guides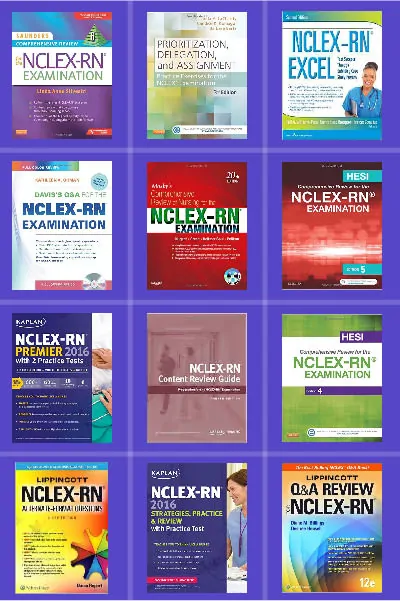 Your NCLEX test is fast approaching and you're poring over long, dog-eared textbooks? Figure out what's important and what you should be spending your time on with these NCLEX-RN study guides.
With the Saunders, you'll be prepared to answer every question you come across on the exam, right from fill-in-the-blank, to audio and video questions.
If you're looking for a bestselling guide, don't look further than the Lippincott guide. This Q&A review is a dependable resource that consists of high-quality NCLEX practice questions, detailed rationales and answers, and test prep strategies.
Although this review material is no substitute for reading assigned textbooks, as an adjunct, it can stimulate critical thinking and deepen your understanding of all the major content areas.
Replete with over hundreds of practice questions, this review guide from Kaplan will surely help you nail every portion of the NCLEX, and it even comes with the acclaimed Decision Tree.
HESI's Comprehensive Review is an updated version that contains complete test information, explanatory rationales, and hundreds of real practice questions. The hint boxes deserve special mention because they highlight key concepts and content commonly tested on the exam.
Designed to help you think like a nurse, the second edition has been thoroughly updated to incorporate the latest test plan.
A lot of review guides often do not use real NCLEX exam questions, but this one has nothing but up-to-date content that aligns with the latest test plan. Practicing with this guide is a safe way to get ready for exam day.
This unique NCLEX review book boasts of highly organized content tagged down to three important areas of study- Prioritization, Delegation, and Assignment. Grab a copy if you'd like to take a structured approach to your NCLEX prep.
Understanding the rationale behind questions is mighty important to acing the challenge. This review guide stands out in that it offers a lot of challenging questions along with clear rationales and handy test-taking tips.
From thought-provoking questions that mimic real life nurse situations to detailed case studies, this book has everything you need to pass the exam on the first try.
If you require more practice with the new alternate format questions, this Lippincott guide should be your go-to resource. Think you're well prepared? Put yourself to the test and see where you stand.
As the name indicates, the latest edition is designed to help students fully prepare themselves to be able to answer every type of question they come across.
A user-friendly online NCLEX-RN preparation platform featuring review courses with relevant and comprehensive nursing content and a high-yielding practice question bank, all according to the latest NCLEX test plans and based on the NCLEX-RN blueprint.
NCLEX-RN Study Guides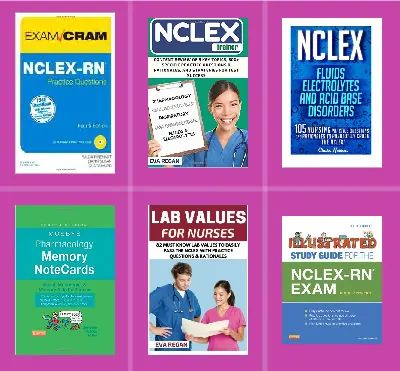 For those times when you're finding the review guide a little repetitive, just consider these study guides.
Ideal for visual learners, this study guide is full of illustrations, mnemonics and other study aids to help you remember what you study. Pick it up if you appreciate a different approach to crossing the NCLEX hurdle.
Are any of these content areas your weak points? This study guide gives you over hundreds of practice questions and rationales to help you strengthen your understanding of the key concepts. The complimentary eBook is a nice add-on.
This book contains a series of chapters, each chapter consisting practice tests based on the latest format of the NCLEX exam. You'll also find additional exercises designed to help improve critical thinking skills.
It is a good review book containing over hundreds of the most frequently tested content areas that are required for cracking the NCLEX code.
A reprieve from run-of-the-mill review guides, this brings order to your test prep in a quick and easy to review format.
For the NCLEX, you'll need to learn by cardiac lab values and learn a few ways to spot deviations from prescribed ranges. If you think the list of lab values you learned back in school is not sufficient anymore, here is a great resource to help you.
NCLEX-RN Test Plans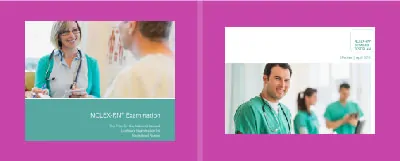 Knowing the NCLEX-RN test plan is your key to success. That said, it is mighty important to understand the test plan. The more you know and learn about the latest test plan, the more confident and better prepared you'll be when it's time to take the exam. These details of the test plan directly from NCSBN are a must-read.
The NCLEX test plan straight from the source. Although there are hardly any changes in the new test plan, go through the document thoroughly and figure the latest test plan yourself. This lets you know what to expect on the NCLEX and is one of the best free resources available.
This booklet is a long and detailed version of the 2016 test plan. Prepared to serve a variety of purposes, this comprehensive document offers a thorough listing of the content categories and subcategories outlined in the test plan.
Confused about the differences from the old test plan? Not sure what has changed? A quick peek into this page will bring you up to speed. Also available are a few tips on how to prepare yourself for the test.
NCLEX-RN Apps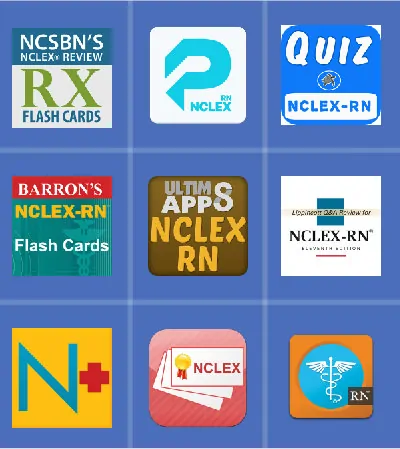 Let's face it, not all apps for the NCLEX-RN are created the same. Some apps can be really terrible. Full of bugs, incorrect answers, in-app promotions, and pricey upgrades, one look and you start wondering, "This is not worth it. Why did I even download?" Other apps, however, due to similarity to the test are quite useful.
Here is a list of the best NCLEX-RN apps to help you prepare yourself for the test.
True to its name, this app makes the best use of flashcards in an attempt to make your NCLEX preparation fun and exciting. Get access to over 2000 flashcards across different categories of content. Available on iTunes and Android.
In the app, you'll find a thorough review designed to offer all the facts and key concepts you need to do well on the tests, as well as a few practice tests based on the actual NCLEX exam. Available on iTunes and Android.
This is easily the most reliable app to review content and quiz yourself whenever you want. Offered by NCSBN Learning Extension, this app also lets you view and organize flash cards the easy way. Available on iTunes and Android.
As the name goes, this app has all the latest information you need to prepare yourself thoroughly. Designed to simulate the real NCLEX test, it lets you filter content and create customized practice tests for the best review experience. Available on iTunes and Android.
One of the most installed NCLEX RN apps, this one has a flashcard system that makes it easy to arm yourself with the commonly administered medications. What's more, you can have a crack at a few practice questions on the go. Available on iTunes and Android.
Take your test prep further by learning key concepts, practicing sample questions, taking NCLEX style tests, reviewing flash cards, etc. With this app, mastering the 2016 NCLEX doesn't have to be a chore. Available on iTunes and Android.
Don't let the simplicity of this app fool you. Crammed with nearly eight hundred practice questions and bite-sized rationales, this app helps bolster your chances of achieving a high score. Available on iTunes and Android.
Choose from any of the 3 modes available and challenge yourself with hundreds of practice questions. How this app uses a lot of visual aids and mnemonics to help you review content is remarkable. Available on iTunes and Android.
NCLEX Online Practice Exam
Tagged as the ultimate test bank for NCLEX on the Play Store, this app is a valuable tool to help test your knowledge and practice the content requirements to boost your confidence. Available on iTunes and Android.
How'd you like a free test-taking app for NCLEX? With over 2000 questions to test and sharpen your knowledge, you cannot be better prepared. Available on iTunes and Android.
Nursing Mnemonics
Using fun pictures and sayings is a great memory trick to learn key concepts for the NCLEX.
Picmonic is designed to help you master key concepts and values in nursing and is useful from your first day in nursing school, for the NCLEX, and beyond. Key topics include:
Pharmacology
Med Surg
Anatomy
Physiology
Fundamentals
Obstetrics
Psychiatric
Pediatric
NCLEX-RN Online Programs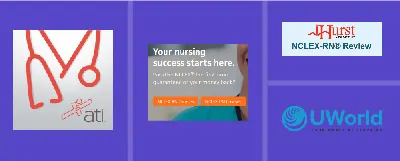 Prepare for your NCLEX test with these online programs. Several of the NCLEX programs listed below offer detailed study guides along with practice questions to help you get ready for the big test wherever you are.
Hands down, Nursing.com is our favorite NCLEX prep program. This program is great to use throughout nursing school and has a 200% money-back guarantee on passing the NCLEX. It's owned and operated by a passion nurse dedicated to helping nursing students have the best experiences possible. I wish I had this program when I was in school.
A NCLEX prep program that utilizes artificial intelligence to help you identify your weaknesses and focus on those key study areas.
In the interest of making you pass NCLEX on the first try, ATI offers a personalized online program with a personal coach. With one-on-one sessions, individualized reviews, and content assessment with practice questions, this program is designed to help those looking for a systematic way to go about their test prep.
As one of the key players in the market, Hurst combines the two necessities of passing the NCLEX: Strategy and Content review. Find out what's on offer.
Kaplan has formulated a unique prep program that provides you everything you need to pass the exam and guides you along the way. Featuring NCLEX level questions and detailed rationales with correct answer options, this is one of the most up-to-date programs available to you.
UWorld is soaring in popularity for its NCLEX prep and review materials. It has put together a comprehensive question bank that includes nearly 2000 practice questions and detailed rationales for correct and incorrect options. Find out more information about the UWORLD NCLEX Review program.
Board Vitals offers 3300 NCLEX RN board review questions with detailed explanations to help you prepare for your nursing certification exam. They have put together the best questions, answers, and explanations from not just the best nurses, but also the best nursing educators. The emphasis for the NCLEX RN question bank is difficult questions.
Discount Alert!
With BoardVitals, you can buy one get one free with promo code NERDYBOGO. So if you buy one month, get one free. Or you can buy 3 months get 3 free!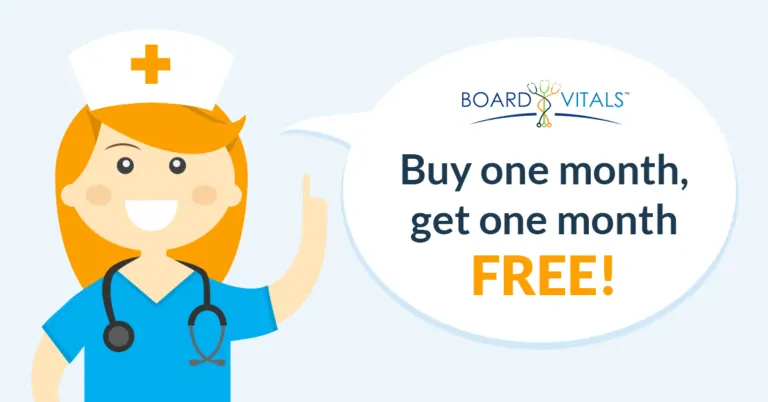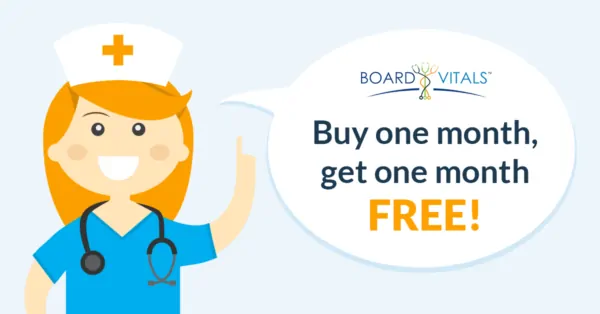 Brilliant Nurse offers NCLEX RN and PN review programs. They have one-click daily reading and practice assignments as well as thousands of NCLEX questions and rationales. You can get 20% off using promo code nerdy20.
FREE NCLEX Questions Programs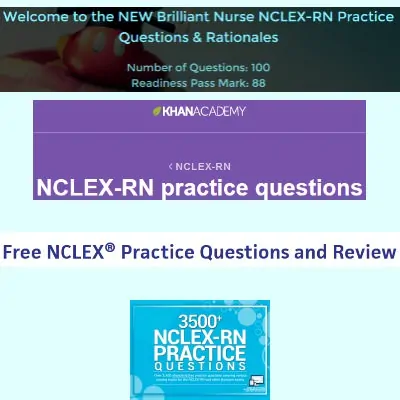 With this list's iterations that you'll need to do more practice tests, you may wonder, "Where can I find free NCLEX online programs offering more exercises and practice questions?"
Well, here are a few free resources to count on.
Check out this Kaplan test prep resource and give yourself the best chance to succeed. You can participate in a sample online class, take free practice tests, attend strategy seminars, and much more.
Here is your one-stop source for hundreds of free NCLEX practice questions. The collection runs the gamut from Pharmacology to Anti-infective Drugs and Topical Agents.
This collection at Khan Academy features a huge number of free practice questions on a wide array of topics. Take a few practice tests today to see if you are ready.
A well-curated list of free NCLEX practice questions that are looking for some extra ways to test their readiness. You can get 20% off using promo code nerdy20.
More NCLEX Question Resources
This program offers 4500+ test questions for the NCLEX-RN.
NCLEX-RN Strategies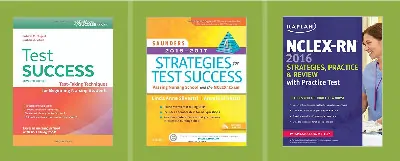 Standardized tests like the NCLEX exam may be a bit frustrating, yet necessary rite of passage into the nursing profession. If you want to be successful, mastering the test strategies is the way to go.
This book claims that key to acing the NCLEX test is strategy and backs it up by providing a laser-sharp focus on test taking strategies. It features special resources that help you structure your prep and develop a systematic approach to answering analytical and application level questions. This is my personal favorite NCLEX strategy guide and I would recommend it even over content heavy books and programs. Once you know how to analyze NCLEX questions, half the battle is won. See my detailed review of it here: Best NCLEX Guide: Saunders Strategies for Test Success: Passing Nursing School and the NCLEX Exam.
Packed with key strategies and vital information about the NCLEX, this resource goes over the content areas of the exam and gives you practical, time-tested strategies to use on test day.
This book lets you in on what you need to concentrate on. This is just the thing for those who have quite a lot of things to review in a short period.
NCLEX-RN Flashcards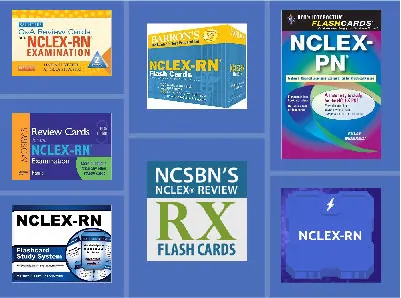 Late night dates with a 300-page textbook and a never-ending supply of coffee are a familiar encounter for many nurses. If you're serious about cracking the exam, you put yourself at a serious disadvantage by not working with flashcards.
With more than hundreds of flashcards to access, this site offers you a quick refresher of most of the fundamental concepts. It's a nice thing to be able to choose what you want to review from descriptions, examples, and drug categories.
A quick and easy reference to some of the fundamental principles of the NCLEX test, this blog has a ton of flash cards for you to solidify your knowledge of key concepts that otherwise seem difficult to master.
Developed by experienced academic instructors, these flashcards help you consolidate fundamental concepts of all key categories outlined in the test plan.
The Barron's flashcards contain key information on several content areas. There are hundreds of practice questions and rationales available on portable cards, as well.
With just one look, and it's clear that the Saunders team has taken the time to condense a massive amount of review material into these high-quality study cards that cover all test categories found on the NCLEX.
Unlike most NCLEX flashcards that come loose in a pack, these flashcards are bound in a compact, well-organized book which makes reviewing a breeze.
Perfect for use as a quick refresher before taking the NCLEX test, this consists of more than hundreds of flash cards showing the most commonly tested areas of the test.
NCLEX- RN Webinars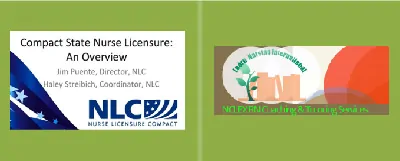 Preparing yourself thoroughly is the best way to quell your pre-test jitters. Participate in the NCLEX webinars listed below and get an opportunity to interact and ask questions. Check out the prerecorded webinar sessions if you're not able to take part in live sessions.
Let me state the obvious. It can't get more authentic than this. From webinars that include interactive practice tests and demonstrations to webinars that go over test content specifications, this is where you find them all.
NCLEX-RN Notes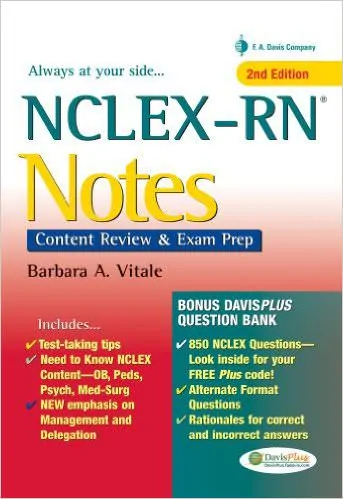 The more prepared you are for taking tests, the higher your performance on the ultimate test. The bunch of notes below will really help you get to grips with different content areas of the test.
Are you looking to learn and review on the go? Use these NCLEX-RN notes to brush up on content areas in which you need more practice, and improve your odds of passing the test.
This dropbox document is easily one of the most shared resources find online. Go through the document to see for yourself. Be sure to thank the owner.
NCLEX- RN Cram Sheets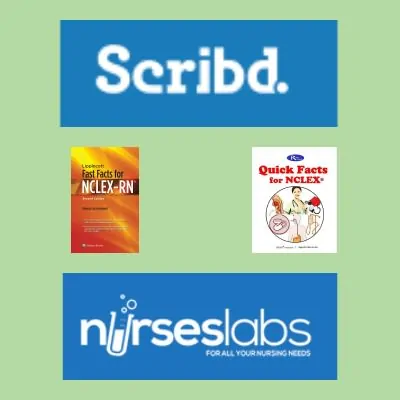 To avoid worrying about covering all key content areas, and to help you commit some key points to memory, use the cram sheets listed below.
So you like your notes and review guides in a condensed form? You may want to use this tear card to help you memorize key concepts and facts. It has a wealth of information.
Here is a great collection of cram sheets that give you quick facts to remember and help you answer the most frequently asked questions on the NCLEX.
Looking for a great last second study aid that you can carry with you to the test location? These cram sheets should come in handy.
Lippincott Fast Facts for NCLEX-RN
Lippincott is back with yet another NCLEX resource. This time, they've assembled a handy book loaded with fast facts to facilitate your test prep. It might be worth a check.
A straightforward and concise NCLEX prep, it helps you get over the stressful feeling of having to review tons of content with a repository of no-nonsense facts.
More Posts and Resources on the NCLEX
Conclusion
There are literally hundreds, if not thousands, of NCLEX study resources. This list represents just a small collection of the best NCLEX resources available. Look around a little and you'll find tons of more practice NCLEX questions and study guides.
Study for the NCLEX and prepare to be a great nurse.
But remember one thing. The NCLEX does not define you. Your merit as a nurse and as a person go far beyond what a simple test can tell anyone. I've known nurses fail the NCLEX multiple times and still go on to become fantastic nurses. If there was a single thing that could make the difference between passing and failing the NCLEX, it's confidence. You're going to make a great nurse. The NCLEX is just one final hoop you have to jump through.
What are your favorite NCLEX question and study resources?
Get Our Best NCLEX Study Tools!
Sign Up and send our best NCLEX study resources right to your inbox!