*articles contain affiliate links*
If you're interested in pursuing a rewarding career in nursing, you'll enter a nursing school program. Check out this list of the best community colleges for nursing to find the program that's the best fit for you.
Nursing is one of the few careers that offer the opportunity every day to change the lives of patients. However, because it's such a demanding field, becoming an RN requires several years of school, followed by passing the NCLEX-RN exam.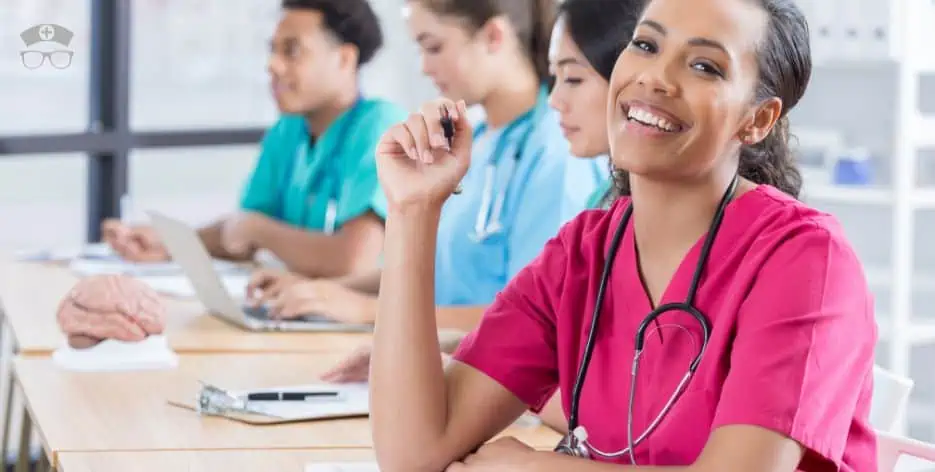 Because the schooling takes so long, many nursing students opt to get their Associate's Degree in Nursing (ADN) as a strategic first step before continuing to their BSN. Doing this is helpful for two main reasons:
Many community colleges offer an ADN program for a lower cost than nursing schools
Once you have your ADN, you can work and earn money while going to school for your BSN.
Doing a nursing program at a community college is the fastest (and most affordable) way to begin your nursing career.
And if you're a Licensed Practical Nurse (LPN), some community colleges even provide bridge programs that allow you to skip some of the classes in the ADN program.
What is an ADN program?
An Associate Degree in Nursing program is usually a 2-year degree that is the shortest academic route to prepare students for successful nursing careers. Although you can find ADN programs at some nursing schools, many community colleges offer them as well.
These programs cover topics such as anatomy, physiology, microbiology, pharmacology, and how to talk with patients. The best community colleges for nursing also offer the ability to get hands-on experience through clinical hours.
Completing an ADN program will allow you to get hired by many employers so you can earn a steady income while completing your education and certification.
Best Community Colleges For Nursing Programs
The schools on this list aren't listed in any particular order. However, to be added to the list, the program must be accredited to ensure that nursing students are adequately prepared for their nursing careers.
If you're interested in a rewarding career, check out this list of the best community colleges for nursing.
This demanding 70-credit ADN program in Arnold, MD does its job of preparing you for a promising career as an RN. Its curriculum includes classroom learning and extensive hands-on clinical experience in the program's top-notch simulation lab and other clinical sites (ex: hospitals, critical care units, surgical units, emergency rooms, etc.) around the area.
The program allows LPNs, veterans, and paramedics to save time and money by moving right into the program's second year. And if you're interested in earning more advanced degrees, this community college has agreements with many schools to offer an easy transfer of credits to work towards a BSN degree.
This 71-credit nursing program in Bethlehem, PA ensures you're prepared for your new and exciting career. It offers the ability to take general education courses either online or face-to-face to do what works best for your current situation.
This program also includes extensive hands-on components through experiential lab learning and clinical hours. Plus, it offers a path for LPNs to advance their nursing education.
Washington State Community College in Marietta, OH offers an ADN program that's held in high regard for its affordability and high-quality education. LPNs can bypass the first year of courses and enter the second year since they already have the necessary nursing knowledge that first-year nursing students acquire.
The program's curriculum offers an outstanding balance of education, science, and nursing courses while teaching students essential skills such as critical thinking, compassion, and professional competence.
WTCC's program in Raleigh, NC offers both a standard placement nursing track as well as an advanced placement track for LPN students. It has accreditation from the Southern Association of Colleges and Schools Commission on Colleges.
This program makes the list of the best community colleges for nursing because it has an impressive NCLEX-RN pass rate of 97%.
Chattahoochee Technical College's Associate of Science in Nursing program in Paulding, GA offers a 67-credit program to ensure that you have the knowledge and skills necessary to begin your career with a solid foundation. There is a path for LPNs to advance their nursing education.
Nursing students can complete general learning prerequisite classes in person or online, and the program offers in-person nursing courses. The curriculum includes critical thinking and clinical reasoning skills while improving students' communication skills to prepare them for working with patients.
Austin Community College in Austin, TX offers a strong program for nursing students that combines classroom and online classes with hands-on lab time and clinical experience.
The curriculum offers two different tracks, so you can choose the one that fits your background the best. Pick the traditional track for students with a non-nursing background or the mobility track if you have a healthcare background.
NCC's ADN program in Bloomington, MN offers students the ability to use state-of-the-art equipment and focuses on preparing nursing students to provide patient-centered care in various settings.
It's accredited by the Accreditation Commission for Education in Nursing (ACEN) and requires 75 credit hours to complete the curriculum. This rigorous program boasts an NCLEX-RN pass rate of 94%, landing it on this list of the best community colleges for nursing.
Pierce College in Puyallup, WA offers a traditional ADN program (6 quarters to complete) and an LPN to RN track option (that takes three quarters). This great program teaches students how to collaborate with all healthcare team members and evidence-based nursing practices.
If you want to pursue further education, you can seamlessly transfer your credits to the BSN programs at the University of Washington-Tacoma or Saint Martin's University.
Bluegrass Community and Technical College in Lexington, KY gives nursing students access to the methods and equipment so that new nurses are up to date on current medical knowledge and procedures. The program offers a traditional curriculum and a bridge program for already certified LPNs.
This is one of the best community colleges for nursing, boasting a 92% NCLEX-RN pass rate and ACEN accreditation.
If you're ready to take the plunge and dedicate yourself to beginning an exciting and rewarding career in nursing, consider applying to one of these programs at the best community colleges for nursing.
More Information For Nursing Students