*articles contain affiliate links*
Are you looking for aids to help you master pharmacology? Medication cards are the most effective study method for learning the information you need to know. Here are the best pharmacology flashcards to help you succeed in nursing school and beyond.
Pharmacology is the study of how drugs work in the body, how the body uses them, and the side effects that the medicine may cause. As a course in nursing school, it has the reputation of being very difficult (a.k.a., the grade point average destroyer) because there is so much to learn in a very short time.
Although the course and the material may be challenging, knowing how to study correctly and having a proven "plan of attack" are your keys to success.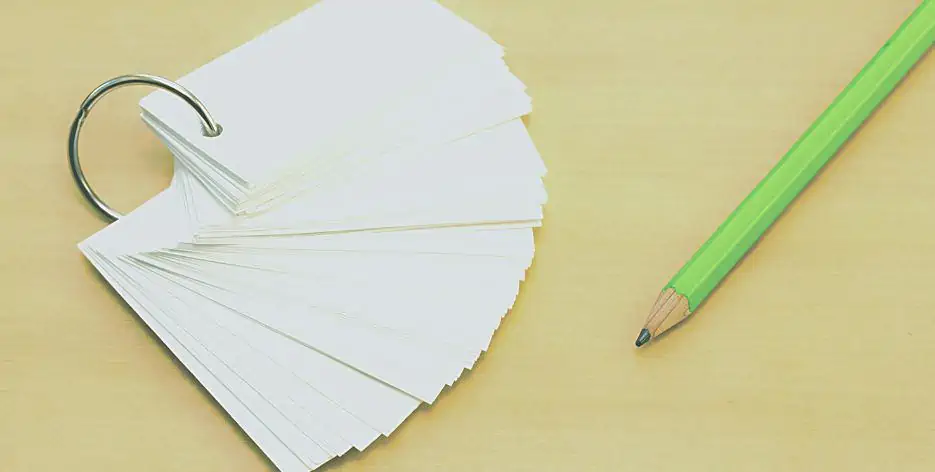 Why Nurses Need To Understand Pharmacology
Nurses deal with medications (and their effects on patients) every day. Because a nurse's job centers around patient care, a patient's safety is at the top of the priority list.
And since medications can cause adverse reactions, nurses need to have a thorough understanding of pharmacology. Knowing about drugs (their uses, interactions, etc.) and how they can affect the body through side effects helps nurses safely administer medications and recognize possible adverse reactions.
Effective Pharmacology Study Strategies
Here are a couple of helpful tips that can improve your pharmacology course experience.
Learn Drug Classes
Most drug classes consist of multiple drugs that impact the same body system and cause the same side effects. Thankfully, the medicines in the same classification have similar prefixes and suffixes. Focusing on those instead of individual drug names will make learning pharmacology faster and more effective.
A good example would be beta-blockers, a class of cardiac medications. The names of these drugs end with -olol (ex: Propranolol, Atenolol, etc.). In addition, they all have the same side effects of slow heart rate, tiredness, and cold hands or feet.
Other examples are -mycin, -cillin, -oxacin, and -pril suffixes.
Focus On Generic Names
As you familiarize yourself with drug names, you'll notice that some drugs are sold under multiple brands. Learn the generic names because that's only one name to learn
Use A Study Guide
A supplementary study guide such as Nursing Pharmacology Made Incredibly Easy can help break down the pharmacology material further and create a better understanding. Include things such as mnemonic tips, illustrations, and built-in tests to make complex material easier to remember.
Check out Pharmacology Study Guide for Nursing Students for more information.
Study Every Day
The very best tip I can give you (from experience!) is that studying the material a little bit at a time is the most effective way to learn it. Trying to cram all of this information two weeks before your exam will be stressful and yield poor results.
It will be challenging at first, but keep pressing forward, and it will get easier over time. My favorite method of studying large amounts of information is with flashcards.
Buy medication cards for nursing students and start using them immediately, so you have as much time as possible to learn the information.
What are medication cards?
Medication cards for nursing students are flashcards that contain information about each medication. With more than 20,000 FDA-approved medications on the market, learning their name, indications, contraindications, side effects, and how they impact the body may seem impossible.
Medication cards make learning the information easier to memorize, less tedious, and promote better retention.
Why Pharmacology Flashcards Are Helpful
When it comes to memorizing information (like medications), flashcards are the most effective tool you can use because it's just all about repetition. Go through them again and again until you have the information down cold.
They're lightweight and easy to carry around, so you can break them out and study for a few minutes while you wait in line, do laundry, or grab a bite to eat.
The Top Medication Cards For Nursing Students
Here are the best pharmacology flashcards available to give you everything you need to learn.
This set wins the award for being the most comprehensive set on this list. It's the one you want if you want all the drug information. They're color-coded based on the body system and have helpful "keep in mind" sections to point out critical information about each drug. On these cards, you'll find:
Common abbreviations
Medication action
Usage information
400+ cards
Because they're so information-heavy, they are text-based cards and may not be as helpful for people who prefer visuals.
I love these cards and highly recommend them because I think they're the best all-around medication cards for nursing students.
Visual learners will love this set! In addition to all the drug information they contain, they also have colorful cartoons and mnemonics to help with retention. Note: they arrive in the mail as a small spiral-bound notebook, but they can be used as individual flashcards.
This set contains:
Quick reference colored tabs
Colorful pages with humorous cartoons
Thick pages for durability
Helpful mnemonic memory aids
One thing to note is that this set doesn't cover all the medications out there. But it has been updated and is overall a very comprehensive tool for learning pharmacology.
This set of medication cards for nursing students gives some great extras on top of all the features you would expect high-quality flashcards to have. Here are some of the great features you'll find in these cards:
Generic and trade name information
Dosage information & drug interactions
Drug identification photos
Audio Q&A about each drug
This updated version contains everything you need to know about the most commonly used drugs for your pharmacology class or for taking the NCLEX exam. The layout design of the cards is simple to make studying easier. More benefits include:
250+ cards
Large print and bright colors
Online digital format access included
There's a lot to love about these cards. They're designed specifically to help nursing students pass the NCLEX. In this set, you'll find:
300 medication cards
100 practice test questions
Ring to hold the cards together if you want to take a few with you to study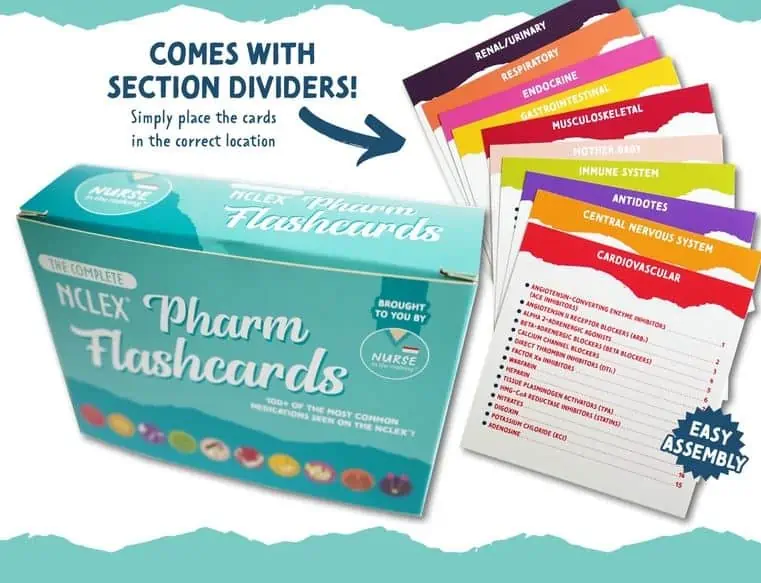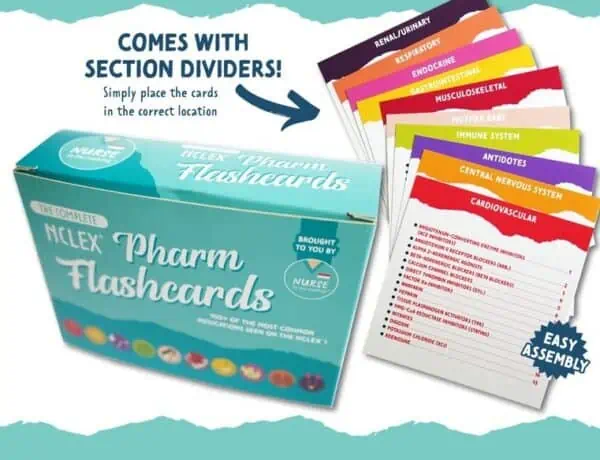 Color-coded according to the body systems, these medication cards also contain helpful visuals, mnemonics, and effective memory tricks to make the memorization process easier. This set of pharmacology flashcards includes:
100+ cards
Helpful NCLEX tips
Convenient storage box
Because there is so much to learn about all the medications available, flashcards are the best tool to help you retain and recall basic information quickly. Pharmacology is complex, but putting in the time and effort is worth it! I hope this post helps you find the set of cards that best fit your needs and learning style.
More Resources For Nursing Students
Download Nurse Bingo Today!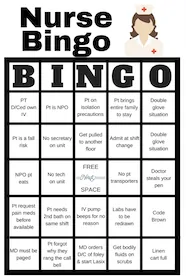 Liven up any shift with a fun game of bingo. See who can fill a row first!
Fill a whole card and lose grip with reality.
Your privacy is protected. We will never spam you.