*articles contain affiliate links*
Nurses who work in the same unit and office tend to form friendships and extraordinary relationships with one another, and they often refer to each other by funny nicknames. This is a way for them to bond because when there is trust and understanding between colleagues, it makes patient care more accessible. That's why we will share some funny nicknames for nurses that you can use while working.
Doctors and Nurses are crucial in the field of medicine; there is no doubt. They help patients with their problems and sometimes provide a sense of comfort and hope when things seem bleak. Doctors and Nurses work with each other to ensure that everyone gets better as quickly as possible, and they even attempt to lighten up the mood with puns and jokes (which often come across as corny or unfunny).
As you already know, nursing is stressful, and it's tough to find time to smile while performing your duties. And that is why it's crucial to be good friends with colleagues that are always there to brighten up your day, because you need to have a new and happy mode to provide the best and most efficient care you can give.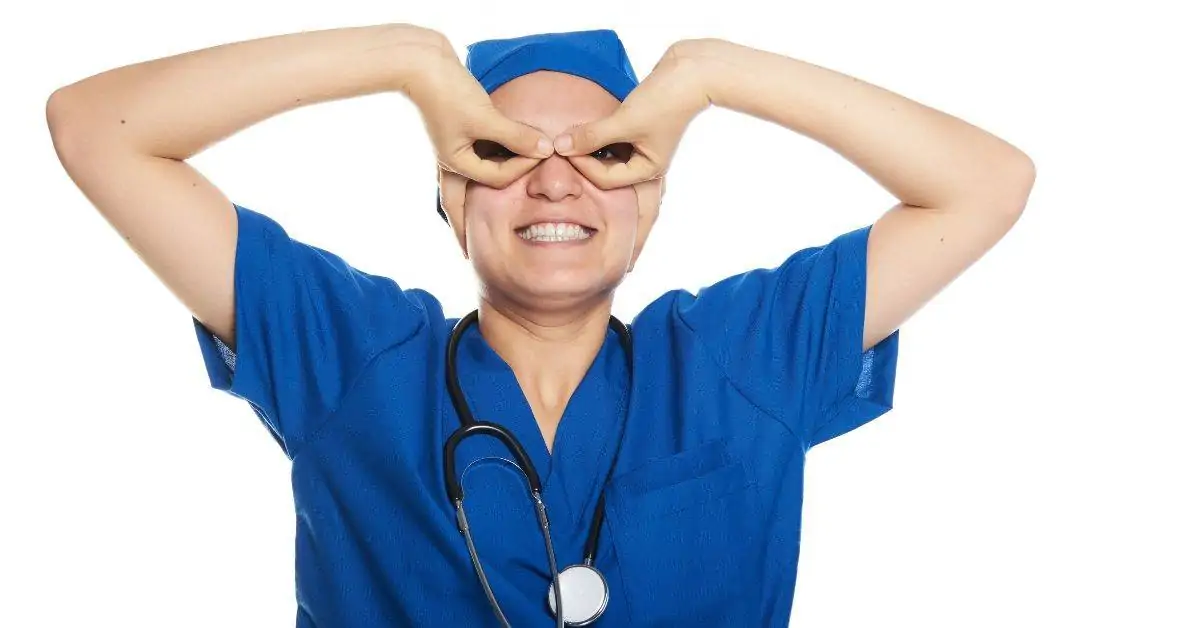 Nursing Team Names
Here are some cool and creative nursing team names to inspire you:
Heart & Sole
Spreading Smiles
Good Wellness Group
Abundant Care Nurses
Post-Fontaines
Helpful Hearts
Optimum Health
Fatal Diseases
Vital Victors
Bagged and Tagged
The New 20's
Shots Shots Shots
Elbow and Arrow
Always at Care
Health Growing Team
Cutting Edge
Helping Hearts
The Inner Loop
Intelligent Health Inc.
The White Line
Smooth Obturator
Lost in Pace
Super Scrubs
Physical Safety Pro
It Takes Heart
Medical Team Names
These are the catchy medical team names you might consider using:
Buzz LightEar
Medical Home Assist
Senior Bridge Care
Vivid Medical Team
Dynamic Health Group
Angelic Companion Services
The Hustle Hut
Care Lifters
All Care Hospice
HelpfulSupplement
Run So Far-ians
Bro team Protein
The RNners
Caring Companions
Relax Wellness Team
Push My Buttons
Crash and Burn
Team Triage
Invincible Gut
Rehab Rockstars
We Nose Everything
ER Strikers
Restore Health
The I-V Leaguers
Kiss our Assessment
The Alphabet Soups
Funny Medical Team Names
These are some funny medical team names for you:
Blood, Sweat, Tears
Caring Witch
Healthy Lifestyle
Bone Cracker
Run Track Mind
Medtronic
Harmony Health
Beta Bots
The Master Theorem
Sweet Sufferings
MediCurves
Finding a Purpose
Lifesavers
Beta-Blockers
Care Indeed
Health-A-Plenty
Cordial Care
Lollapaloser
Lost Because
Gift Of Health
Wash Your Hands
Fruitful Care
Puppeteer Protein
Neon Nurses
Healthcare Team Names
Below is a list of some unique healthcare team names for you:
Clamp and Sponge Brigade
Loving Care Team
Pro-Health Squad
Intelligent Labs
The RNners Coderunners
Add On Spot
Hardy Health
Understanding Our Minds
OptionONE Care at Home
Rapid Thigh Movement
Upright and Smiling
Baby Doctors
BrightStar Care
Penultimate Supplement
The Unqualified Opinions
The Savvy Sedationists
Pain Killers
Health Bloom
Archil Herbal
Postscript Group
The Charlie Foxtrots
The Splints
Enema of the State
Heat Hard
Head Over Meals
Physical Therapy Team Names
These are the best physical therapy team names for you:
Caring People
Golden Hearts
Abundant Health
Physical Heath Team
Homeward Medics
Quads Of Fury
Team Blood and Guts
The Generals
Residence Rehabilitation Team
A Medical Mystery
The De-Fibrillators
Safe Harbor
Heart Throbs
Blue Pipes
Total Care Connections
Little Steps of Hope
No Pain No Gain
Psychic Wellness
Leafswept Woods
Merry Monitors
The Germ Squad
Ladies Who Crunch
The Knockouts
Foot Menders
Local Heroes
Funny Nicknames for Nurses
Here are some cool and catchy nursing nicknames you can use:
The Nurses Hand
The Resuscitators
Ambulance Catchers
Caregivers Plus
Big Hearts
Inborn Spot
Adrenaline Jockeys
Elite Caregivers
The Healers
Break a Lead
The Stretchers
Health Abodes
Black Cloud
Nurse Next Door
Still on Call
Seniorlink
The Sleeper Hits
Lost Boys
The Hoofbeats
The Pain Pals
Angels on Earth Caregivers
Caring Professionals
Caffeine Crashers
Blue Lupine
Vascular Solutions
Medical Trivia Team Names
The following are some excellent medical trivia team names for your inspiration:
Hart Healing Hands
Kindly Care
Suture This
Step Right Up
Nurture And Nurse
Excess Purified Group
The Bone Crackers
Three Left Feet
The Nightshift
Disorganized Crime
The Brain Backers Brigade
The Stethoscopes
Urgent Home Care
Virus Killers
Happy Feet
Gentle Hands Care
Get Dead Soon
Public Enemas
Nurses Stick Butt
Ready to Relax
Caring Senior Services
Needed Nurses
No Scrubs
Play Aches
What Is A Nursing Team?
A collaborative group of individuals with a common goal of providing high-quality nursing care. Their ultimate goal is to make sure that the patient is safe and that the task they've been given is up to their satisfaction.
A nursing team can provide care for different patients, depending on how many people are available in terms of nurses and other medical staff. They handle various responsibilities, from simple tasks such as taking vital signs, to more complex procedures such as catheterization or administering medications. In more extensive facilities where there's a shortage of nurses, you would find that some teams have been assigned to work with multiple patients at once.
How To Name Your Medical Or Nursing Team
Every workplace has its own culture and attire. A professional approach is essential when people come in daily to work with you. Make sure that their personalities are taken into consideration and the essence of your workplace.
You have a team of nurses or medical professionals who have been working together for an extended period, so the name should represent what they've been through. So if you're looking to name your nursing team, here are some tips for what to keep in mind as you brainstorm nursing team names.
How to Choose a Name for a Nursing Group?
You cannot use every word for the team name because some words may not be allowed or can be offensive to other people. It's essential to check the hospital policy and local laws before naming your medical team.
Be Sure to Avoid Using Offensive Words
When deciding a name for your nursing team, make sure that you avoid using offensive words or words that can be taken as an insult. Consult the hospital policy to check if it's allowed for employees to use profanity in their workplace.
Choose a Name That Is Clear, Easy to Spell and Pronounce
Choosing a name that is clear enough to understand, and is easy to spell and pronounce is essential. When choosing a name for the nursing team, avoid using too long or too short names. Choose a length of words that everyone would understand.
Nursing Team Names That Can Make People Smile
In this time of crisis and stress, it can uplift the spirit of both providers and patients if you choose a funny name for your nursing group. It can also really improve the morale of team members and patients' families who want to know more about people taking care of their loved ones.
It Needs to Be Unique
The originality of a name makes a difference. It can affect your credibility and how others will perceive your team. So before choosing and finalizing a name for your nursing team, look for something that will set you apart from the rest.
Be Creative and Have Fun
You have to have fun with your work. If you're having fun naming your nursing group, then it's definitely a good thing. You can also ask other people how they see or what they think about the name you've chosen because maybe someone else sees its potential better than yourself.
Funny Nicknames for Nurses Conclusion
As you can see, there are many things to consider when you're going for a funny nurse team name. Before thinking about it too much, focus on treating your patients well, and who knows what kind of names will come out from that process? In any case, we hope this article helped point you in the right direction. In the end, giving smiles and laughter to your fellow coworkers and your patients would be well worth the effort.
Also Check Out:
Download Nurse Bingo Today!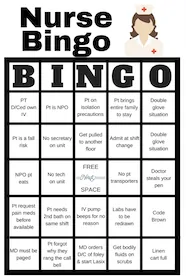 Liven up any shift with a fun game of bingo. See who can fill a row first!
Fill a whole card and lose grip with reality.
Your privacy is protected. We will never spam you.