*articles contain affiliate links*
One of the most difficult courses in nursing school is Pharmacology. There are hundreds of medications that must be learned, along with their indications, contraindications, side effects, dosing, and much more. Learning all the medications you need to know to pass the NCLEX is difficult. While I would never call learning or studying pharmacology in nursing school easy, there are definitely ways to make it easier.
3 NCLEX Pharmacology Tips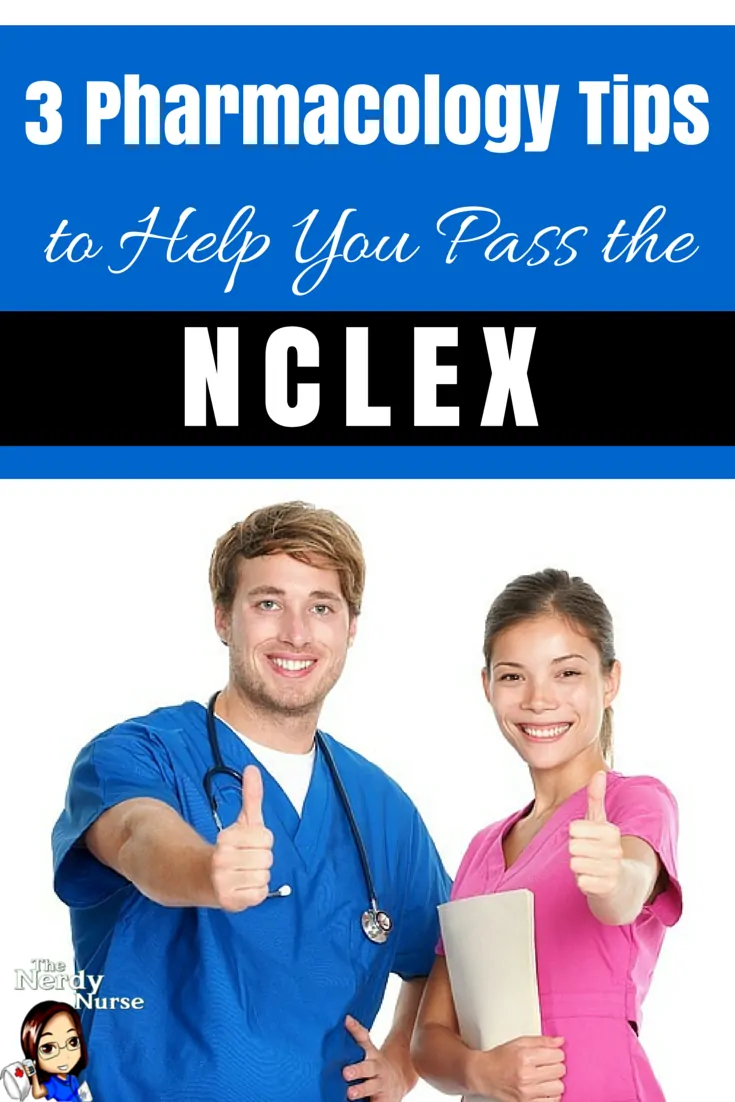 When considering the tips and strategies needed to learn pharmacology for nurses, you first really need to examine what information is vital for nurses to learn to care for patients and pass pharmacology Nclex medications.
Learning pharmacology doesn't have to be so hard. Here are 3 helpful tips:
1. Learn the Prefixes and Suffixes
Many NCLEX medications with the same types of prefixes and suffixes are very similar, and if you know something about the group of them it may be enough information to answer an NCLEX question. For example, if you know that beta blockers usually in end "lol" and decrease heart rate, force of contraction, and rate of A-V conduction, then you can likely assume that the medication Atenolol falls in this category. Consequently, you could probably assume that it would be contraindicated to give to a patient with a low heart rate. This is not correct every time, but it is a good general rule of thumb. If you learn these basic elements of medications names, you'll have a huge edge when doing your NCLEXpharmacology review.
2. Have Multiple Study Methods
It is best to have multiple types of study methods to learn all the medications you need to know to pass the NCLEX. You should be reading, listening, watching, discussing, practicing calculations, and teaching others. Studying in several different ways is important because:
We Learn . . .
10% of what we read
20% of what we hear
30% of what we see
50% of what we see and hear
70% of what we discuss
80% of what we experience
95% of what we teach others.
-William Glasser
3. Take Shortcuts When You Can
One of the hardest things about learning pharmacology for the NCLEX is the sheer volume of information. There are more drugs than any reasonable human being could be expected to know. Figuring out which drugs you will actually be tested on is difficult. In fact, Jon Haws, RN, CCRN said that he wrote down every single medication featured on the ATI tests to determine the medications to include in 140 Must Know Meds. This is time and effort that many nursing students don't have. The small price of his book and now his course, MedMaster, are well worth the price to get super focused on the areas are pharmacology that you must know.
Nursing.com Pharmacology Can Help You Pass the NCLEX
Many years ago, Jon Haws, RN CCRN, the founder of nursing.com reached out to me to tell me about a pharmacology course called MedMaster. His simple course has since evolved into the most comprehensive nursing and NCLEX review programs online. He told me he had created a course that helped take the guesswork out of studying pharmacology both for nursing school and the NCLEX. The course is specifically designed for nursing students or those that have recently graduated. He says "Pharmacology is hard! Learning it doesn't have to be." I was intrigued. Pharmacology was hard for me and it's hard for many future (and current) nurses. Anything that can help make the process of learning important medications that often appear on the NCLEX would be great. However, I was concerned about how the information would be delivered. Another book or cheat sheets that you actually had to read would not be as helpful as audio-visual components. I was thrilled to discover that the course consists of 6+ hours of video, 15 hours of audio, and tons of freebies.
Having pharmacology study material available in multiple formats significantly increases the amount of knowledge you can retain. Many nursing students commute 30 minutes to an hour to class and much of this time is wasted. Sure you can listen to music or audiobooks, but wouldn't it be great if you could master pharmacology on your daily commute? With the Nursing.com Pharmacology course you can download the audio lessons and listen to them anywhere.
Hands down, MedMaster is the single best tool to study pharmacology for nursing students.
MedMaster Course Details
The course is broken up into 5 sections:
Section 1: NCLEX® Must Knows
Section 2: Math for Meds
Section 3: Must Know Medication Classes
Section 4: 130 Commonly Tested Medications
Section 5: Disease Specific Pharmacology
In total there are over 30 hours of lecture materials as well as many handouts and NCLEX cheat sheets. You also get the book 140 Must Know Meds, which is one of the top-selling nursing books on Amazon. It's a great nursing pharmacology book that you can reference throughout nursing school and your career. Seriously, you need this book so you'll know the most commonly used medications on the NCLEX.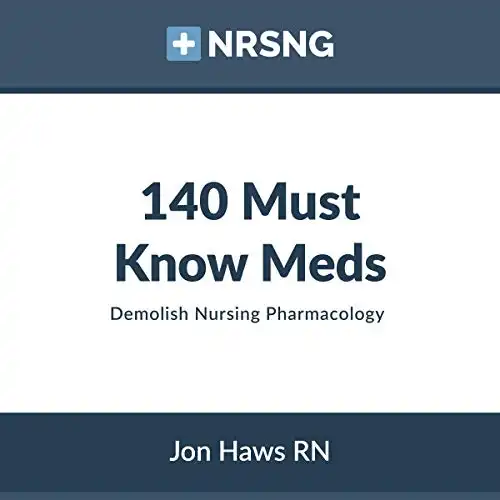 We earn a commission if you make a purchase, at no additional cost to you.
Take the Nursing.com Pharmacology Course
Without a doubt, Nursing.com is the education leader in pharmacology prep for the NCLEX. You can create a free account to get access to their Pharmacology course now. Sign up now to feel confident about one of the most difficult portions of the NCLEX. You are sure to love this course and find value in the materials. I've been friends with the founder of this program for many years and continue to be impressed by the value he is providing to the nurses.
Start the Nursing.com Pharmacology course now!
Bonus Tip: A Great NCLEX Pharmacology for Nurses Video
Share your pharmacology tips. What should nurses know about medications to pass the NCLEX?
Other Nursing.com Resources
We think Nursing.com Academy is one of the best NCLEX review programs on the market.
Need access to practice questions? Check out Nursing.com's NCLEX practice questions they have for some of the best NCLEX style questions available. They have over 3500 questions that will get you prepared to pass the NCLEX.
Get Our Best NCLEX Study Tools!
Sign Up and send our best NCLEX study resources right to your inbox!