*articles contain affiliate links*
Are you using an NCLEX prep apps to get ready to take your nursing boards? Are sure you know how to pass the NCLEX on the first attempt? Do you have a reliable resources for NCLEX questions?
I remember walking out of the testing center after taking my NCLEX-RN®. It was a warm September morning. I had stayed in a hotel in downtown Dallas right across from the testing center. As I walked to my car, I thought, "I have no idea if I passed or not!".
I called my wife and told her, "If I didn't pass, I have no idea how I will study now that I know how the NCLEX® works." The NCLEX® is like no other test out there. The way that it conforms to you as you take the test is unique and most students have never seen a test like that before. I know I hadn't.
Fast forward a few years, I have now coached and taught thousands of students preparing for the NCLEX®.
There are two things nursing students can do to prepare for the beast:
Have an undying thirst for knowledge.
Take as many practice questions as you can and dive deep into any rationales you don't understand (refer to #1).
If you don't have a desire to learn, no book, app, teacher, or program is going to save you! If you don't take any practice questions, you will have no idea where you need to focus your studies. With all of that said, nursing school doesn't have to be so darn hard!
I'm not sure if nurses, in general, are gluttons for punishment or if we just love to overcomplicate things. With the help of the right NCLEX® prep app< you can relieve some of the pain of nursing school and ease your anxiety about the NCLEX®:
NCLEX® Prep Apps are a must-have for nursing students because they allow you to:
Study anytime and anywhere . Even in short bursts (like in line or when you are bored in class)
Dive deep into topics that you don't understand very well
Obtain focused feedback to help you stay laser focused your studies and review
Here are the three best NCLEX® prep apps. While there are over 200 results for the term "NCLEX" in the App Store, these are the best. Each provides custom quiz creation and stats.
3 Best NCLEX Prep Apps
RN Crush! NCLEX® Prep App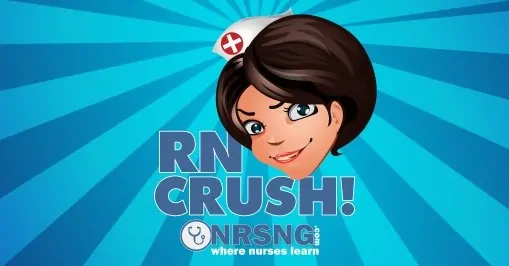 Price: FREE – $14.99
# of Questions: 250 Free, 3,000 Paid
Statistics: Yes
Complete Exams Later: Yes
Obviously, I am a bit biased about how incredibly awesome RN Crush! is as I am the creator, but let me tell you about some of the cool features.
RN Crush! provides a global rank on your statistics. This helps you to know exactly how you compare to other students globally. We also provide the largest bank of questions compared to other apps. Lastly, we are an NCLEX® prep company. That is ALL we do. Unlike the "BIG" guys, our only focus is NCLEX® prep. This means that your success is our only priority. Content created by nurses for nurses.
Start Practicing NCLEX Questions Now! –

Price: FREE – $29.99
# of Questions: 64 Free, 1,600 Paid
Statistics: Yes
Complete Exams Later: Yes
NCLEX Mastery was created by a practicing nurse out in Iowa. I like the design and flow of the app, and it is easy to navigate. They also have a section with mnemonics and images to help you with various medical terminology. Find a full review and additional information here: Nursing App Review: NCLEX Mastery.
Download NCLEX Mastery on the App Store – Download NCLEX Mastery on Google Play
NCLEX® RN Exam Prep

Price: FREE – $19.99
# of Questions: 74 Free, 825 Pain
Statistics: Yes
Complete Exams Later: No
Pocket Prep seems to be a much larger company. I was not able to find information about nurses on staff. I do like the design and color of their app, and they have some interesting functionality as far as timers and reminders.
*Editor note: Exams can be paused and resumed to complete later.
Download Pocket Prep on the App Store – Download Pocket Prep on Google Play
FREE MedSurg NCLEX® Prep Book With RN Crush! Download
With RN Crush! you get the support ofnursing.com including all of our NCLEX® cheat sheets, videos, podcasts, books and so much more.
We are also offering a free 200 page PDF download called "MedSurg NCLEX® Essentials." This review ebook does sell for $11.00 on Amazon.com, but we are giving it away free to anyone who reviews RN Crush! on iTunes or Google Play.
Here is all you need to do:
Download RN Crush! on App Store
Leave a Review
Email me a screen shot of your review ( contact (at) nursing.com
I'll send you the PDF ebook for free. Easy as that!
Here is a short video to show you exactly how RN Crush! works.
Lastly . . .
A huge thanks to Brittney. She is a true advocate for nursing as a profession and represents our field with so much integrity and passion. I love her blog and her Facebook feed as she keeps me up to date on the happenings within the nursing profession. Check out her feature on my pharmacology prep course, 3 Pharmacology Tips to Help You Pass the NCLEX. And brush up on your anatomy with one of these anatomy coloring books.
More NCLEX Resources from Nursing.com
Nursing.com offers some great NCLEX study resources including their NCLEX Practice Questions, MedMaster Course, Loads of Free NCLEX Cheat Sheets, and excellent books.
About Jon Haws RN CCRN
Jon is the founder and creator of nursing.com. Nursing School Shouldn't be so DAMN Hard! Jon is on a mission to help nursing students conquer nursing school and the NCLEX® with their sanity intact. Throughnursing.com he provides podcasts, videos, ebooks, apps, and free cheat sheets to assist nursing students.
See also:
Get Our Best NCLEX Study Tools!
Sign Up and send our best NCLEX study resources right to your inbox!