*articles contain affiliate links*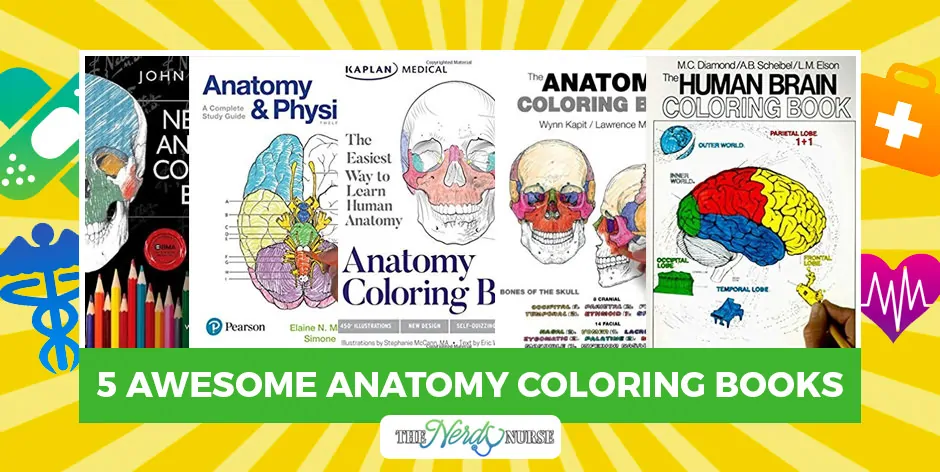 If you're a student, anatomy coloring books are a great way to enhance your knowledge and comprehension of the human body. They help you improve comprehension and teach you the essentials of a human body through visualizations that are easy to recall. Here's a list of five awesome anatomy coloring books that will help you master the human anatomy with fun, interactive coloring tasks. Many of them also include interesting facts about the anatomy that will keep you engaged.
The Most Engaging Anatomy Coloring Books
This is one of the oldest and the most popular anatomy coloring books in the market. Designed by Wynn Kapit & Lawrence M. Elson, it is an excellent tool to learn the structures for anatomy and physiology. They've published multiple editions in the last 23 years, constantly improving images to color as well as improving the descriptions, yielding a better learning experience. It features beautiful hand drawn anatomical images and concise descriptions to help you learn as you relax. The book has double spreads in lay-flat binding to make it super easy to color. The drawings are organized by body systems, making it a super useful study tool.
At a Glance:
Pages: 384
Language: English
Editions: 4
Anatomy and Physiology Coloring Workbook: A Complete Study Guide (12th Edition)
The Anatomy and Physiology Coloring Workbook is jointly authored by Elaine N. Marieb and Simone Brito. The author has also written several textbooks on the subject. This coloring workbook is a great option for both students looking to study the details of anatomy and nurses looking to brush up on their understanding of human physiology (or just color nerdy medical things). It offers a large assortment of coloring activities and writing tasks that help you absorb the details of the complex structure of the human body.
At a Glance:
Pages: 398
Language: English
Editions: 12
[easy-tweet tweet="Anatomy coloring books are a great way to enhance your knowledge and comprehension of the human body." url="https://wp.me/p1mMzJ-4ds"]
Netter's Anatomy Coloring Book: with Student Consult Access, 2e (Netter Basic Science)
Netter's Anatomy Coloring Book reinforces your knowledge of the human anatomy in a fun and effective manner. It provides multiple views of the different sections of the human anatomy and details the origin of nerves, veins, arteries, and muscles. Along with illustrations detailing the human body, the book also contains small clinical notes that enhance your understanding of the structures and processes. The book is written by John T. Hansen and can become a great aid to go with Netter's Anatomy Flash Cards or Netter's Clinical Anatomy textbook.
At a Glance:
Pages: 400
Language: English
Editions: 2
The Human Brain Coloring Book (Coloring Concepts Series)
If you wish to specifically understand the anatomy of the human brain, The Human Brain Coloring Book by Marian C. Diamond, and Arnold B. Scheibel is an ideal choice. The book's developers are both internationally renowned neurosurgeons. The book is very neatly organized with small descriptions that go beside each illustration and neat tables that organize the information into clear, re-callable sections. The book has been recommended by neuropsychologists as a handy tool for students of psychology and biological sciences, as well as nursing students.
At a Glance:
Pages: 320
Language: English
Editions: 1
Developed by Stephanie McCann and Eric Wise, this anatomy coloring book is neatly designed with large, detailed images of the human anatomy and a clear color guide. It is designed to help students understand the structure and functions of the human body. Each illustration is a single spread that also contains little explanations of the illustrated systems. Each section is followed by a list of questions that help you brush up on your learning's from the last set of illustrations. Overall, a great book to have, if you're a student looking to strengthen your understanding of the human body in a fun and engaging way.
At a Glance:
Pages: 352
Language: English
Editions: 6
Anatomy Color Books are Awesome
Anatomy coloring books like these are a useful aid not just for students but for nurses as well, offering fun ways to reinforce your knowledge of the human body. However, it is important that you choose the right book for yourself. The books come with different levels of detail. Some contain enlarged illustrations, others, micro-level detail. The degree of engagement also varies from workbook to workbook. Depending on your current level of understanding of the human anatomy as well as your objective (whether it is to enhance your knowledge or brush it up), choose a book that suits your requirements the best. If you are a student, it is advisable that you also make use of other learning aids like textbooks, videos, and flashcards. Even if you're not from the clinical field, but simply want to quench your curiosity or build your knowledge, coloring books work well as they are fun and informative at the same time.
For more information on Anatomy study help, check out:
The Anatomy Student's Self-Test Visual Dictionary: An All-in-One Anatomy Reference and Study Aid
Anatomy: A Photographic Atlas (Color Atlas of Anatomy a Photographic Study of the Human Body)
E-Z Anatomy and Physiology (Barron's E-Z Series)
Download Nurse Bingo Today!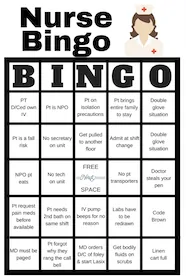 Liven up any shift with a fun game of bingo. See who can fill a row first!
Fill a whole card and lose grip with reality.
Your privacy is protected. We will never spam you.