*articles contain affiliate links*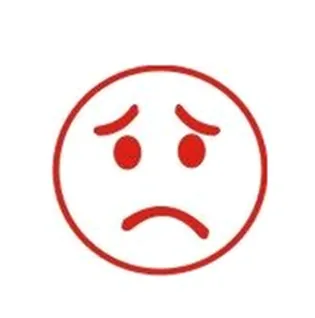 A recent survey of 100,400 from CareerBliss.com ranked nursing as one of the  "Unhappiest Jobs in America."
Individuals surveyed were asked to rank based upon the following 10 factors that affect workplace happiness:
relationship with the boss
relationship with co-workers
work environment
job resources
compensation
growth opportunities
company culture
company reputation
daily tasks
control over the work one does on a daily basis.
The Top Unhappiest Jobs in America
5.Programmer (tie)   Index score: 3.65 (out of a possible 5)

5.Product manager (tie)   Index score: 3.65

4. Sales engineer   Index score: 3.64

3.Teacher  Index score: 3.59

2. Registered nurse   Index score: 3.55

1. Security officer   Index score: 3.51
Why Are Nurses Unhappy?
It's interesting to note that the dissatisfaction among nurses does not stem from the labor of nursing itself, but rather the politics involved with working in healthcare. "
Nurses cited compensation, growth opportunities, and workplace culture as the three things they are most dissatisfied with.

"Nurses . . . have more issues with the culture of their workplaces, the people they work with and the person they work for," Golledge says. "The factors driving the unhappiness tell different stories for these two jobs."
The three points cited as the areas of concern are complaints that many nurses have.
Who among us hasn't wanted an increase in pay? Those of us who want to rise in the nursing hierarchy find it difficult even in the best of circumstances. And the workplace culture of healthcare can be described as difficult at best. Even in the best of workplaces, there are still times when politics and "who's who" are considered above all other.
These points of dissatisfaction are obviously very unfortunate. But nursing is a labor of love and patients receive the best care from the happiest nurses.
So how can we change catapult nursing out of this unhappiness?
What can we do to address the issue of compensation, growth opportunities, and workplace culture?
And if we improve all these things, will nurses find other reasons to be unhappy with their chosen profession?
Whether the "happiness level" will increase in nursing is really up to use nurses.
Demand Appropriate Wages
We must make a point to demand fair wages for the level of service and care we provide to our patients. One way to help increase wages is to show the value of nurses more concretely in terms of reimbursement. Add "nursing care" as a line item of medical claims. Don't group us in as part of the "room rate." Charge for our procedures, assessments monitoring, and so on. If our care is seen as a value in healthcare, then prove it!
Take Charge of Your Nursing Career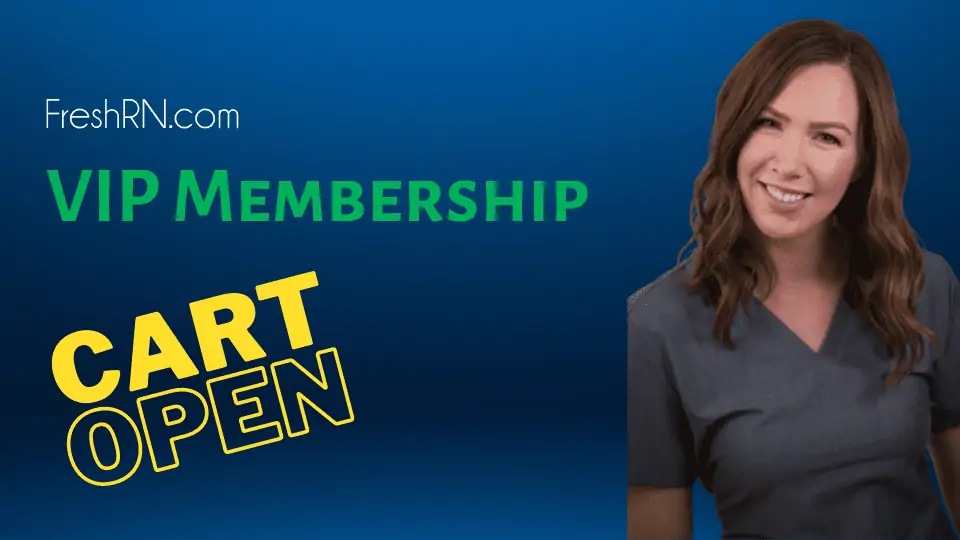 Your first year as a nurse is daunting. You need someone in your corner telling you what your managers really need from you, helping you learn to interact with your preceptor, and really just manage your life. Find all that an more with the FreshRN VIP - Membership.
I'm Ready to Thrive
Create a Clear Development Process
Some employers already have programs in place to allows future leaders to show their interest and take steps to earn their rightful place in management and administration. If you have an interest in being a leader, then becoming involved in these programs. If your employer does not already have a program in place, have a meeting with the hospital administration and volunteer to spearhead the committee. You will not only put yourself in line for a promotion, but you will help others to achieve their career goals.
Create a Culture of Excellence
Hospital culture is likely one of the biggest potential detriments to nurses job satisfaction. If the management tends to turn a blinded eye to the likes of bullies and naysayers, then the nurse with integrity and character is often left out in the cold. It is difficult to succeed ad feel confident in your job and happy with your work. If you are employed at an organization that has a poor culture, then work to improve it. Meet with administrators and educators to develop no tolerance bullying standards and can nepotism and favoritism. Work to improve the rewards ad recognition system. Be a motivator amongst your cohort and a positive influence to any you encounter. You'd be surprised at how powerful a smile and uplifting compliment will do for the happiness of your department overall. Smiles are contagious, so if you can get enough exposure, you might just put the whole hospital in a better mood!
Nurses: Are you unhappy with your job?
What could be done to increase your happiness?
source: http://money.msn.com/personal-finance/the-unhappiest-jobs-in-america
Download Nurse Bingo Today!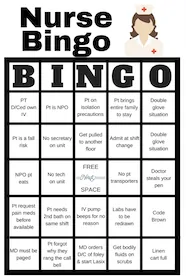 Liven up any shift with a fun game of bingo. See who can fill a row first!
Fill a whole card and lose grip with reality.
Your privacy is protected. We will never spam you.