*articles contain affiliate links*
Think about it. After dogs, a nurse bag should be your best friend. Ever trustworthy, loyal, and carrying all your physical burdens, we are of the opinion that having the right bag is half the job done right! This is all the more relevant as a nurse because you're going to end up needing to carry a million things, right from your books, notes, stethoscope, a change of clothes, grooming items, personal hygiene items, food to sustain you on those endless shifts, your wallet, keys and IDs. The list can literally be endless! And god forbid, if you're on a shift that doesn't let you get home in days, you're going to be living at the hospital, which means more things to carry. Typically this starts by looking up "work bags for nurses" on the internet.
But with so many choices, choosing the right bag can be a process more complicated than Meredith Grey and Dr. McDreamy's romance. To ease up the process a little bit, we've put together a list of our top seven picks, so keep reading to find your shoulder's new best buddy!
Best Work Bags for Nurses
We've outlined some of the best work bag brands in this comparison table to make it easier to find the one that is right for you. You can click "Read More" on any of the stethoscopes in the table to jump to the section in this article outlining more information about it. Or, you can click the "Buy it Now" button to pick it up immediately.
Our Favorite Work Bags for Nurses
Pursetti Zip-Top Organizing Utility Tote Bag with Multiple Exterior & Interior Pockets for Working Women, Nurses, Teachers and Soccer Moms (Purple Circle)

Our first pick is Pursetti Zip-Top Organizing Utility Tote Bag that comes in four different attractive patterns and in two sizes (medium and large). What makes this bag perfect is that you can use it for literally anything, whether it's going to work, school, or the beach on your day off from nursing. A perfect combination of style and utility, this bag has plenty of space and will faithfully last you a long time because of all the durable polyester it's made from. Available on Amazon at a great price and free shipping, these bags are worthy investments and are perfect as work bags for nurses or as a stylish gift!What Makes the Bag a Must-Have!
As mentioned, the bag is of premium quality as it's made from durable polyester. This also makes it easy to clean.
You can use it for a range of purposes, such as work, school or travel.
The zip-top ensures nothing falls out while commuting.
The bag has 6 pleated exterior pockets in the front and the back, 2 mesh side pockets for water bottles, 5 interior pockets, and a roomy main compartment that can store your iPad, books and other nursing equipment.
The bag is easy to store when not in use.
Deluxe Plush Quilted Heart EKG Nurse Medical Tote Bag


If you've always admired Kim Kardashian or Queen B's sartorial senses, you're going to love this bag! The
Deluxe Plush Quilted Heart EKG Nurse Medical Tote Bag is that perfect, elusive combination you're probably always searching for – stylish yet useful! Made of quilted microfiber, this bag comes with lots of space, durability and a purse to help you keep your belongings perfectly organized. Though it's only available in black, this bag doesn't leave anything to be desired given its chic appearance and even better pricing under $40 and free shipping on Amazon.What Makes the Bag a Must-Have!
This bag can be used for a range of versatile functions such as business, travel or school.
Made of quilted microfiber on the outside and 100% cotton on the inside, this bag has a zip-top that prevents your belongings from falling out.
The bag has multiple pockets and compartments as well as an additional purse for all your belongings. This gives you plenty of space to carry your books, nursing equipment, and even your 15-inch laptop!
The bag is lightweight and durable.
AMY School Shoulder Bag Tote Large College Purse | Holds 12-inch Laptop | Black/Green


The AMY School Shoulder Bag is a perfect option if you're looking for a canvas bag that's stylish and functional. Available in four different color combinations, this bag has a vintage canvas surface and faux suede bottom all for an incredible price under $20 and free shipping on Amazon.What Makes the Bag a Must-Have!
The combination of suede and canvas makes this bag irresistibly stylish!
The bag has 6 exterior pockets, a zippered internal pocket, as well as an organizer for your cards and stationery.
A built-in interior padded sleeve that can hold a 12-inch laptop.
The bag can carry up to 18 liters or 12 pounds of weight, making it perfect for everyday work, school, nursing and travel.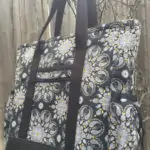 This pretty bag is a perfect choice for just about anything, be it work, travel, or a diaper bag for mommy! Called the Kitchen Sink Tote Bag because of its ability to hold just about anything, this bag, starting at a price of $70, can even be customized as per your wishes by the seller, InStitchesCreations. You can add more pockets and even pick the colors and patterns for a truly one of a kind look.What Makes the Bag a Must-Have!
Zipper top
Made of quilting weight cotton
Plenty of space with:

Two front pockets (one zippered)
Large back pocket (with magnetic snap closure)
Two pleated pockets on the sides for your water bottles (with drawstrings)
Center pocket large enough for notebooks and files (zippered)
Three smaller pockets (one with a velcro closure)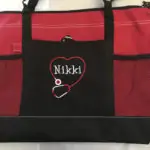 This amazing bag, sold by STRGembroidery, comes at an unbelievable price of $25. Available in seven different colors, the bag can be customized to include your name or a monogram! How cool is that?What Makes the Bag a Must-Have!
The bag can be customized
Made of durable polyester
Black webbing shoulder straps
Zippered main compartment
Front pocket with a pen loop and two side mesh pockets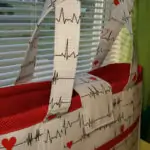 This bag, sold on Etsy by TerrisTreasures4U, has us clamoring for it because of its cute print and 14 pockets! This handmade bag is made and sold to order. It is also available with a black background. It is a big bag that is sure to be up to the task of carrying everything you can fit in it.What Makes the Bag a Must-Have!
The cute print on the bag has us falling for it completely
A magnetic closure on the front
Heavy interfacing that allows the bag to stand upright
6 front pockets, 6 back pockets and 2 inside pockets which provide plenty of storage space
Easy to clean
7-Pocket Tote Bag With Zipper (Black and White Zig Zag)


Our last pick is the 7-Pocket Tote Bag with Zipper available on Amazon in six different attractive patterns at an even more attractive price of $15.99, and free shipping! This bag is great to take to work or while traveling, as it is functional and sturdy while remaining stylish. Get yours before they are sold out.What Makes the Bag a Must-Have!
The bag has plenty of space with 2 mesh side pockets and 5 canvas pockets
A zippered top helps keep items in place
Easy to clean
Stylish, functional and sturdy
We Like Big Bags and We Cannot Lie! Well, who doesn't? Like big bags, that is. The right bag can make all the difference between being organized and being a mess, especially in a profession such as nursing, where's it's highly important to be organized all the time! If you're looking for a different type of bag check out our picks for the best nursing bags, best backpacks for nursing students, and even our guide to the top nursing gear. If you are looking for lunch packs check out lunches for nurses for some stylish lunch bag options and some easy but healthy make ahead meals. So take a pick from our list of stylish and functional bags; these work bags for nurses have got something for everyone! And it's alright, you can thank us another day.
If you are looking for work bags for nurses that are not as spacious as the ones we've listed, check out: