*articles contain affiliate links*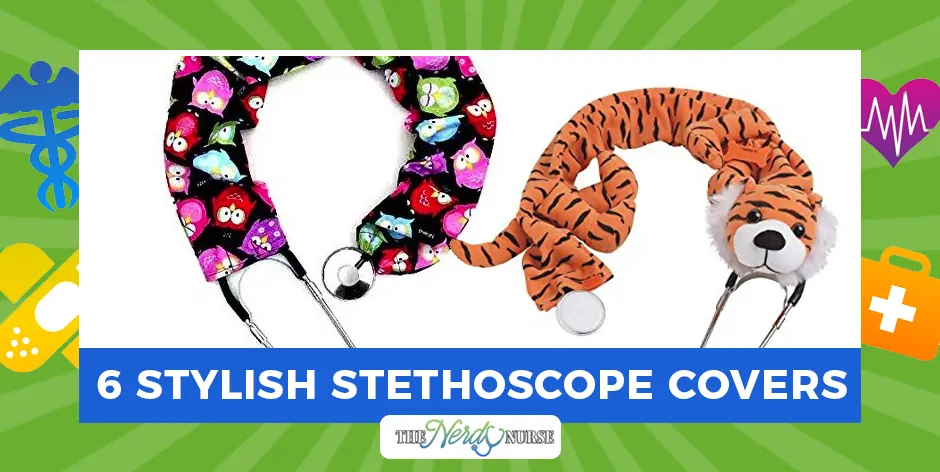 If you're a nurse, chances are, you spend more time on your stethoscope than on your favorite fashion accessory. The stethoscope literally hangs out with you every day. It can be a part of your professional personality. Then why not give it a zing of your persona? After all, stylish stethoscope covers are a great way to personalize your stethoscope while you also enjoy a number of advantages like:
They keep your neck from sweating, as sweat can damage the tubing.
They protect your skin if it's sensitive and reacts to frequent rubbing.
They protect your stethoscopes from damage and elongate their life.
While not appropriate for every setting,  stethoscope covers are useful to many. So you might as well add some great style to them. Here's a list of unique and fun stethoscope covers that are definitely worth a look.
Personalize and Protect Your Stethoscopes with These Stylish Stethoscope Covers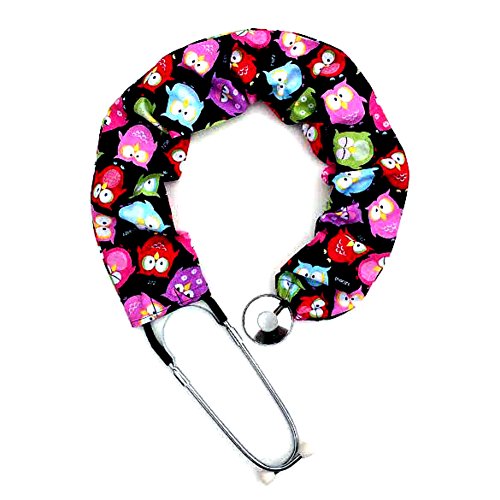 Made of 100% cotton, this hand-crafted stethoscope cover by Twisted 2 Perfection is really soft and fits comfortably around the neck. It is easy to use with an elastic bottom and a snap at the top so you can pull around the tube easily. The cover does not need much maintenance, just a machine wash every other week, and the cover comes out as good as new! Its multicolor design is eye-catching and is a great option to have if you like funky prints.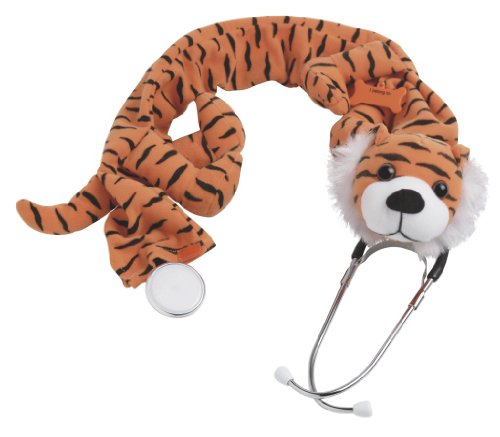 If you're an animal lover or work in the children's ward, this is the perfect cover for your stethoscope! The cute tiger shaped cover is so attractive, even grown up patients can't help up but react to it with a smile. Isn't that a perfect way to begin your day at work? The cover is quite easy to maintain, is machine washable and fits all standard stethoscopes. Additionally, it comes with an ID tag, on which you can put your name, employment details and make it an official part of your workwear!

This vibrant and stylish stethoscope cover by Sparkling Earth doesn't just protect the stethoscope tube, but its diaphragm as well. It has several pockets, one specially designed to store the stethoscope bell. It has another two-way pocket along with a utility strap that can be used to carry your pens and the alcohol prep packets. It is also very convenient to use, with hook and loop fasteners at both ends of the cover.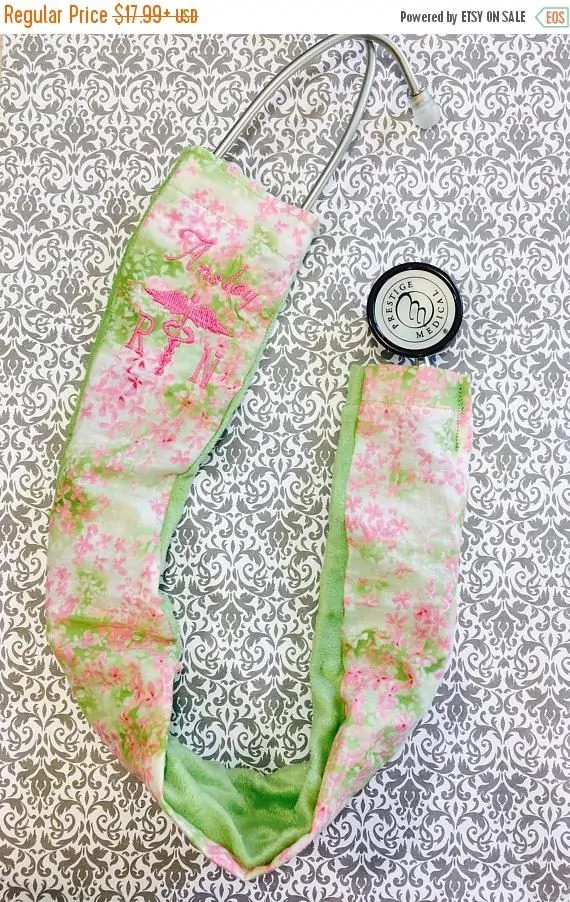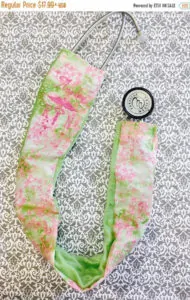 This classy stethoscope cover can be personalized with your name or initials at the time of the order. The cover is handcrafted and the personalization can really help t make it yours. Its pastel patterns give it an elegant and stylish appeal. So, if you've been looking for stethoscope covers but find most of them too loud for a hospital or clinic setting, this one will definitely fit the bill. The cover needs a little more care than the others, but not too much. A simple handwash is usually enough.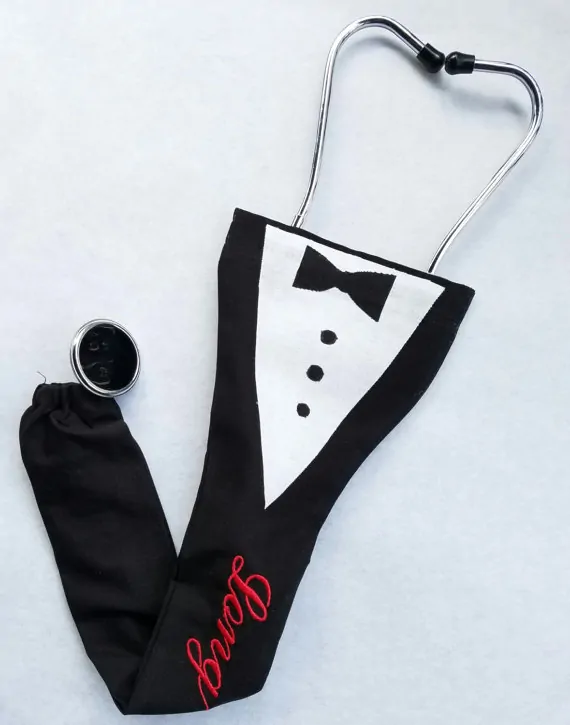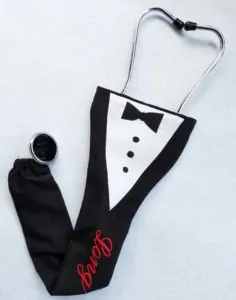 Why should girls have all the fun? The super-stylish tuxedo stethoscope is nothing short of a style statement for male nurses. Hand-crafted and made-to-order, this cover also gives you the option of embroidering your name on it. Easy-to-use, the cover smoothly fits over the bell. It has an elastic at the bottom and velcro at the top for the perfect fit. The stethoscope cover is also an excellent gift for your fellow nurse friends. It's elegant, yet unusual look gives it a distinct characteristic that is difficult to miss.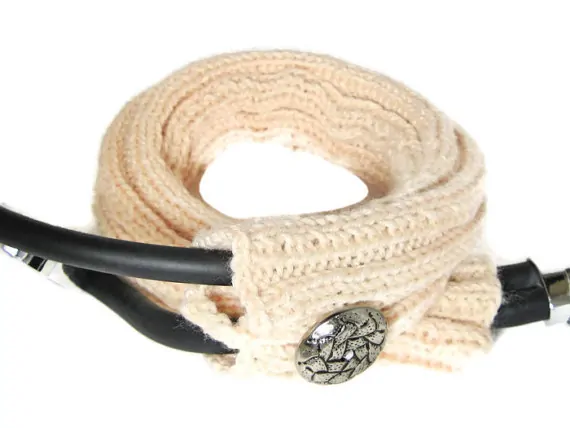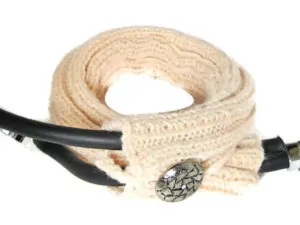 Another elegant stethoscope cover that keeps you warm too! Hand-crafted with acrylic yarn, the cover elegantly graces your personality at work. The cover is knitted in cream yarn, and is embellished with a gorgeous silver button. It looks equally good on both men and women and is surely a great addition to your work accessories.
When you love your work, why not make your work gears equally lovable? These unique stethoscope covers are sure to bring a dash of style even to your routine check-ups and rounds. It is always recommended to have two or more covers at a time, so you can keep them clean and alternate your style according to the mood of the day.
For more information on stethoscope covers check out:
Save