*articles contain affiliate links*
What better way to adorn a Christmas tree than to cover it with nurses? Nurse Christmas ornaments are a great way to show professional pride in your nursing career during the holiday season. There are so many available and range from the cute and cartoony to the delicate and beautiful. Every nurse show own at least one ornament that celebrates his or her chosen profession.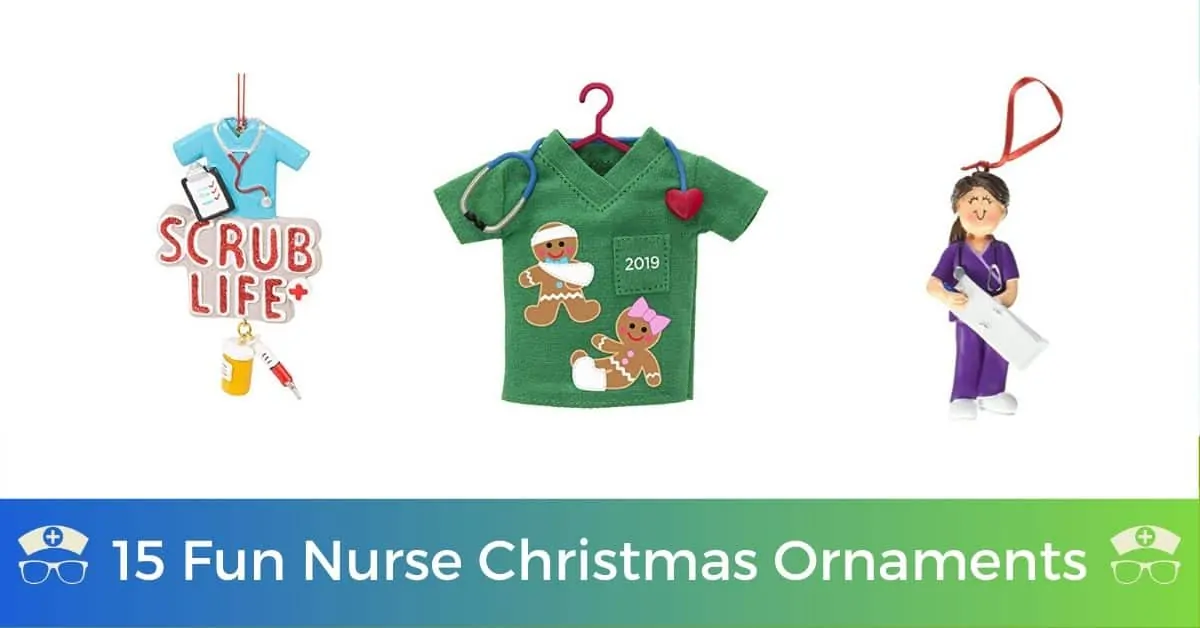 We've gathered together some of the best Christmas ornaments for nurses. Pick one up for yourself or a nurse you know. Use this handy table of contents to jump to any item in the list:
Available in both blonde and brunette, this cute cartoon nurse is carrying an old school paper chart and wearing purple scrubs. Does your hospital still user paper charts, in some fashion? If she wore glasses, she'd look a lot like me. Despite having absolutely no Native American or Asian ancestry, my eyes look just like that when I smile.
This ornament comes with gloves, mask, surgical cap, and even a fresh baby. That's like getting a bonus in your Christmas ornament. This is perfect for a nurse who works on a labor and delivery floor or as a midwife. We even think OBGYNs (baby doctors) would fancy this precious medical Christmas ornament. Who wants to just pinch those sweet baby buttcheeks?
I love male nurses and I'm so glad that I was able to find an ornament just for them. He comes complete with a paper chart, pen, stethoscope, and surgical green scrubs. For a few extra bucks you can even personalize this nurse Christmas to include the name of the nurse. This makes this a fantastic Christmas present if you're looking for the perfect nurse gift.
This African American female nurse ornament has a clipboard, blood pressure cuff, stethoscope, and a pen tucked away in her pocket. She is all smiles with her nurse cap and sensible white nursing shoes. This ornament is perfect for a woman of color!
This angel may not sit on the top of your tree, but she'll have a place in your heart. A sweet and elegant ornament that will warm your heart every time you decorate your Christmas tree. This is a perfect gift for a nurse. If you're a nurse manager or a charge nurse, this is affordable enough to buy for your whole team.
This adorable nurse ornament features a green scrub top with adorable, yet injured, gingerbread people. Of course, since it's from Hallmark, we'd expect nothing less than awesome. Since 2020 is the year of the nurse, the 2019 ornament is a great way to get a jump start on honoring members of the most trusted profession.


I'm a sucker for a nurse's cap. I'm one of the few people that would ear one with pride. So I love this surgical tray nurse ornament toped with a starched white nursing cap. It's a whimsical ornament with a fun style that looks that any nurse would love to have to trim her tree.
Kurt Adler Bandage Box "Nurses" Hanging Christmas Ornament
I love this ornament because it's so unique. The box of bandages has nice sayings about nurses including "nurses make it better" because we do. This would be perfect for a school or nurse mom because we're always kissing boo-boos and making things better.
The nurse life is often the scrub life. About 60% of nurses work in hospitals and a large portion of those wear scrubs to work every day. You couldn't ask for a much better uniform since a good set of comfortable scrubs basically feel like pajamas. Get this ornament to celebrate scrub life.
This Minnie Mouse nurse ornament features the iconic mouse dressed in modern scrubs, but still adorning her signature gigantic pink bow. This is a perfect ornament for a nurse that loves Disney or Minnie Mouse. I love Disney and have a special admiration for Minnie Mouse. This blog has paid for many trips to Disney World, so I wouldn't mind having this one myself.
This "best nurse" Christmas ornament is simple and understated. If you're looking for an ornament that isn't quite as whimsical as some of the other options we've listed, this is a great simple choice. The nurse stethoscope is such a critical part of so many nurse's jobs, so this is a great way to honor them.
This beautiful ornament is no doubt the classiest holiday ornament on our list. It features cubic zirconia stones on the beautiful hard shaped charm. It also has holly leaves at the top of the ornament, so there is no mistaking this precious ornament is clearly of the Christmas variety. This is perfect for a classy nurse in your life.
This ornament features a set of iconic blue nursing scrubs, stethoscope, hearts, and a commemorative year tag. You can personalize this ornament by adding a name within the big white heart. This is a simple ornament that would work great as a gift for a male nurse or physician.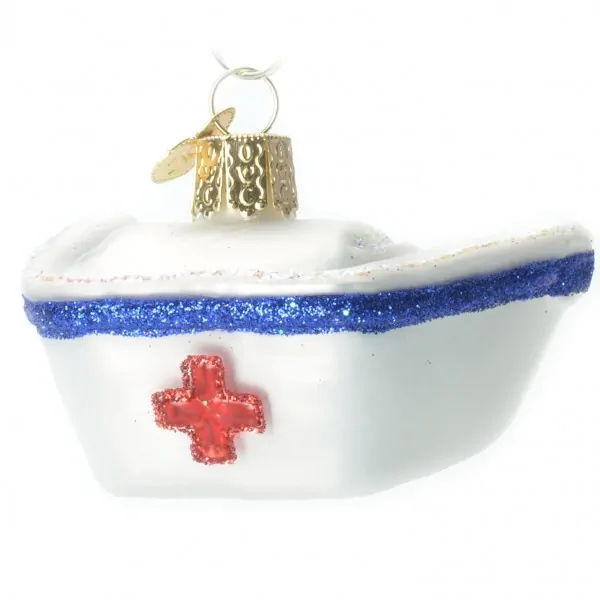 This nurse's cap ornament has just a touch of glitter to add sparkle to your holiday tree. It's simple and understated. So it would be perfect for a nurse that wants to honor the history of the nursing profession. It's also one of the most affordable options on this list.
This Christmas ornament is filled with iconic nurse imagery including the caduceus (nurse symbol), nurse cap, medical cross, and heart. It also includes a beautiful nurse poem and a gift tag to let a nurse know you are thankful for them.
More Gift Ideas and Options for a Fabulous Nurse Christmas
Download Nurse Bingo Today!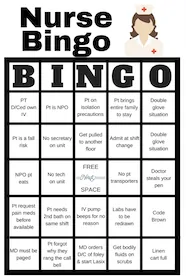 Liven up any shift with a fun game of bingo. See who can fill a row first!
Fill a whole card and lose grip with reality.
Your privacy is protected. We will never spam you.