*articles contain affiliate links*
What are the best pets for busy people like nurses? Obviously, a brand new puppy will be too much work if you live alone and work multiple 12-hour shifts. So let's look at some other pets that are even better for busy people like us.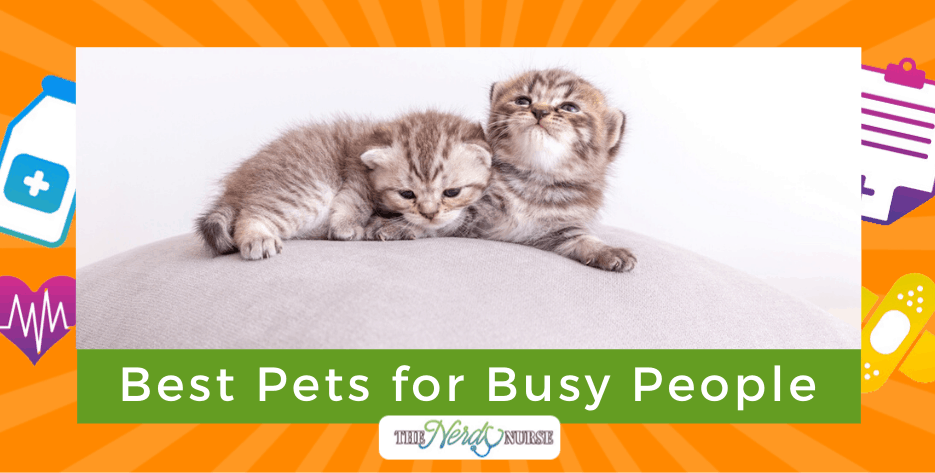 Best Pets for Busy People: Nurse Life Friendly Animals
Nurses, we are known as some of the best caretakers. We make a living out of tending for strangers so, it goes without saying that we usually carry some compassionate traits.
So, it's only natural for nurses like us to want to take part in the adventure that is becoming a pet owner. At this point, you may ask, how can a nurse fit the time to care for a pet with their busy lifestyle?
If you live alone, dogs are out of the question. Working 12-hour shifts at night means that no one will be able to walk your dog or take them outside.
Luckily, there are lots of animals that aren't as needy as you would imagine. Here are some of the best choices in pets for busy nurses.
Cats
Cats are one of the best pets for busy people. Sure, they have a tendency to be a bit cheeky when it comes to humans or even other animals in some cases, but this doesn't mean some of them aren't capable of being sweet and cuddly. Cats practically take care of themselves.
You just need to make sure they have food, water, and to be around for the occasional head bump. Owning a cat is also perfect in terms of convenience when it comes to picking up food, litter, treats or toys since most grocery stores carry feline supplies. Cats are definitely among the top tier of pets for any individual with a hectic schedule.
Rabbits
If you work night shifts, rabbits might be a better option for your sleep schedule. Rabbits can be left alone for long periods of time as long as they have food, water, a clean cage and maybe a toy. While some rabbits are timider and scared of owners, lots of others have large personalities and can bond very closely with their owners.
Rabbits are typically companion animals as well, so you may consider buying two of them so they can keep each other occupied when you aren't home.
Reptiles
Lots of small reptiles are also ideal for the nurse without a lot of time to care for an animal. Some examples are bearded dragons, geckos, and even snakes if you can tolerate them. While bearded dragons and geckos do need to be fed everyday, their bowl can be filled up and they will eat when they're hungry throughout the time of your shift. Snakes, however, eat less often depending on their size. Some snakes will eat only once or twice a week.
Fish
Compared to any other pet, fish are most likely to be voted the easiest. They only need a minimum amount of food, and some space to swim around and they're happy. The most tedious part of owning fish is the actual tank cleaning, but it is necessary to keep your fish healthy. While owning fish is relatively simple, they lack the ability to be affectionate with their owners. So, a friendly pet may have to be sacrificed for the advantage of owning a pet with ease.
Where to Find Pets for Busy People
If you are looking to get a new pet, please adopt it if you can. There are a lot of cats in adoption shelters looking for a forever home. You can search for cats and rabbits on PetFinder.
And after you adopt a new cat or pet, please spay or neuter it. Prevent those unexpected new kittens or baby animals.
These are only a few of some of the best pets to own as a nurse, with hectic or spur of the moment work schedules.
More Busy Nurse Life Tips
Here are some more fun little nurse articles you'll enjoy next.
Youngever 24 Cat Toys Kitten Toys Assortments, 2 Way Tunnel, Cat Feather Teaser – Wand Interactive Feather Toy Fluffy Mouse, Crinkle Balls for Cat, Puppy, Kitty, Kitten

uniwood Automatic Fish Feeder – Digital Auto Fish Feeder, Aquarium Tank Timer Feeder Vacation &Weekend 2 Fish Food Dispenser

Niteangel Adjustable Soft Harness with Elastic Leash for Rabbits (M, Purple)

Download Nurse Bingo Today!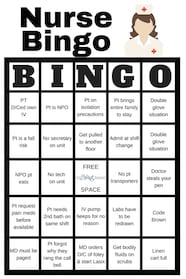 Liven up any shift with a fun game of bingo. See who can fill a row first!
Fill a whole card and lose grip with reality.
Your privacy is protected. We will never spam you.