*articles contain affiliate links*
Never run out of gift ideas again! Fill a decorated tote with these nurse gift basket ideas. All of these items will make any nurse thrilled – they are what nurses really want as a gift.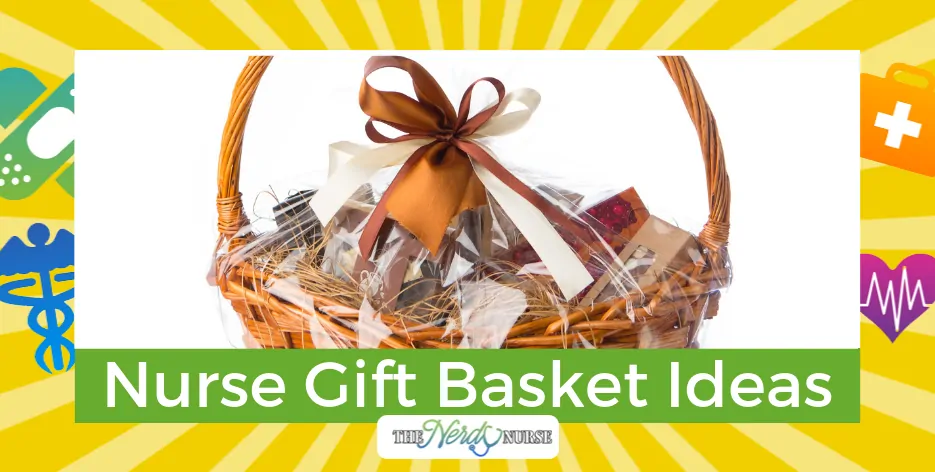 Nurse Gift Baskets – 10 Essential Ideas
Don't stay stuck wondering what to get someone for their birthday or other holidays. If that person is a nurse, just put together a thoughtful gift basket. When you hand pick the items, it will tell them how much you care.
What kinds of things do you put in a nurse gift basket?
Useful – give them something they will use.
Funny – make it something that will make them laugh.
Personal – Put their favorite food or drink in to show how much you care about them.
If you still need some more ideas, any of these 10 ideas will be loved by all nurses everywhere.
1. Compression Socks
Compression socks help with blood flow when a nurse is on their feet constantly. This falls under the useful or practical category. Sure, they might not be the glamorous gift ever, but they will be used and appreciated.
These are the cutest nurse compression socks ever. Buy something that stands out and they will love it.
2. Personalized Tumbler
Lots of Etsy shops sell personalized tumblers. Long shifts call of lots of water drinking – or tea, or coffee! No matter what they like to drink, having a cup that was made just for them will make them smile and think of you.
3.Becoming Nursey Book
Becoming Nursey by Kati Kleber BSN RN is a must-read by all nurses! It's both funny and incredibly practical. She shares practical advice to new nurses. Even though it was written to new nurses, even seasoned ones will enjoy the insights too.
4. Stethoscope Accessories
This falls under the practical but fun category. ID rings will make stethoscopes stand out. There are also bags for organizing all their supplies. I have a full list of cute accessories you can choose to add to your basket.
5. High Protein Snacks
Of course, you can add their favorite chocolate and sweet snacks. But also throw in some protein bars and beef jerky. That sugar rush is fun, but the protein snacks will give them long-lasting energy to help them make it through the long shifts.
6. Pens
Ask any nurse – pens are always getting lost. Fill the basket with a ton of fun pens and they will love it.
7. Hair ties and headbands
Male and female nurses alike will appreciate hair ties or headbands. Headbands are especially appreciated since they can keep that unwashed hair hidden with a cute look. They also keep hair out of your eyes when you are trying to answer call lights.
8. Backpack
You could fill the backpack with all these goodies and give the backpack as the gift basket. If you buy a backpack with tons of little pockets and that is ergonomically designed, the nurse with the sore back will really love it.
9. Hand Lotion
Another nurse gift basket idea is moisturizing hand lotion. Skip the scented kind. Go for something that will inject the skin with nutrients. Nurses are constantly washing their hands, stripping them of their natural oils. Some of the best hand creams will nourish the skin and protect it from drying out.
10. Sleeping Kit
If you know someone that works the night shift, this is super important. Fill it with a really soft and effective sleeping mask and some serotonin. Trying to sleep during the day can be a real challenge, so give the gift of relaxation if you can.
Bonus Idea: Give Time
Finally, the best gift you can give a nurse is your time. Time and energy is something all nurses run out of. They are managing and giving themselves over and over during every shift. Try to offer some home cooked meals, babysitting or even a night of pampering. That is something that you can't put a price on.
More Nurse Gift Ideas
Still, need more gift ideas? Here are are a few more lists that will help you find the perfect thing.
Smiley Stethoscope Ballpoint Ink Pen – Pack of 3

WUSUANED Dainty Rose Gold Heart Beat Cuff Bracelet for Nurse Doctor (Heartbeat Bracelet)

Nurse Coloring Book: Sweary Midnight Edition – A Totally Relatable Swear Word Adult Coloring Book Filled with Nurse Problems (Coloring Book Gift Ideas) (Volume 2)

Nurse Badge Reel Holder – 3 Pack – RN Badge – Bandage Badge Reel – Perfect Nurse Gifts for Women – by BadgeZoo

101 Blessings for Nurses Cards – A Box of Blessings

Women's Novelty Medical Funny Nurse Meds Cotton Crew Socks 2 Pack with Gift Box

Watchover Voodoo The Nurse Good Luck Doll

JennyGems – Not All SuperHeroes Wear Capes Some Wear Scrubs – Nurse Decor – Nurse Gift – Funny Sayings for Nurses – Nurse Signs – Nurse Gifts – Nurse Plaques

Download Nurse Bingo Today!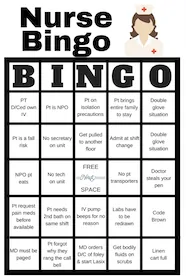 Liven up any shift with a fun game of bingo. See who can fill a row first!
Fill a whole card and lose grip with reality.
Your privacy is protected. We will never spam you.