*articles contain affiliate links*
If you were to ask me if I had a new and improved nurses week gift idea, I could give you a laundry list of suggestions. Every year, May 6th quietly approaches on the heels of Cinco de Mayo, and subsequently ushers in a new National Nurses Week. The ANA has designated 2017 "the year of the healthy nurse" with National Nurses Week getting a focus on wellness, as well. Their whole premise for the 2017 celebrations is to encourage nurses to take steps in balancing their mind, body, and spirit. This week is important for us as nurses because we seem to always be giving to the point of exhaustion, only to be met the next day with the same demands and seemingly gratitude with diminishing returns. In a time when burnout is increasing among nurses, feeling like your hard work is appreciated goes a long way. Nurses Week, which happens to be centered around Florence Nightingale's birthday, is a perfect opportunity for employers to give a lasting and meaningful gift to their nurses.
The Typical Nurses Week Gift Idea
Hospitals nationwide have good intentions to give their nurses a gift that expresses their appreciation. Although I know healthcare leaders have the best intentions, most nurses don't want another water bottle, key-chain, or refrigerator magnet. I'm sure we could all list similar gifts for nurses that we've received over the years.
While we appreciate our employer at least remembering us during National Nurses Week, a water bottle just does not convey the mega-theme of encouraging me to be a more well-rounded, healthy nurse (though I guess a water bottle helps me to stay hydrated). Believe it or not, there is a nurses week gift idea that I would actually be really valuable to a nurses wellness. And it encourages professional development and growth.


When I first heard of this program, I excited! Elizabeth Scala is a mega-force in the online nursing world and has been bringing this great program for the past few years. Every year it grows in value and quality. This year is no exception.
Although I've had my share of nurses week tchotchkes and doodads, I have never received a nurses week gift that would help me to become a better nurse. I really like the idea of promotion professional development over throwaway freebies. So consider this a fresh approach to the nurses week gift idea: give the gift of the Art of Nursing.
"When a nurse feels supported and appreciated, the feel of the unit becomes happier and more dynamic."
The Art of Nursing is a series of webinars that hospitals and individual nurses can purchase. The content covers three key areas:
Communication and collaboration
Leadership and empowerment
Health/wellness
Nurse leaders from all over the country lead these sessions which help nurses feel more supported in their professional practice and personal growth. Additionally, nurses can earn continuing education credit with the program. The Art of Nursing is designed to decrease burnout among the staff and also increase the staff's satisfaction. Since we are all called to earn CEUs and continue our education, this program is structured to support professional development and lifelong learning. Many nurses who work only nights or weekends do not get to take part in many Nurses Week activities, so The Art of Nursing a great option that allows everyone would to participate when it is convenient for them.
Added Benefits to the Art of Nursing
Many nurse managers have raved about the Art of Nursing. When a staff nurse feels supported and appreciated this much, the overall feel of the unit becomes a happier and more dynamic environment. When stagnation is booted out the door, new ideas and excitement flourish. People work better as a team. Obviously, we all know that teamwork is crucial in providing excellent patient care. As a nurse, I want to continue to grow; stagnation is never beneficial in this profession. There is always something new to learn. There's always something new I could be doing to help increase improve the profession.
With this series, nurses will learn how to communicate more effectively as well as delegate appropriately. The program will also provide skills to handle the difficult conversations that can quickly arise in any nursing setting. You can also learn how to become a more effective leader at work, which subsequently will empower you to approach healthcare with a broader vision. Lastly, you will receive tools and learn techniques to decrease stress and prevent burnout. In the long run, this leads to less turnover and will help you to become more engaged in the work you do. The speakers during the 2017 program are focused on reigniting the passion for nursing that has slowly been draining out of you (and me). Isn't that what the American Nurses Association was thinking of when they said that we needed to be well-rounded, healthy people in order to be a great nurse?
The Art of Nursing is a great value for any nurse. You can purchase this for yourself. Or, if you work in administration or management, and you're interested in bringing this nurses week gift idea to your hospital, you can schedule a phone call with the creator of the program so she can give you special pricing for your organization. At the low cost of $97, it's a tremendous value especially considered all the CEUs provided.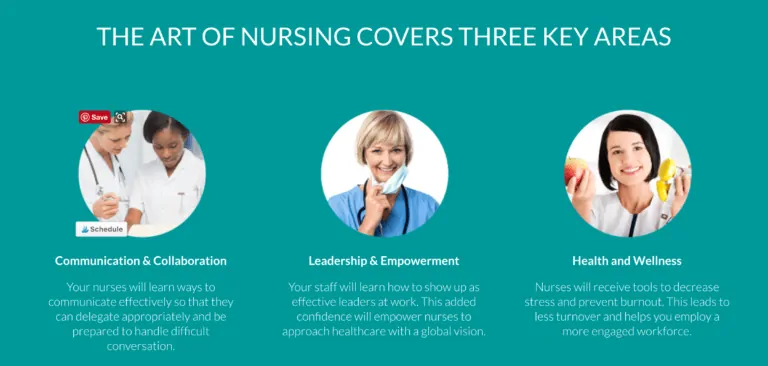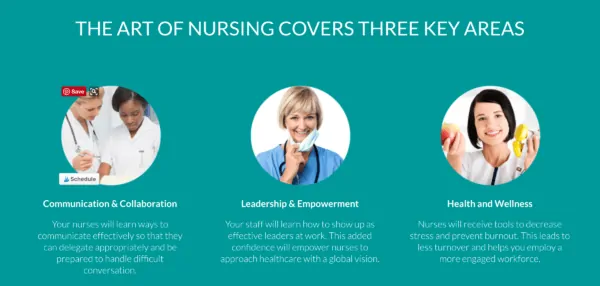 With all of the benefits included, it's no wonder that more and more people are signing up each year to take full advantage of all that the course offers. As I said before, I did have a lot of suggestions for a nurses week gift idea. After I learned about the Art of Nursing, however, I cannot think of a better gift for a nurse during National Nurses Week than this exceptional program.
Give a gift that will truly matter to a nurse you know (YOU!) this nurses week. Learn more about The Art of Nursing Nurses Week Event.
For more information on a Nurses Week Gift Idea Check out Nurses Week 2018 Freebies.
Save
Save