*articles contain affiliate links*
This post includes many cute and original gifts for nurses and a bonus nurse gift buying guide. We've rounded up some of the best thank you gifts for nurses you'll find, so search no more.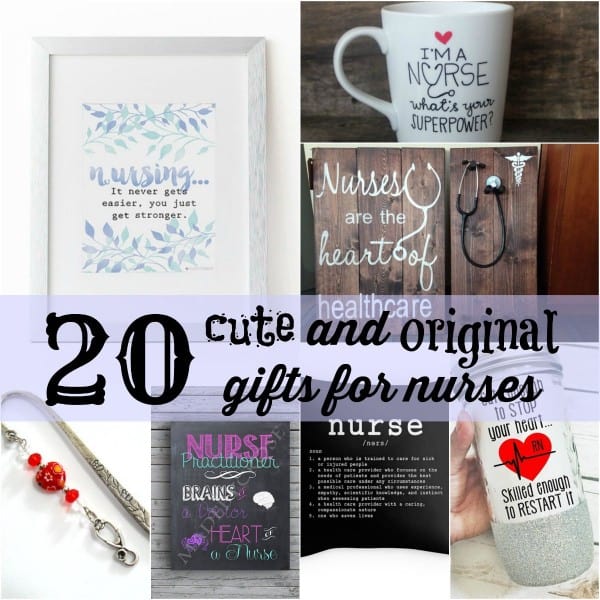 Whether you are shopping for your best friend, manager, or classmate, finding the best gifts for nurses doesn't have to be hard. Sure you could go with something generic, but most nurses appreciate gifts that honor their chosen profession. Look for items that are cute, original, and classy that are sure to touch a nurse's heart.
When I am searching for a truly unique gift for someone, Etsy is always my first stop. I love the fact that most of the items are handmade and one of a kind. I also feel great about encouraging small local businesses. Etsy has plenty of original gift ideas for the nurse in your life, from drinkware to jewelry. I always get tons of compliments when I wear my Etsy buys. I know the nurses in your life will too!
Also, if you're not sure exactly what would be an appropriate gift for a nurse, then you can skip to our nurse gift buying guide for some extra tips and insight to buy the perfect nurse gift.
Cute and Original Gifts for Nurses
I've scoured Etsy to find 20 off-the-beaten-path gifts for nurses that would be perfect for any occasion. Whether it's graduation, birthday, Christmas, or "just because" these hand-crafted items are sure to become a favorite of any nurse you give them to.

This mental bookmark is a classy gift made especially for those in the healthcare profession. The delicate stethoscope charm and heart transform it into something special.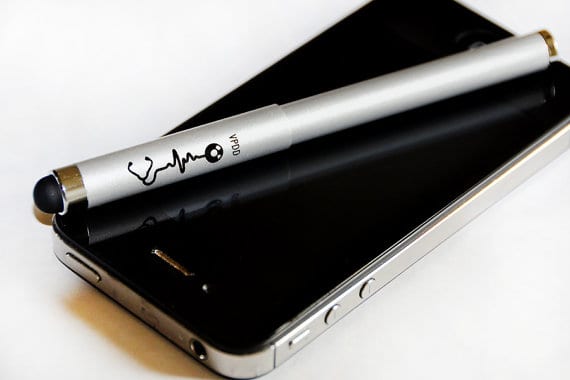 This iPhone stylus pen is the perfect gift for any nerdy nurse in your life. Every nurse needs a pen, and who doesn't love having a stylus handy? Add an awesome stethoscope to the mix and you have something truly unique.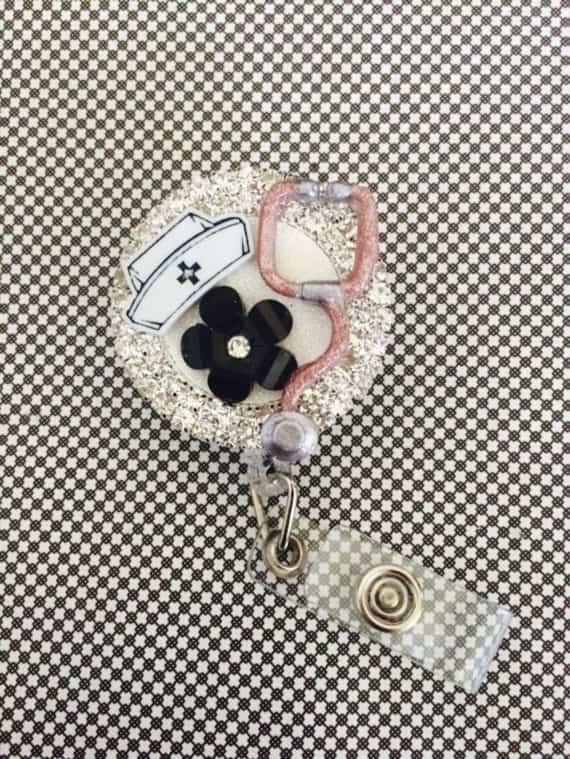 This glittery ID reel reminds me of the classic style of The Great Gatsby
. That was back when nurses still wore caps and elegance was in no short supply. Every nurse needs a great badge reel, and they should make the list any time you are searching for great gifts for nurses.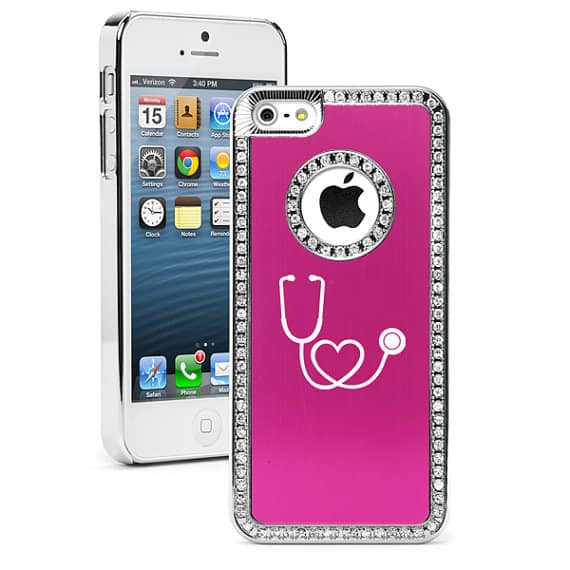 This hot pink rhinestone studded stethoscope brings bling and nursing to an iPhone.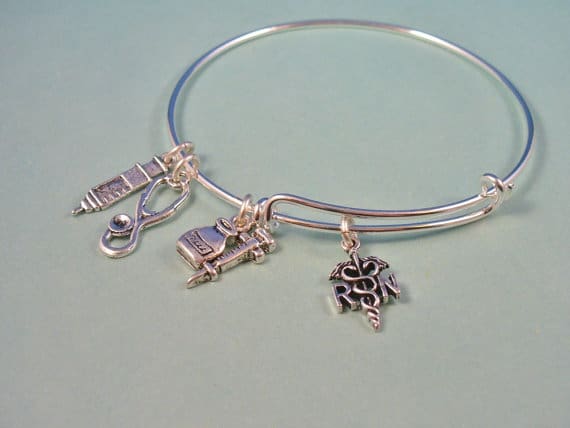 This charm bracelet comes complete with several nursing charms including shots and a stethoscope.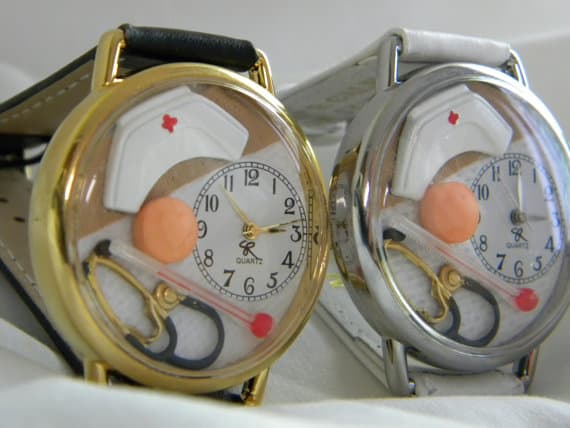 This nurse watch is a beautiful design that is reminiscent of nursing days of the past. I love any item that features our nursing caps of yesterday. The old school thermometer brings it home. I also really like that this is a functional item, as every nurse needs a good watch.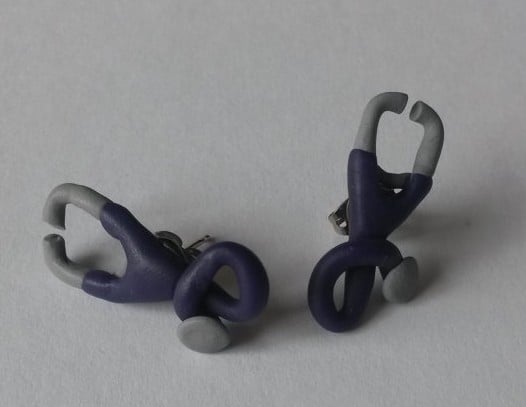 Nurses and their stethoscopes – a perfect match. For the times when you don't have one around your neck, or on your hip, consider adding these stethoscope earrings to your ears.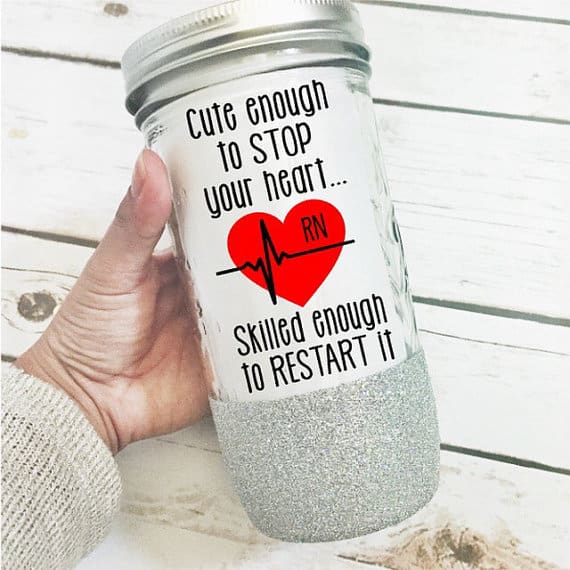 When I graduated nursing school I wanted everyone to know about it. It would have been awesome to take this glittery tumbler with me to let my beverage receptacle do the talking for me!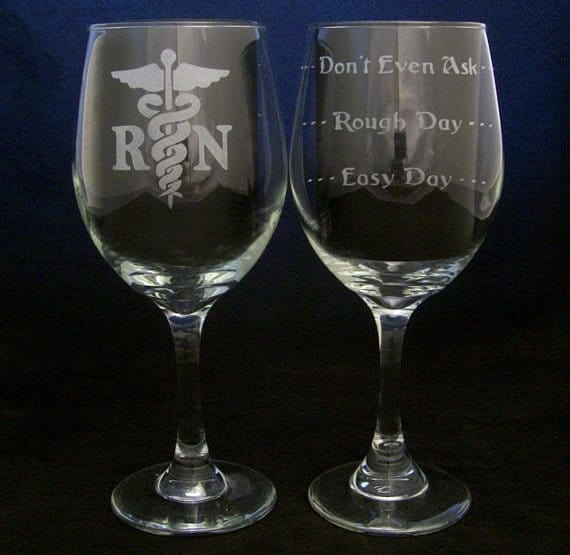 If you know a nurse that enjoys wine (and even if they don't), these wine glasses are sure to get a good laugh. They'll adorn a shelf and get a smile even if they are never filled with wine.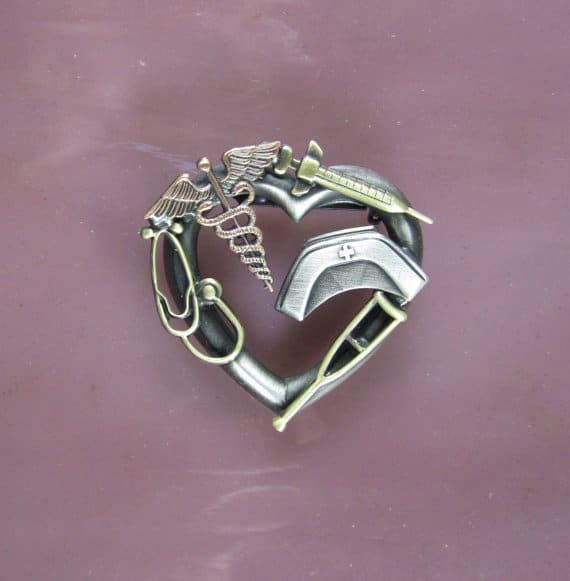 I'd put this on my nursing bag with pride. My favorite charm, again, is the cap with the stethoscope in at a close second.
This braided bracelet with the infinity love accent, nurse cap charm, and NURSE going across the band is gorgeous. It's stylish and fun and really celebrates nursing. This would be a great graduation gift! Pick one up at Amazon.

Something as simple as the definition of a nurse can be powerful. If you catch the right nurse on the right day, a gift like this would bring joyful tears. I'm sure of it. Out of all the items on this list, I think this is my favorite gift for nurses.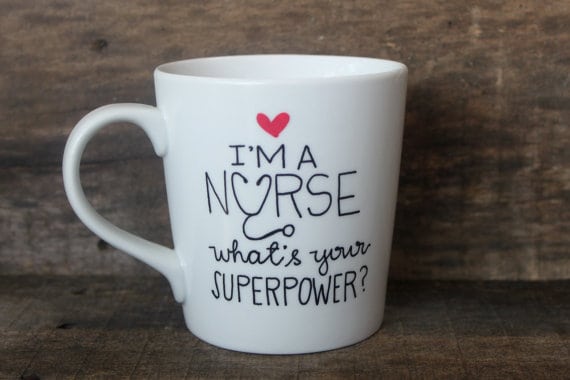 If you know a nurse who can't function without coffee, gift them this mug. No matter way they occasion, they will love it and think of you every morning.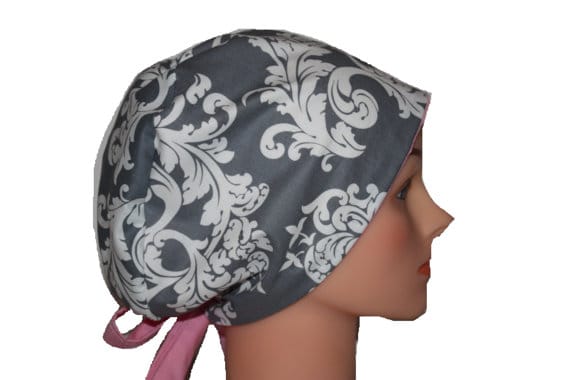 Every OR nurse needs a good scrub hat. This one has a classy print and beautiful color combination.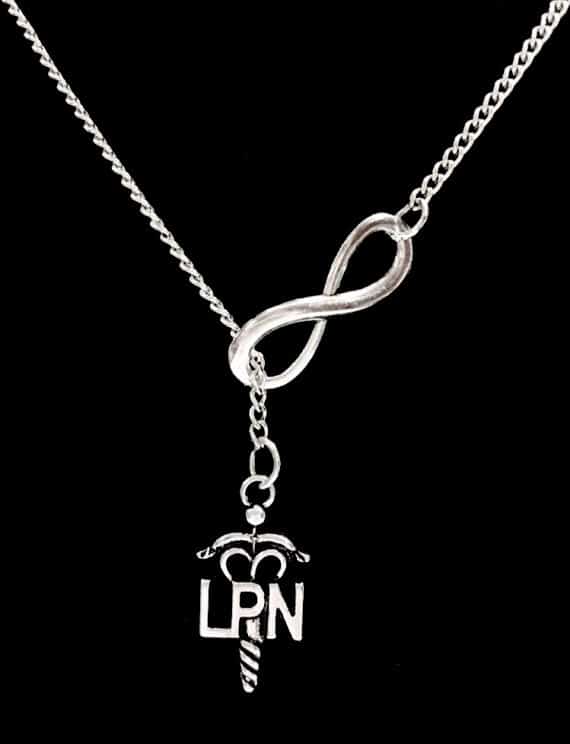 I really love that this LPN necklace is combined with the infinity symbol. Once a nurse, always a nurse.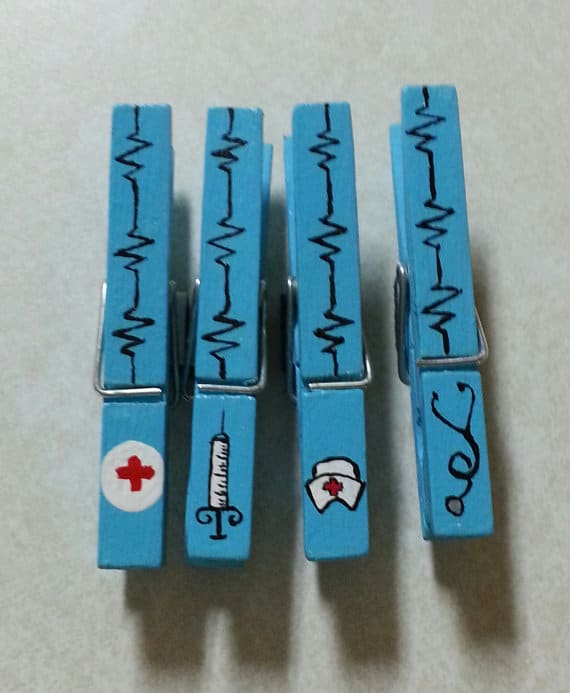 These clothespin magnets are cute and functional. Who doesn't need another chip clip, or menu holder for the fridge? Bonus points because these are nursing themed!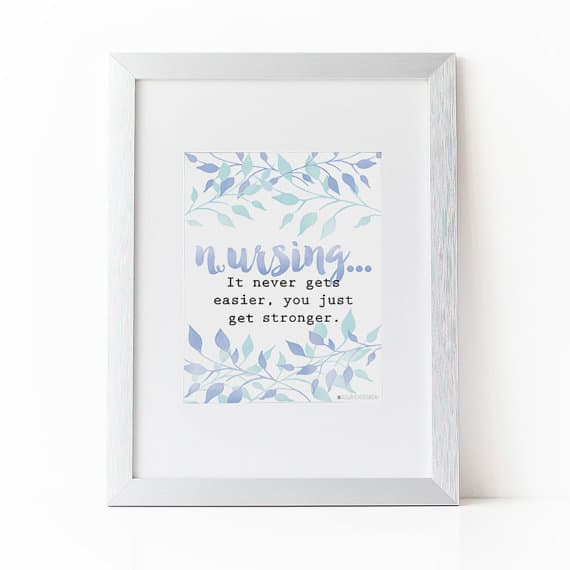 Although it may feel like nursing is easier, that's not the case. You are just better! This print will remind a nurse of how much they have grown in their career. It's also great for new nurses so they will know, that even on their hardest days, they can handle the job.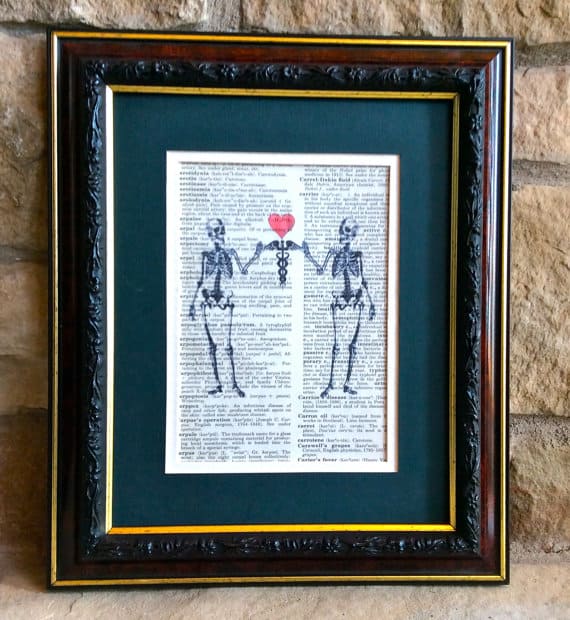 I know at least a few nurses who would love this quasi-creepy medical dictionary page. The skeletons are just weird enough to make guest make a double take. I really love this store. She also has great nurse figurines.
I'd wear this to run that way when I feel like I can't do another lap I'll be reminded of all those shifts I didn't think I could finish. Then I'll have the strength to continue.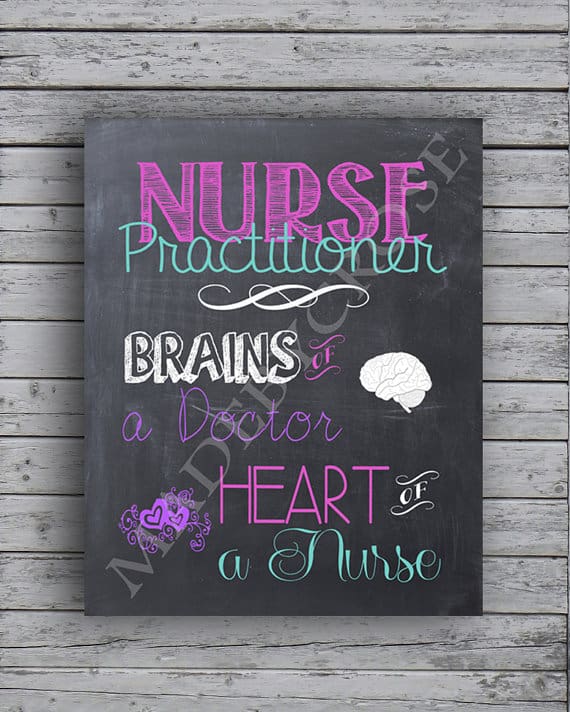 If you know a nurse who has recently completed (or will complete in the near future) a nurse practitioner program, they deserve this! Every nurse should have a corner of their house where they proudly display their nursing memorabilia. This would work great in that spot.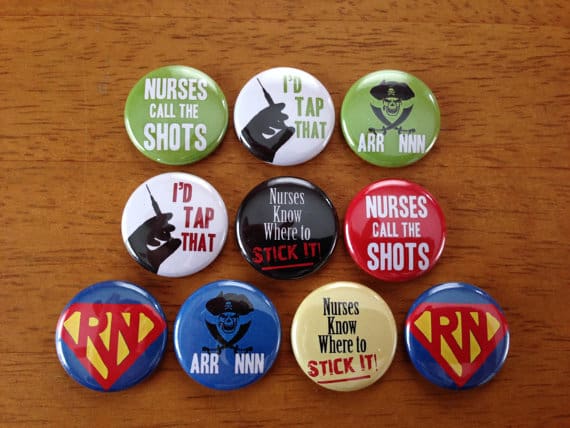 These are fun, funny, and some carry that weird nursing humor with them. Unless the nurse you are shipping for is particularly uptight, they are sure to love these.
Practical Gifts for Nurses and Nursing Students
Getting something a nurse needs and will use every day is a great idea. If you buy something like a stethoscope or nursing shoes, you can be sure they will get plenty of use out of it. You can also consider getting an item that will help them with clinical judgment and critical thinking. A great book like Becoming Nursey, The Nerdy Nurse's Guide to Technology, or The Nurse's Guide to Blogging would be a good choice. We wrote a whole post on practical gifts for nurses if you want some more ideas.
A great tool for new nurses especially is Scrub Cheats.

If you want to give a gift that keeps on giving, I'd strongly recommend gifting NRSNG Academy. It's a comprehensive resource with some of the best nursing education available for new nurses, nursing students, and any nurse that just wants to brush up on their knowledge.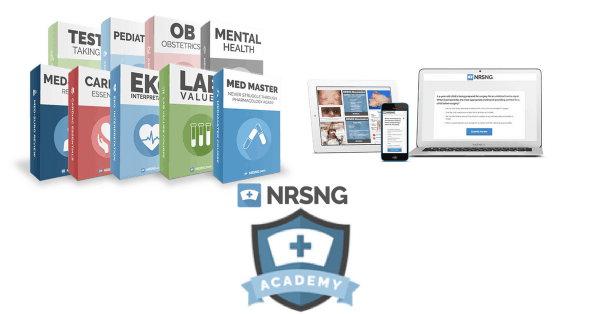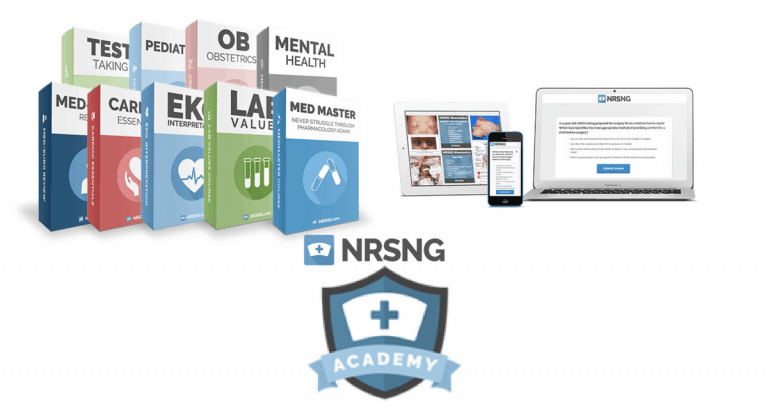 How to Pick the Perfect Gift for a Nurse
Picking the right nursing gift is something you want to consider carefully. You don't want to phone it in and just send something silly and thoughtless. You really want to ensure that you've picked the perfect gift for that particular nurse.
Here are a few things to consider when looking for a great gift for nurses:
What the nurse already has (no one needs doubles unless the new one is way better)
What is  nurse's favorite color
Do you know the nurse's clothing size (hard to buy a t-shirt when you don't)
The nurse's work environment (if they are not working in a clinical setting, they likely don't need a stethoscope)
The hobbies and likes of the nurse (It's probably not a good idea to buy them a shot glass if they don't even drink)
Ask the Nurse
If you want to get a gift something a special gift, don't be afraid to ask them what they need or like. Like would be a lot easier if we had a nurse gift registry, but since most people don't, it's perfectly polite and appropriate to ask the nurse what kind of gift they'd like to receive.
Cheap Gift Ideas for Nurses
The amount of money you spend a nurse's gift has nothing to do with its value or the meaning it will have on the nurse. For example, if you had a family member in the hospital and wanted to do something nice for the nurses on the shift, picking up a box of donuts and bringing them to the nurse's station to do wonders for the mood of the unit. Or you can do something a little more expensive and buy a unique pack of pens and give every nurse that provided care one. If you want to spend a little more, you could order some custom badge reels, stethoscope charms, maybe just a few Starbucks gift cards
.
Consider the Reason for the Nurse's Gift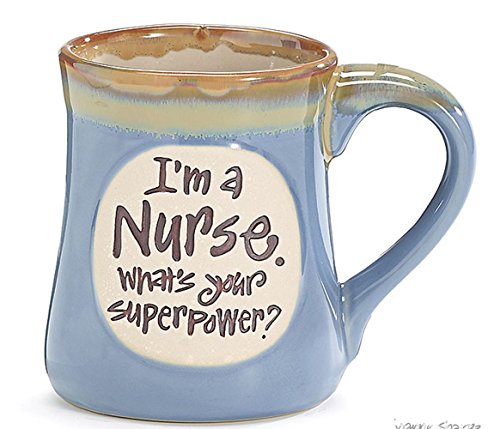 Why are wanting to get this nurse a gift? They type of gift you purchase for them may be largely impacted by the reason for the gift. If you are buying a retirement gift for a nurse, then you might look for something like a nurse figurine, as a stethoscope would be pretty useless to a retired nurse. However, a stethoscope would be a perfect gift for a nurse graduate. Or maybe you're a nursing student looking for the perfect gift for a nursing instructor. A thoughtful piece of nurse wall art to hang in their office, a beautiful nurse figurine or a cute nurse coffee mug would likely do the trick.
There are some gifts that are a little more universal. For example, any nurse would likely appreciate a thoughtful card and a nice double walled vacuum sealed mug. I mean, who doesn't drink water? And even if they already have one, it's always nice to have one you can keep at home and one you can take on the go. I have 3, myself. One of the office, one for the car, and one at home.
 When in Doubt, Go With a Gift Card
If you're still not sure what the perfect gift for that particular nurse should be, you can always go with a gift card. You can do something broad like an Amazon gift card
, where they can buy almost anything (including gift cards to other stores). Other fun options include Starbucks, Gas gift cards, Movie gift cards, or other food and entertainment options.
More Great Gifts for Nurses
Want to check out more gifts for nurses? See some of our other great gift idea posts:
What are your picks for the best gifts for nurses? Did you find anything on this list that you'd love to receive yourself?
Download FREE Nurse Gift Tags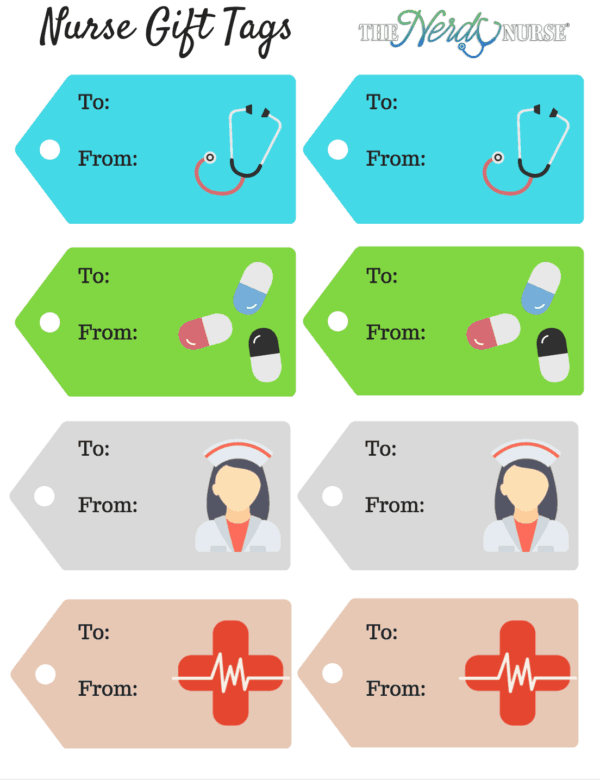 Sign up for updates & get FREE nurse gift tags instantly.
Your privacy is protected. We will never spam you.