*articles contain affiliate links*
Your hair can look beautiful and only take a few minutes to do. All 10 of these nurse hairstyles will keep your hair off your face and make you look extra cute too.
10 Super-Cute and Easy Nurse Hairstyles
There are two things that a hairstyle can do – keep your hair off your face and give you confidence. Both of those things are really important on long shifts.
All 10 of these nurse hairstyles will stay put the entire shift too. There's no point in doing a really cute hairdo if it will fall out halfway through. Who has time for redoing your hair?
If you aren't used to braiding your hair, you can follow the video tutorial included in this post too. Try something new with one of these creative hair ideas.
1. French Braid
The basic French braid keeps your hair off your face and is a classically beautiful hairdo. Once you get the hang of it, you can french braid your hair in under 10 minutes.
This is a great option for all hair lengths. You can french braid just the top half of your hair if you have short hair.
Here is a really easy tutorial that will show you how to french braid.
2. Topsy Tail
A topsy tail is where you flip your ponytail inside itself. It's easier to do than it is to describe. Here are the steps for how to do a topsy tail:
Make a low ponytail.
Secure it with an elastic band.
Above the elastic band, close to your head, open a small gap, large enough to fit your fingers through.
Flip the ponytail – including the hair elastic – through the small gap.
Resecure the elastic band.
If you have longer hair, you can also braid the ponytail.
3. Braided Bun
After you master the basic french braid, the sky is the limit! It is a foundational technique you can use in lots of other cute hairstyles too, including this one. This tutorial shows you how to do this on your own hair. If you can braid and put in a ponytail, you can do this super easy bun.
4. Top Bun with Cute Scarf
I think the messy bun is one of the most popular nurse hairstyles in existence. In fact, it might have been nurses that perfected it!
Add a cute scarf just to add a little something extra on those days when you just can't with your hair.
Double Braids
Dorothy Gale from The Wizard of Oz was the first one to make double braids popular. To this day, they are still a classic and cute way to put your hair up.
This is another one that is great for all hair lengths. Doing dutch braids makes the french braid look thicker and almost inside-out. Here's a video tutorial showing you how to do it.
6. Upside Down French Braid And High Bun
Another way to add a bit of flair to a high bun is to flip your head upside down and french braid it from the bottom up!
View this post on Instagram
7. Rolled Up Gibson Tuck
This is as easy to do as the topsy tail. You literally tuck your ponytail inside of itself. This video tutorial will show you how. And it looks like an elegant updo.
8. Fishtail Braid
Another braid variation you should try is the fishtail braid. This has a whimsical feel to it. Keep in mind, it takes a little more time to do than a traditional braid. This video will show you how to do it.
View this post on Instagram
9. French Roll
Another super cute updo that will work on nurse shifts is the french roll. You can even secure it with a decorative comb or barrette for a little more cuteness or flair.
This video tutorial takes shows you how easy it is.
View this post on Instagram
10. Pixie Cut
Finally, if you really want to save a ton of time, you can always go for the cute and classic pixie cut. This is by far the easiest haircut of all. You can literally wash your hair and go to work!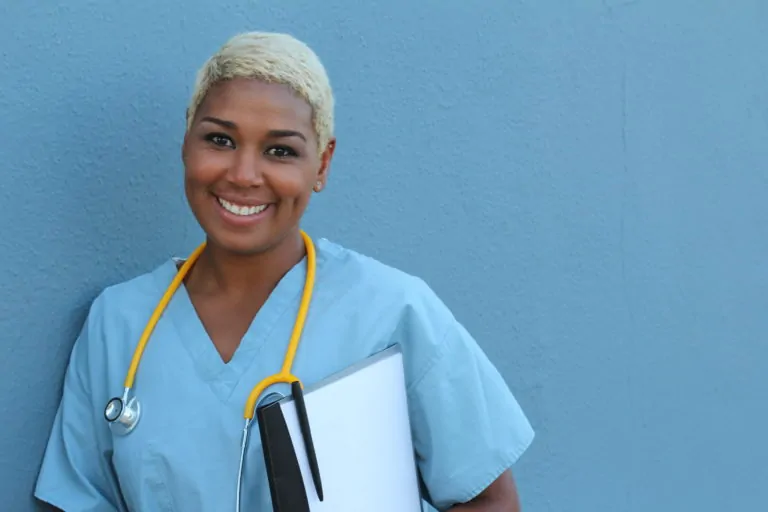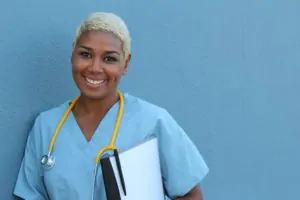 More Nurse Fashion Inspiration
Now that you know some cute hair ideas, here are some more fashion tips for nurses too.
Goody Ouchless Women's Braided Elastic Thick, Black, 27 Count, 4MM for Medium Hair

Kitsch Spiral Hair Ties, Coil Hair Ties, Phone Cord Hair Ties, Hair Coils – 4 Pcs, Transparent

DRESHOW 10 Pack Boho Headbands for Women Vintage Cross Elastic Head Wrap Hair Accessories

3 Pcs Hair Braiding Tool Roller With Hook Magic Hair Twist Styling Bun Maker DIY Hair Style Accessories Black

40 Pcs Hair Styling Accessories Kit Set Bun Maker Hair Braid Tool for Making DIY Hair Styles Black Magic Hair Twist Styling Accessories for Girls or Women

Twist Me Pretty Braids: 45 Step-by-Step Tutorials for Beautiful, Everyday Hairstyles