*articles contain affiliate links*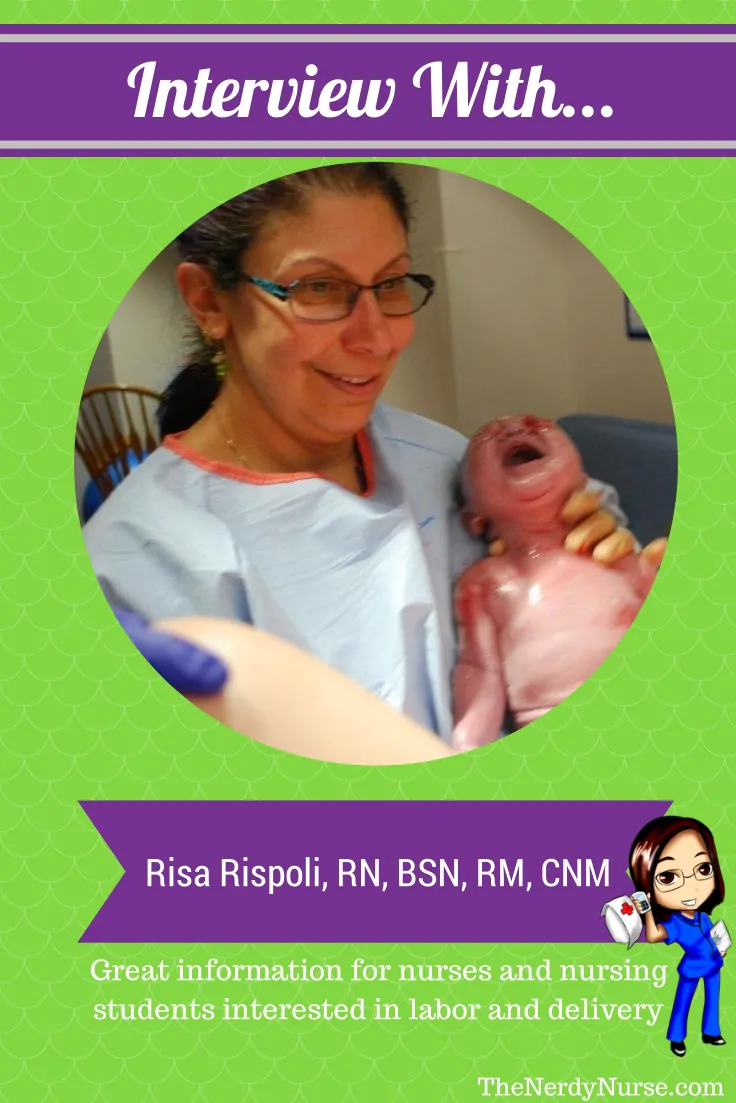 Recently, I had an opportunity to talk with Risa Rispoli. She has been a labor and delivery nurse and midwife for 34 years, and agreed to answer a few questions about her career, the patients she cares for, and gave some words of wisdom to nurses who are interested in working in labor and delivery.
What made you decide to pick labor and delivery as a nursing specialty and what inspires you to stay?
"I've wanted to be a nurse since I was 10 years old. In the 70's, nurses didn't have to go to college to become a nurse; you went to hospital school instead. A degree in nursing was just recently becoming the way to be educated as a nurse then.
When I was in nursing school, I went to a nursing convention where one of the outbreak sessions was hosted by a British trained midwife. She inspired me to go overseas and attend school, where I received training in Scotland to become a Royal Midwife. One of the best things about that experience was that even as a student I received a salary and lots of hands on experience."
New mothers are often scared to death; do they ever ask your advice? What kind of advice have you given them?
"One of the first things I always tell them is that this is not rocket science. This is common sense. Women have been doing this for centuries without hospitals, a crew of medical professionals, and medicine. Yes, medicine has made it safer to have a baby but getting to that point involves some good old fashion common sense. We have to listen to the body to be able to take care of it correctly.There is a fair share of first-time mothers who want to do it perfectly so they absorb as much information as we can give to them. They are really good to work with. We recommend they come with a 'Wish List,' much like a 'Birth Plan' but understanding that things can change. There has to be some give and take – especially to ensure everyone is safe and healthy."
Have you ever had a patient ask about paternity concerns? How do you think their uncertainty of the father of their child affected their childbirth experience?
"I've been a midwife for 34 years. Throughout the years it has changed. When I first started, paternity tests weren't readily available. You had to wait until the baby was born and then a blood test was done in the hospital. You had to get samples from the baby, potential father, or fathers, and the mom.Newer products are available now and done with a swab outside the hospital.Sometimes patients are embarrassed to say something at delivery and over the counter DNA testing kits, like Identigene, are a good resource. It's safe and reliable way to determine paternity so the family can get past those questions and move on to enjoying their new baby. "
What is the best memory you have of working as a labor and delivery nurse?
"One of my favorite stories is from when I did my first breach delivery as a student at midwifery school in Scotland.One night, I had a woman come in and call out, "I think I'm in labor." I had only been in midwifery school for two months at this time. I called down to labor and delivery and asked them what to do. They said to bring her down – the women had me by the arm and uniform and wouldn't let loose.I brought her downstairs with one of the aides and when we got to labor and delivery the supervisor told me I could go but the patient said, "No! She is staying!" She wouldn't let me go and asked me to keep talking to her.The physician came in and confirmed what I thought; she was breach and needed to deliver the baby right away. This made the patient hold on to me even harder.So they untangle me from her the doctor asked her if she would like me to do the delivery and she said, "Yes."It was unusual for a midwife to do a breach delivery there, but they were willing to teach me. That day I learned how to do the best breach delivery because the physician explained everything to me – where to put my hands, what to check, and all the theory behind it. It was a really nice experience and I will never forget how to do a breach delivery.
What advice do you have for nurses who are interested in working in labor and delivery?
"All nursing students come into nursing with the specialty in mind. I suggest that they be open to trying new and unfamiliar things as well. You don't know what is going to change your mind or the opportunities that could present themselves in the future. Starting out, I wanted to be a pediatric nurse, but my path has obviously changed.One of the important things I tell students is to do a year in Medical Surgery. It is a great way to know how to take care of the whole patient. You really need to know how to be a good nurse before you can do anything else and being part of a surgery team can really help with that.For current nurses, I recommend they try working in an OB office, because there is always room for new help and it is a great experience.I would also suggest talking and getting to know nurses who work on labor and delivery. Ask questions about what they do. In post-partum there is also a great opportunity to get your feet wet in this area. You'll work hand-in-hand with the labor and delivery nurses and you'll take care of the mother, baby, and the dad."
In closing, Risa added:
"The most important thing is that we need to love what we do. We're nurses, we care for people and we need to love doing it."
I couldn't agree with her more.
Risa Rispoli, RN, BSN, RM, CNM is a clinical instructor for Shenandoah University in Winchester, Virginia. She also works in a private practice, OBGYN Consultants of Fairfax, Virginia, with a solo physician. The physician she works with is supportive of patients to try the best they can for a vaginal delivery. This is an excellent support system for the patients. She received her professional midwifery training in Scotland and this gives her the Royal Midwife credential.
Disclosure: I have partnered with Identigene to bring you the content in this post. If you are interested in learning more about paternity and over-the-counter DNA testing check out their website for more information.
Download Nurse Bingo Today!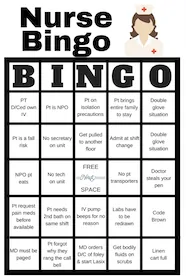 Liven up any shift with a fun game of bingo. See who can fill a row first!
Fill a whole card and lose grip with reality.
Your privacy is protected. We will never spam you.