*articles contain affiliate links*
A great stethoscope is key to excellent patient care. But colorful, sparkly stethoscopes are a fun way to add some bling to the sterile hospital environment. Check out these models.
As a nurse, you know that having the right gear is essential for providing your patients with the best care. You need supportive shoes, the proper uniform, and a trusty clipboard.
But that's not all. You also need a top-notch stethoscope! Many nurses opt for run-of-the-mill black stethoscopes. They're effective (but boring) and oh-so-easy to lose or confuse with a colleague's.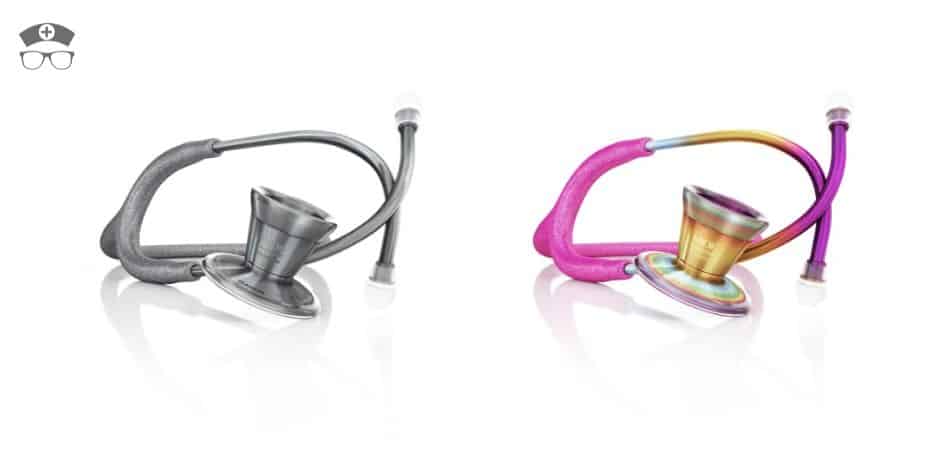 Stethoscopes are an essential tool for medical professionals, but that doesn't mean they all have to be humdrum. Adding a bit of color and sparkle to the sterile hospital environment can help make the experience more enjoyable for everyone and help you stand out from the crowd in all the right ways.
Let's take a look at some of the most stylish and sparkly stethoscopes available.
How To Select The Right Sparkly Stethoscopes
Although nurses of the past would have called stethoscopes functional rather than stylish, things have come a long way. Manufacturers know that nurses want to be able to infuse a little personality into their work and uniform.
However, when you're perusing the stethoscope section, don't be fooled into thinking they're all created equally – there can be a huge difference in quality and performance between brands. To make sure you're getting the best bang for your buck, take a closer look at the components.
Ear pieces can be tricky to get right – you need the comfort factor, but also the perfect angle to get great sound transfer.
Chest pieces – Stainless steel is the best option for the chest piece, as it's supremely durable and picks up sound with amazing clarity.
The tube is a mission-critical element, so look for thick, crack-resistant material that can be twisted without kinking and doesn't come in at a super-long length.
The best choice for the diaphragm is resin, as it's light and flexible. Try to find a diaphragm with a non-chill rim to make the patient experience a bit more bearable.
Don't settle for less – get the stethoscope that gives you the highest quality hearing experience around!
Our Top Sparkly Stethoscopes Picks
To make your selection process a little easier, we've gathered a list of stethoscopes with sparkly designs. These models feature glittery accents, such as sparkly beads or sequins, which add a bit of glamour to the hospital environment.
Check Prices
Let's start with an option that's slightly more traditional. If you want to add a little sparkle to your uniform without being "too loud," this gray glitter stethoscope is the way to go.
Plus, with latex-free components, a full lifetime warranty, a lightweight design, a cardiology-grade dual head chest piece, and multiple sizes of soft silicone earpieces for the perfect fit, you can't go wrong with this choice!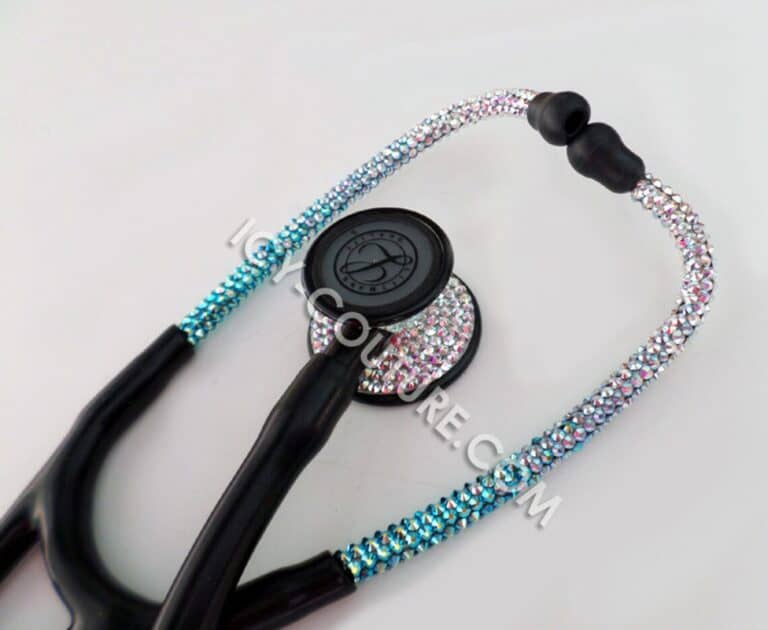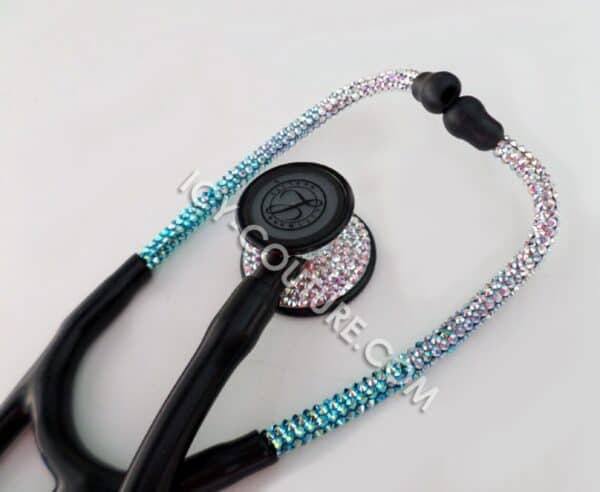 Check Prices
The tube on this stethoscope may be black, but that's where the dull ends and the bling begins.
Choose from Littmann Classic, Littmann Master Cardiology, Cardiology, or Prestige Medical brand stethoscopes (price varies by brand) so that you know you'll have superior performance. Then the chosen model is crystalized by hand in an ombre design with clear and blue crystals.
This item makes a terrific gift idea for your favorite nurse or graduation gift for the nursing student in your life!
Check Prices
On the other hand, if you want to be seen and inject a fun, cheery vibe, it doesn't get any more fun or cheery than a pink stethoscope! Oops, yes it does – a sparkly pink stethoscope. This high-quality model is backed by a full lifetime warranty so you can relax and have full confidence that you'll get superior performance every time you pick it up.
It's worth noting that not only is this model of sparkly stethoscope glamorous, but you'll also get high-quality features such as latex-free components, a free-parts-for-life program, an extra deep diaphragm and bell for incredible sound clarity, and a lightweight design with a flexible, thick tube.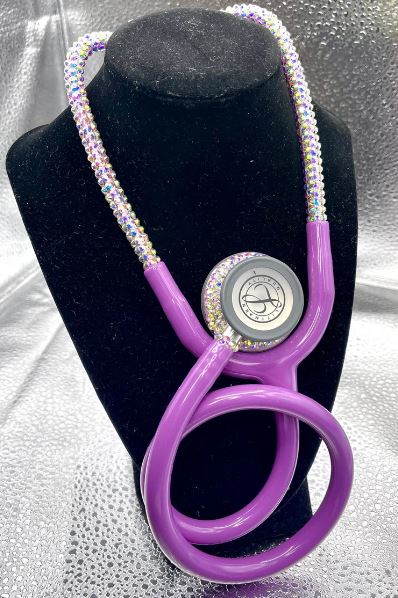 Check Prices
Hello, sparkle! Here is another hand-crystalized version that creates a beautiful and eye-catching stethoscope you can't wait to use. The lavender tubing complements the iridescent rhinestones for a look that will make any color scrubs even more stylish. No one else in your department will grab yours by accident!
Choose between two MDF models or a Littmann Classic III so that you can confidently get accurate readings every time you use your own unique stethoscope. Whether you're getting this for yourself or as a gift, There's also an optional addition of a rhinestone-studded pocket case.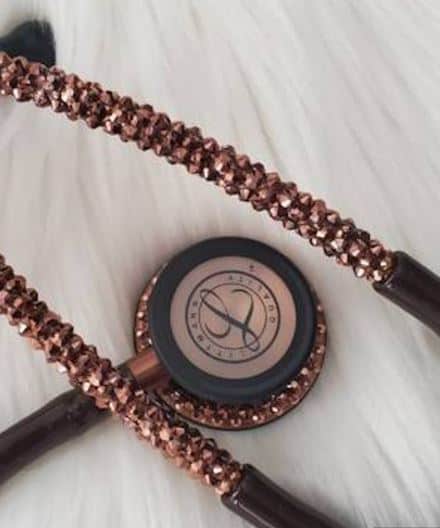 Check Prices
If you're searching for a touch of elegance with your bling, this design, hand-embellished with luxurious Rose Gold glass rhinestones, should fit the bill. The rose gold definitely adds a touch of glam to the sparkle!
For this item, choose carefully, because you can pick from ordering just the case, just the stethoscope, or the combo in multiple colors.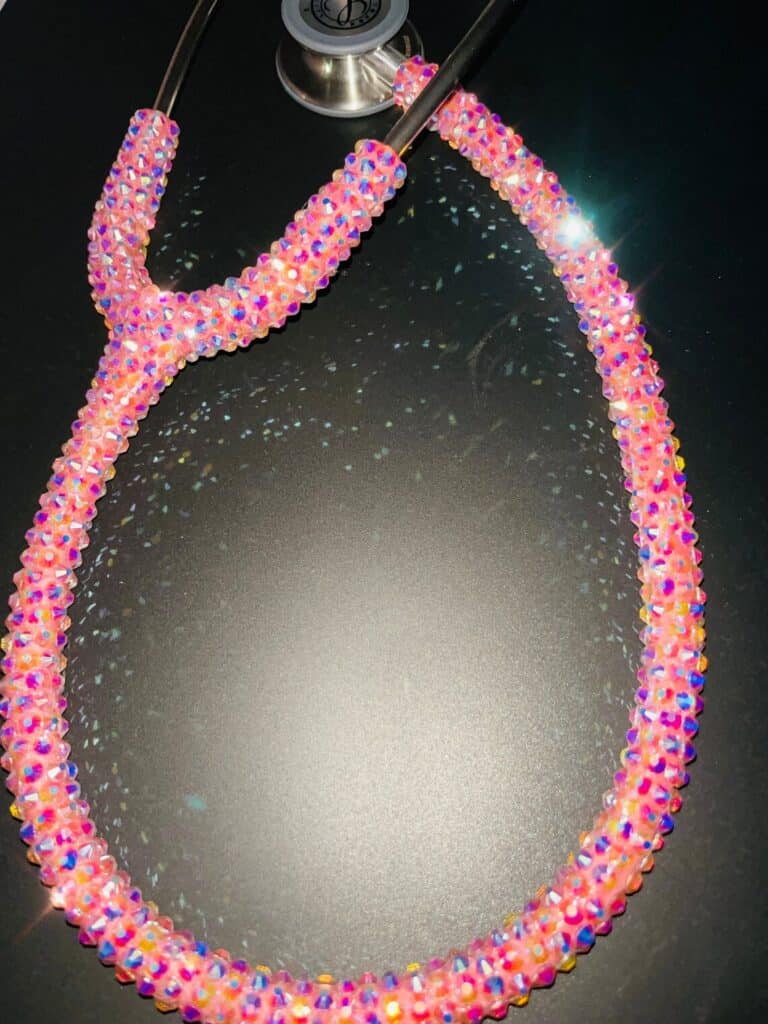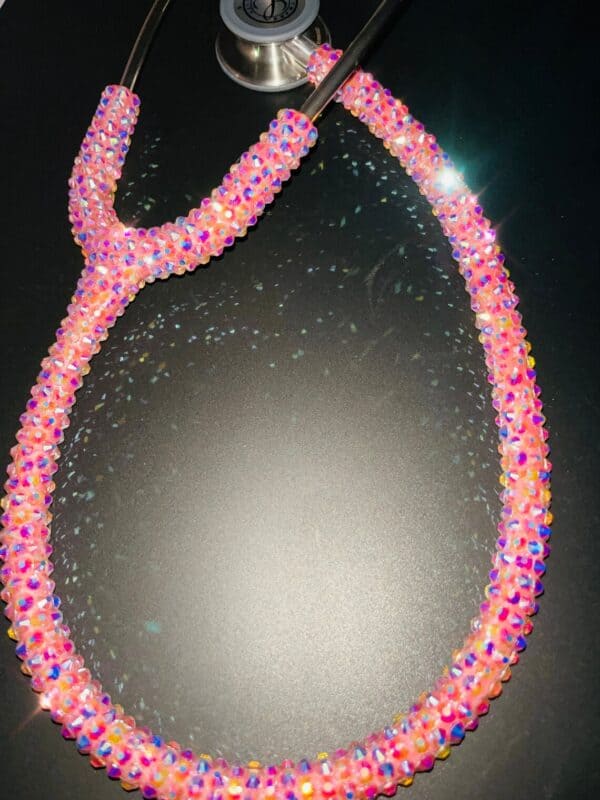 Check Prices>/center>

Here's an option that shows off crystal on the entire tube and you can get it in three colors: pink, black, or gray. It's a perfect subtle (is glitter ever subtle?) touch for the nurse who wants bling without going overboard.

The stethoscope is a Littmann Classic III to give you peace of mind that you're using a high-quality item in patient care.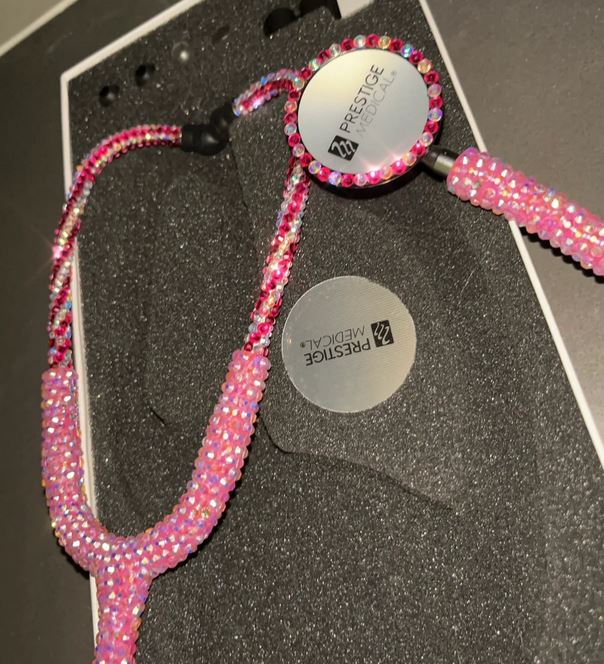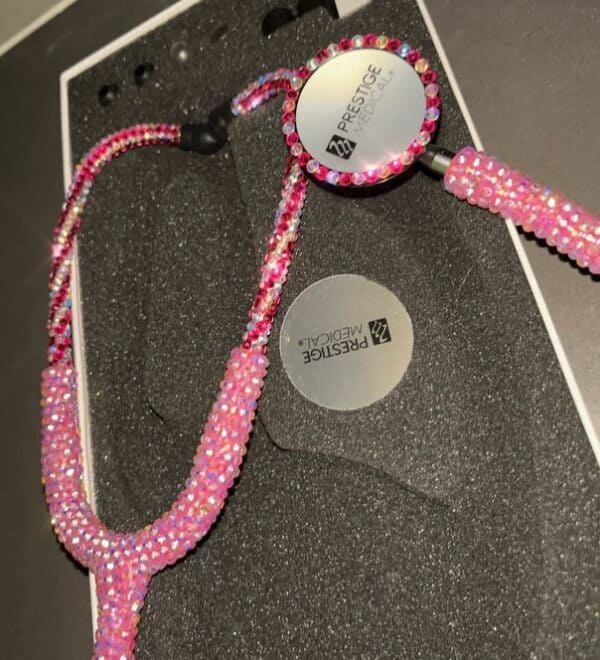 Check Prices
Here's an idea for the nurse who wants to shine. All the previous suggestions on this list were for models that either had glitter and sparkle on the tube or the stethoscope. This one is different because the entire thing is bedazzled!
So, if you're looking to add a bit of style and personality to your medical wardrobe, check out these colorful and sparkly stethoscope models.
More Posts You'll Love
Download Nurse Bingo Today!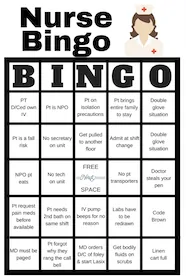 Liven up any shift with a fun game of bingo. See who can fill a row first!
Fill a whole card and lose grip with reality.
Your privacy is protected. We will never spam you.