*articles contain affiliate links*
It's safe to say that as a nurse, or any healthcare professional, your stethoscope is your loyal companion. Always around your neck or in the pocket of your scrubs, your stethoscope has probably played a vital role in multiple diagnoses, and misplacing or losing it can really feel like you've lost an arm! Well, turns out, there's a perfect solution that lets you mark your stethoscope so no one "thinks it's theirs by mistake" and can return it to the rightful owner if found after you lose it, all the while lending a personal touch to your stethoscope. If you haven't figured it out already, we're talking about engraved stethoscopes!
Engraved stethoscopes, as we've already pointed out, allow for easy identification of stethoscopes and give them a sense of belonging! For those of you who have an irreplaceable bond with your "steths", engraving them makes perfect sense, as we're sure in a hospital or clinic with thousands of stethoscopes, losing or misplacing your own is a huge possibility and probability! Having an engraved stethoscope or an engraved identification tag around it goes a long way in preventing such mishaps.
Where to Buy Engraved Stethoscopes
If the idea of an engraved stethoscope has captured your fancy, then you're reading the right article, because we give you a list of the best engraved stethoscopes and identification tags that are available to you!
We've outlined some of the best shoes in Engraved Stethoscopes in this comparison table to make it easier to find the one that is right for you. You can click "Read More" on any of the items in the table to jump to the section in this article outlining more information about it. Or, you can click the "Buy from Amazon.com" button to pick it up immediately.
Check Prices
The 3M Littmann identification tag is a perfect option for your stethoscope with the option of customizable engraving. Available at a price of $21.99 for black engraving and $19.99 for gray engraving, this tag allows for easy identification of your stethoscope as well as lending it a mark of belonging! Even better, buy a pack of 5 at $22.99 and rest assured that you'll never lose your faithful companion! It will look great on your Littman Classic II SE Stethoscope.
Why It's a Must-Have!
Customizable engraving
Option of black or gray engraving
Free shipping
High-quality synthetic material that is durable
Fits all sizes of stethoscopes at the yoke area
Mail-order engraving service information included with product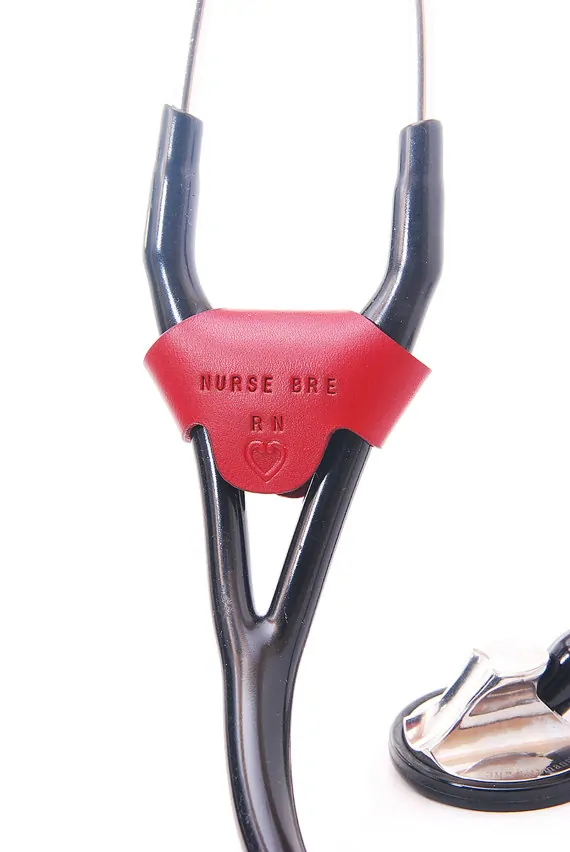 Check Prices
This handmade leather stethoscope ID tag lends a certain air of sophistication and class to your stethoscope, as well as marking it as yours. Available in 9 different colors, these tags are made to order and can be customized as you wish with your initials and a symbol (heart, Caduceus, paw, or no symbol), with the exception of removing the seller's logo. What's more, this product earns brownie points from us for being handmade by a retired marine in South California! Perfect for a Littmann Cardiology steth, this ID tag adds style and personalization to your stethoscope for under $40.
Why It's a Must-Have!
Made of genuine, high-quality leather
Made to order and is customizable in terms of name and symbol
Removable via 2 segma snaps
Easy to put on
Wide range of color options
Handmade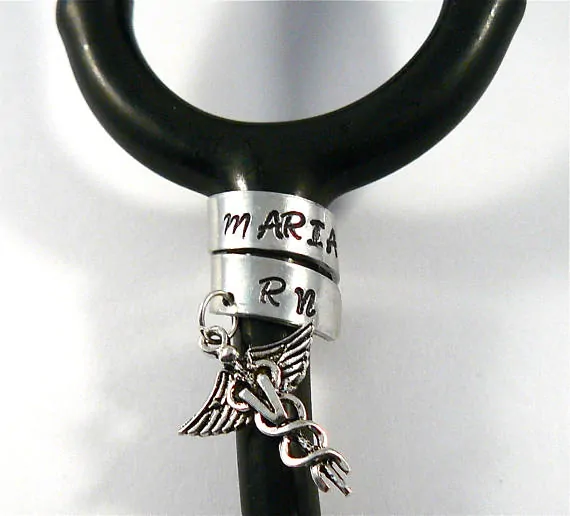 Check Prices
The engraved spiral twist stethoscope ID tag definitely tops the list of stylish ID tags. Made of pure lightweight aluminum, the tag is adjustable, making it suitable for all sizes of stethoscopes. The seller offers the option of engraving your name, credentials, and adding a charm to the tag, all for a more-than-reasonable price of under $15! This ID tag is sure to up your style quotient while keeping your stethoscope safe!
Why It's a Must-Have!
Made of pure lightweight aluminum
Handmade
Made to order and customizable (name, credentials and 14 charm options)
Adjustable, so fits all sizes of stethoscopes
Check Prices
This stethoscope is a definite beauty that's sure to be the talk of the department, if not the hospital! Elegant in its white and rose gold combination, the MDF MD stainless steel stethoscope comes with a lifetime warranty and free lifetime replacement of parts. Hand-crafted and sold since 1971, the stethoscope is made of high-quality stainless steel and comes with an inbuilt ID tag that you can get engraved (unfortunately, from a third-party vendor as MDF doesn't offer the option). If you've always been a fan of Apple's white and rose gold combination, then this one's a no-brainer! And even if you're not, the MDF stethoscope is available in black and gold and all black, and at under $100, is definitely a worthy investment!
Why It's a Must-Have!
Hand-crafted
Latex-free
High-quality stainless steel
Includes 3 pairs of MDF's ComfortSeal ear tips (small, regular and large)
Dual-leaf spring construction that offers durability
Patented SafetyLock Eartip Adaptors that are non-invasive and prevent punctured ear drums
Lifetime warranty and free replacement of parts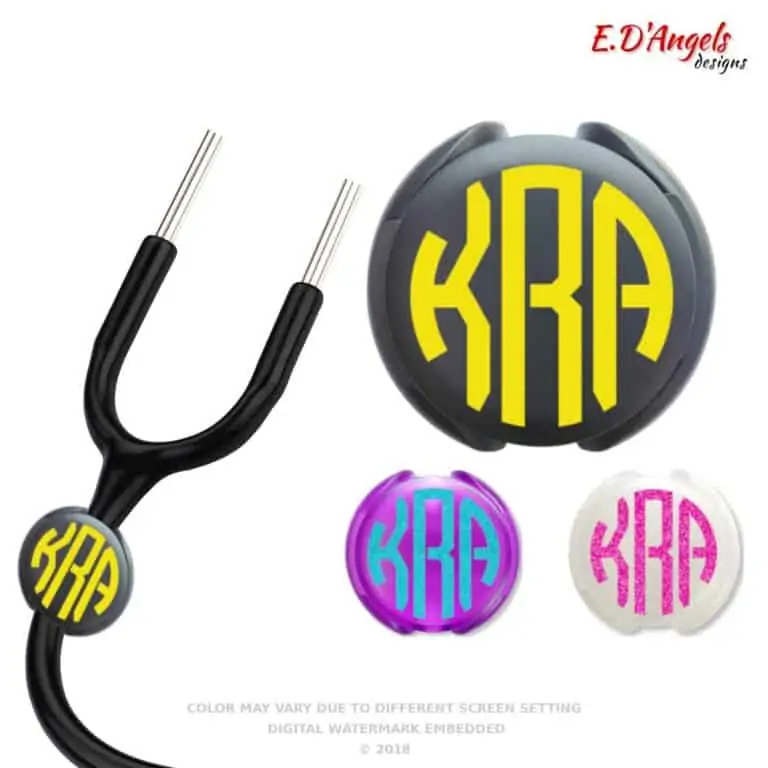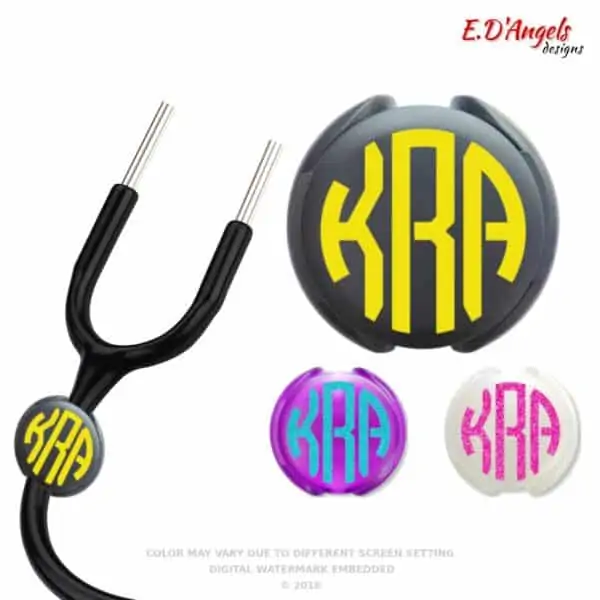 Check Prices
Let's face it, we all love a little bling in our lives! Shiny objects can light up any room and any mood. If you've always admired Pharrell Williams' statement-making jewelry or the shiny rings on the Kardashian sisters, then you're going to love this product! These monogrammed stethoscope ID ring-cuffs are made of pure lightweight aluminum and embossed with rhinestones, making them flashy yet keeping them classy! Handmade, these ring-cuffs are available for a steal at under $10.
Well, what are you waiting for?
Why It's a Must-Have!
Customizable (up to 3 initials on the tag) and different color options
Hand-crafted
Made-to-order
Easy to put on and take off
Monograms are embossed using a special technique instead of engraving
In the End, It Does Matter
As we've mentioned before, it's quite easy to misplace or lose the one item that you carry the most with you – your stethoscope. Losing or misplacing them can be quite a hassle as so much depends on these instruments, and it can feel like quite a loss when that happens. Engraved stethoscopes or engraved stethoscope ID tags present the perfect solution to this problem, combining safety and personalization seamlessly!
So before you lose your stethoscope or someone else mistakes your stethoscope for theirs, get them engraved or get an engraved ID tag. There's no way your loyal companion will ever leave your side after this!
More Resources for Engraved Stethoscopes: