*articles contain affiliate links*
Leadership is the very heart of nursing. If you're considering taking your leadership skills to a new level in your career, you may want to work as a nurse manager or a nurse leader. We're taking a look at nurse leader vs. nurse manager jobs to understand the similarities and differences between these two roles.
I remember that as a nursing student, we discussed the difference between being a nurse leader and a nurse manager. It's unfortunate that these two titles are so similar because they don't refer to the same role yet when people hear the terms, they may think these two jobs are one and the same.
As with many professions (and nursing is no exception), there are many levels of management.
So although nurse managers and nurse leaders sound like they may be the same (or very similar) positions, there are differences around job responsibilities, seniority levels, pay, and more.
However, both of these jobs have their place in ensuring both nursing and patient-care excellence in various healthcare settings and facilities. How are they alike and how do they differ? Let's dive in and find out.
Roles And Duties Of Nurse Manager vs. Nurse Leader
Although nursing is a call to leadership in general, some nurses choose to take their skills and utilize leadership in more formally recognized capacities. Both nurse leaders and nurse managers are intimately involved in ensuring high-quality patient care, although they approach it from two different angles.
For example, nurse managers are hands-on leaders, overseeing teams of nurses in their department up close and in person while ensuring smooth day-to-day operations. This position offers great opportunities for growth and advancement while developing strong leadership skills and still maintaining direct contact with patients. Nurses who still want to interact with patients may prefer this position.
By contrast, nurse leaders take on an administrative role, leading from a more hands-off, high-level position to set policies, ensure regulatory compliance, and develop plans for a healthcare facility. Nurse leaders work with the administration team rather than spending their days with nurses or patients.
Let's take a closer look at their job duties to further differentiate between these positions.
Duties Of A Nurse Manager
Nurse managers manage teams of nurses and often also provide patient care (either directly or indirectly). Here are some tasks you may notice a nurse manager performing:
Creating the nursing shift schedule
Maintaining patient records and ensuring they're kept up to date
Hiring, training, and evaluating nurses
Managing the budget for their department
Ensuring their department follows health care regulations and is in compliance with laws
Identifying and setting goals in their department
Providing hands-on care to patients
Duties Of A Nurse Leader
In contrast to a nurse manager, nurse leaders don't have direct contact with patients, nor do they oversee a single department. Instead, they have a purely administrative role in an office setting that oversees an entire healthcare facility or hospital.
Here are some tasks you may notice a nurse leader performing:
Evaluating current procedures and identifying ways to improve them
Setting patient care standards and best practices for the healthcare facility
Developing new policies and overseeing them
Ensuring regulatory compliance for the facility
Meeting with board members or stakeholders to update them and develop new policies or strategies
Ensuring the staff follow the organization's mission and vision.
Nurse Manager vs. Nurse Leader Education
There is some overlap in education and experience for nurse managers and nurse leaders. First, both roles require a Bachelor's Degree in Nursing (BSN) and passing the NCLEX-RN board exam.
Next, both nursing leaders and nursing managers need several years of on-the-job experience as nurses (often 5+ years) and then obtain a Master of Science in Nursing (MSN) and/or a Master's in Business Administration or Healthcare Administration (MBA or MHA).
Additionally, the American Organization of Nurse Executives offers two paths for certifications.
The Certified Nurse Manager and Leader (CNML), is offered in collaboration with the American Association of Critical-Care Nurses (AACN) for aspiring nurse managers to show that they have the skills necessary to be nurse managers.
Moreover, the Certified in Executive Nursing Practice (CENP) certification is required for aspiring nurse leaders to show they have the skills and expertise to be effective in an executive-level position
Income And Job Outlook
The U.S. Bureau of Labor Statistics (BLS) projects that both positions have a positive outlook with higher demand through 2030.
Salaries can vary significantly between the two roles due to their duties and authority level. In addition, factors such as experience, location, department, education, and more can impact salaries.
Nurse managers can expect to make between $95K and $145K, with a national average of around $110K. Because nurse leaders are administrative, these salaries tend to be higher, landing between $110K and $170K with an average of around $150K, according to the American Organization for Nursing Leadership (AONL).
How To Become A Nurse Leader vs. Nurse Manager
As you consider your goals within your nursing career, you may discover that you want to work toward obtaining advanced or leadership positions like a nurse manager or nurse leader.
In order to pursue these roles, you'll need to develop certain skills, including leadership, management, communication, decision-making, problem-solving, and delegation.
Once you decide you want to work toward one of these roles, your first step will be to invest in and further your education, which you should be able to do while you're working.
Begin searching for leadership positions because you may be able to move into some of them as you complete your education and certification.
Nurse Leader vs Nurse Manager: Final Thoughts
The healthcare system needs both nurse managers and nurse leaders to ensure smooth healthcare operations and high-quality patient care. These roles perform differing job duties as they support patients and the healthcare facility from different angles. And they offer personal and professional growth opportunities for nurses. Nurse leader vs. nurse manager: which leadership role interests you?
More From The Nerdy Nurse:
Download Nurse Bingo Today!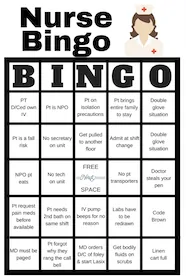 Liven up any shift with a fun game of bingo. See who can fill a row first!
Fill a whole card and lose grip with reality.
Your privacy is protected. We will never spam you.