*articles contain affiliate links*
As we all know, the profession of nursing is a mentally and physically demanding job. Like marathon runners and professional athletes, shoes are an important part of successful performance. Nurses have so many other things to worry about, the last thing they should be worried about is blisters or aching feet. There are a number of different options that nurses can choose from when it comes to footwear, but without proper testing and actual use, it can be difficult to find your tried and true pair. Brooks makes a variety of different athletic shoes that feature desirable factors specifically for nurses and athletes alike. They have become a popular company that many nurses have come to swear by. They do offer a large range, making it hard for some to decide. So you do not have to buy 50 different nursing shoes on the market, we did it for you. We listed out some of the top options of Brooks nursing shoes to keep your feet happy during those long shifts.
---
Why Are Nursing Shoes Different From Regular Lifestyle Shoes?
The main difference why nursing shoes are different from regular lifestyle shoes is that most people do not stand and walk for 12 hours straight every day. Shoes that are made for regular lifestyle use are comfortable, yet focus on factors other than comfort. Especially with athleisure on the rise, athletic shoes not only need to be comfortable and supportive but also fashionable. For nurses who are on their feet all day, comfortable and supportive footwear helps them focus on their work. Could you imagine trying to provide a patient with the best care, but constantly have to worry about your feet hurting or blistering? With such a demanding job, nurses do not want to worry about physical discomfort. Achy feet and legs can be distracting and create even more misery in the long 12 hour shifts.
Because of the specific type of work nurses perform, they may value some features that normal people would not. They may need to follow special specifications, and make sure their feet are comfortable and protected. Having high-quality shoes that are supportive can truly make a considerable difference in the nature of a nurse's shift or day.
Some popular choices in footwear for nurses include:
Even though crocs are growing in popularity in trendy culture, nurses have sworn by this type of shoe for a long time. The reason for this is that they are easy to clean and have a good grip. This option may not be the best option for some nurses because there are holes for venting and also do not provide the best support.
Some nurses love these types of shoes because they have great support and are stylish. There are many different types of nurses, and for some, this is a great option.
Athletic Shoes
Since athletes also focus a lot on their feet, athletic shoes are some of the best shoes for nurses. Since athletic shoes are designed to perform specific tasks, oftentimes they line up with certain features that nurses need as well. Running shoes specifically are designed to absorb shock and feel comfortable even when running quickly on hard ground. For nurses, this is a great feature. One reason that nurses may not choose this option is that athletic shoes are often permeable to allow breathing, but for nurses who work in an environment that is prone to spills or contaminants, this would not be optimal.
Why Brooks Makes Some of the Best Nursing Shoes
Brooks actually makes running and walking shoes, but the support they offer is the reason that nurses swear by their shoes. Brooks focuses on top-level comfort in all the necessary places. While many other athletic companies split focus on comfort and style, Brooks always puts comfort at the forefront. Brooks has developed innovative technology such as BioMoGo DNA and DNA LOFT, two different sole styles that provide cushioning. The brand is created and driven by real runners that designed these ingenious soles that keep in mind weight, pace, and gait.
Brooks' shoes also have mesh fabric that is water-resistant, which is perfect for nurses. Having your feet cooped up in your show for long hours can be sweaty and smelly, but the mesh allows your feet to breathe. The water-resistant feature is one that most athletic shoes do not have. This added feature lets nurses walk comfortably without having to worry about contaminants spilling and getting into their shoes.
Another reason why Brooks makes some of the best nurse's shoes is the wide variety they offer. Even for different types of nurses, some may value certain features over others. People also have very different feet, which makes their problems more specific. People that are more prone to achy feet or have weak knees may need to focus more on supportive and firmer shoes. For those that have flatter feet or aching arches, Brooks has shoes with curved soles or removable ones for even more specific remedies. Some also come with a heel collar wrap and Achilles guard, which can often be strained or irritated after long hours on your feet. All these added features help you decide which shoe will work best for you. Whatever foot problems you may have, Brooks is here to help.
What to Look for in Nursing Shoes
Arch support
This is one of the most important features of a quality nursing shoe because the arch is usually the first area of your foot that starts to ache. A supportive arch helps to combat this. It helps your footrest comfortably on the support, letting you walk for hours at a time. Many shoes come with a flatter sole that gives a more slim and appealing appearance. This creates an open space and provides support to let the footrest. Having proper support can help with fatigue, pain, and discomfort in the feet and legs. The arch of the foot supports a lot of our weight and absorbs a lot of the pressure while walking and standing. Since people have different arches, it is important to find one that is supportive of your specific arch type. Inadequate support can lead to much more than discomfort.
Slip resistance
This is also an important feature that may be specific to nurses or health professionals. For athletes who typically run on a track or outdoors. The grip is not as important, since there is natural grip in track fields and on packed dirt. Nurses need to walk quickly or even run sometimes in a hospital setting. The floors in the hospital are smooth and usually lack grip to allow rolling beds or wheelchairs to glide smoothly. A quality shoe will have sufficient slip resistance to let the nurse walk and run without having to worry about falling. Hospitals are also prone to spills, so slip resistance is even more important.
Waterproof
Having a waterproof shoe allows for easier cleaning. As we know, spills of any kind are bound to happen in a hospital setting. A waterproof shoe can protect a nurse's foot from possible contaminants from getting contact with their skin. Things like bodily fluids can easily permeate mesh shoes.
Easy to clean
This is an important factor since nurses have such long shifts. The last thing you want to worry about is cleaning your shoes before or after work. It is also important, especially in a sterile setting that your shoes are not dirty or grimy. Getting shoes that are easy to clean, help you spend more time resting instead of cleaning. Some materials are easier to clean than others, so be sure to keep this in mind when making a purchase.
Weight
Since the work hours are so long, having a heavy shoe can really start to be noticeable. For the everyday shoe wearer, a slightly heavier shoe may not even make a big difference, but for those that are on the feet all day, even fractions of a pound can make a huge difference. Not only are they uncomfortable, but they can also be more likely to cause falling and tripping, especially if you are too tired to pick up your feet. They also can cause other problems such as knee and joint pains. While it may not seem like a big deal, having a lightweight shoe can really help in the long run.
Color and overall design
Everyone knows that looking great can help you perform better as well. Nurse shoes are known to look like grandma shoes since comfort is more important. But, there are many designs that still look stylish while not sacrificing at all on comfort. The color of your shoe can depend on the work setting you are working in. Some hospitals have specific rules while others are more lenient.
Ankle padding
This is often overlooked, but for nurses who are standing and walking for a long period of time, the ankle can start to give out or get irritated. Many shoes lack this feature since most people do not walk for that many hours every day. A proper shoe with ankle padding can help with injury as well as add to the overall comfort.
Toe box and reinforced toe
This factor is important especially with those with wider feet. The toe box is the front of the shoe. Many shoes are tapered in the front and squish your toes. For nurses, this can start to hurt and cramp up. A reinforced toe box helps to provide support in that area while still allowing you to wiggle your toes. A narrow toe box can cause bunions, blisters, or even swollen feet. You do not want to feel like a ballerina, who squashes their toes into a narrow box while walking 12 hours during your shift. If you have wider feet, make sure to keep this feature in mind.
Brooks Nursing Shoes Comparison Table
With all the different styles that Brooks has to offer, it can be hard to choose the right one for you. Here we break down some of the top picks to help you find your match.
We've outlined some of the best Brooks Nursing Shoes in this comparison table to make it easier to find the one that is right for you. You can click "Read More" on any of them in the table to jump to the section in this article outlining more information about it. Or, you can click the "Check Prices" button to pick it up immediately.
7 Best Brooks Nursing Shoes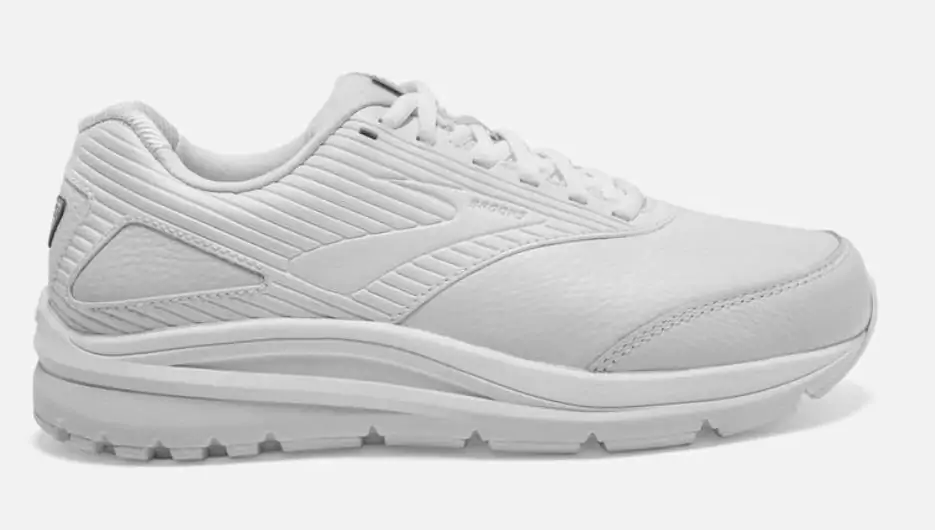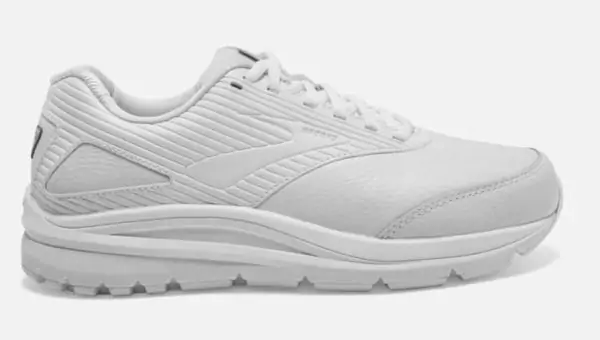 Check Price
This is one of the most popular styles that Brooks has to offer. Even though they are labeled as women's shoes, the style is actually extremely unisex and offered in neutral colors such as white, black, and grey. They also go up to size 15, so even if you are not a woman, you can still get these effective nursing shoes. Just be sure to check the sizing and adjust. These shoes provide maximum support for those long shifts with their Diagonal Rollbar system that supports not only your foot but your entire body. It also features an innovative outsole that is SATRA certified that provides effective slip-resistant. This particular style comes with the BioMoGo DNA cushion that adapts to your specific stride and weight to absorb shock to your joints.
Pros:
Leather outside for added style
Large sizing range
Innovative sole technology
Cons:
May need some breaking in
Sizing can be difficult
Shoes may squeak on certain floors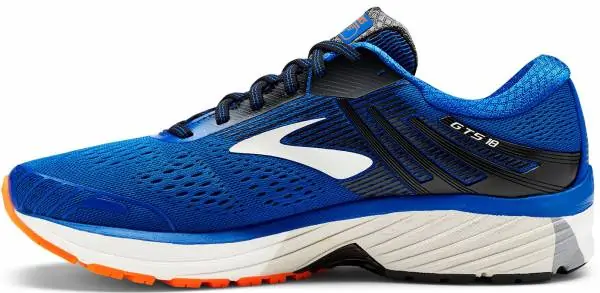 Check Price
The Brooks GTS 18 is another running shoe with special attention to comfort. This shoe has a great added feature of overpronation support. This is especially useful for those that are susceptible to their ankles rolling inwards. The components of the shoe are lined with comfortable fabric for added comfort. The shoe also has a removable molded foam insole in case you want to customize the shoe with your own insole. The technology used to design this shoe keeps in mind smoother transitions and adaptability to weight and gender. The shoe is also lightweight and comes in various colors.
Pros:
Sleek design with multiple colors
Tri-density midsole for overpronation support
Removable foam insole
Cons:
May need to break in first
Has a narrow toe box
Sole is thinner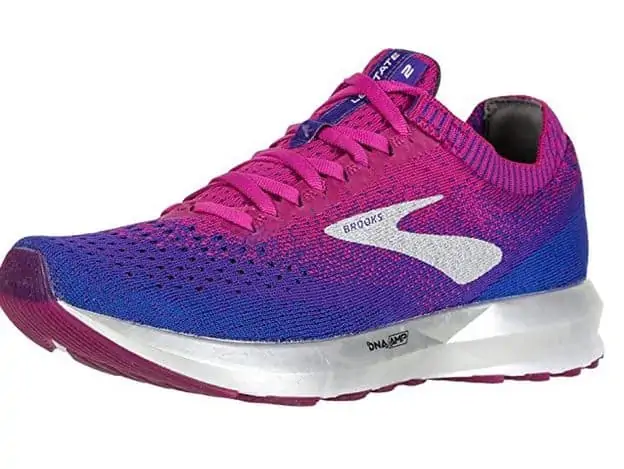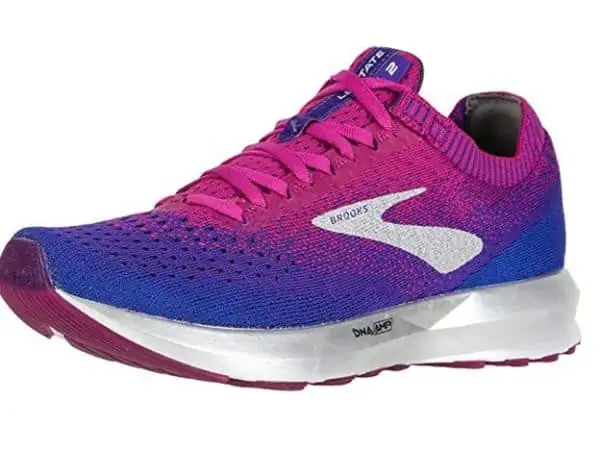 Check Price
The Brooks Levitate 2 has updated technology and does not fall short in design. It is a sleek running shoe that comes in neutral colors as well as brighter tones. This specific sole is great for those with a medium to a high arch that needs neutral support. The sole delivers a springy feel that gives you an extra lift. This shoe also comes with the innovative DNA AMP midsole technology that provides adequate support depending on how much weight is put in. This shoe comes with a stylish knit design that is still breathable. This is a great shoe if you are looking for an ultra-lightweight option that is stylish and gives you a boost of energy.
Pros:
Has adequate toe box even for wider feet
Built in sock technology that feels comfortable
Great for those with mid-high arches
Cons:
Some may need more heel cushion
Sizing runs small
Tongue can be too tall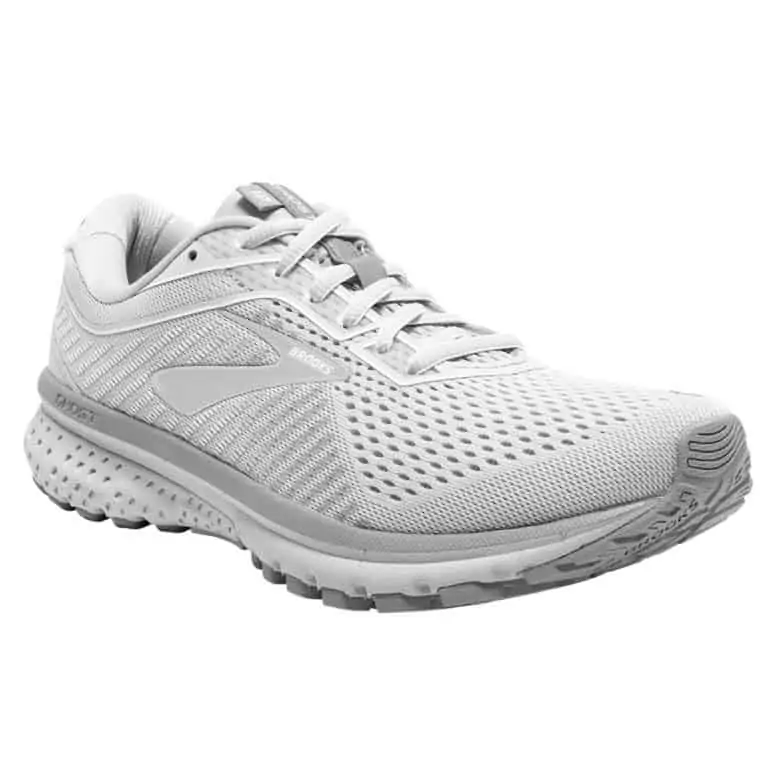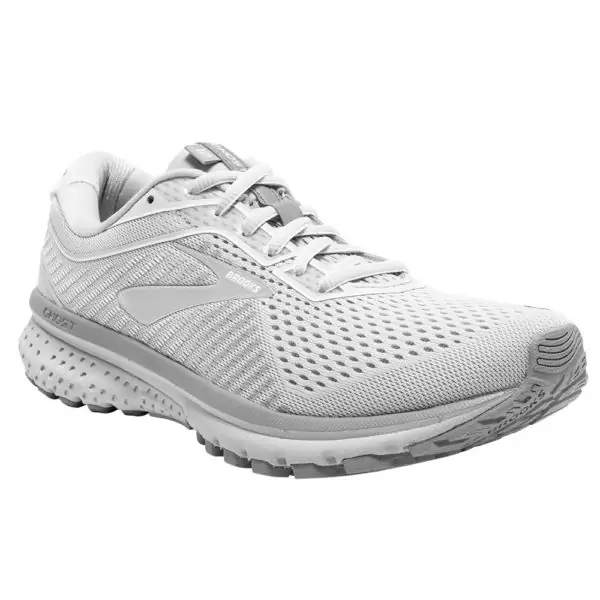 Check Price
The Brooks Ghost 12 is an updated shoe that lets you focus on your tasks. This shoe is perfect for those that want a lightweight option but does not skimp on cushioning. It has a neutral support type and high energizing cushioning great for most feet shapes. This shoe has both the BioMoGo DNA and DNA LOFT cushioning technology that works together to provide the most customized cushioning for your feet. The shoe also has the innovative Segmented Crash Pad which consists of a system of shock absorbers that cushion every step in the hard hospital floors. The shoe's 3D Fit Print strategically places and stretches the shoe to your specific foot structure. As the name suggests, this shoe feels like a ghost on your foot, while proving the utmost comfort.
Pros:
2 cushioning technologies
3D Fit Print for customized fitting
Shock absorbers for hard floors
Cons:
Needs to be broken in first
Hard to find accurate sizing
Toe box may be too narrow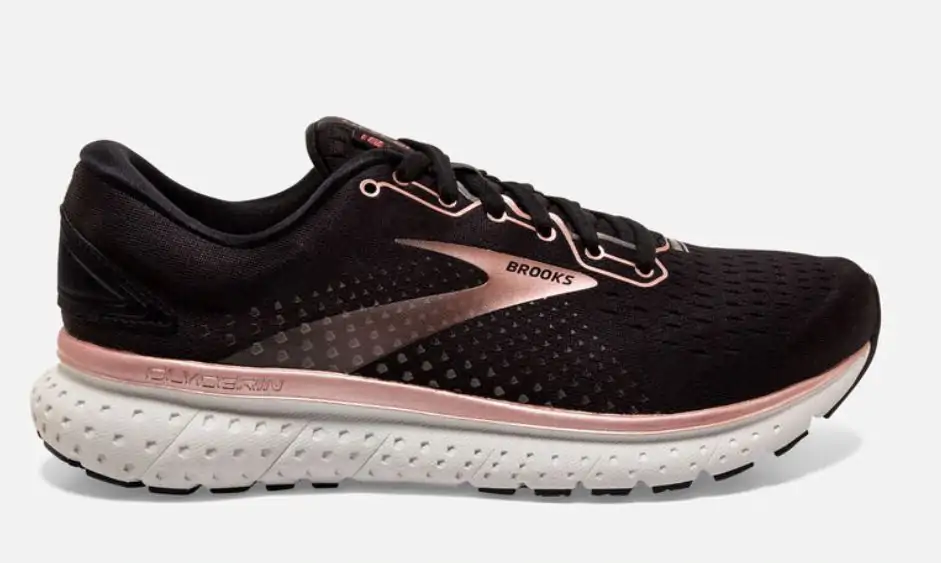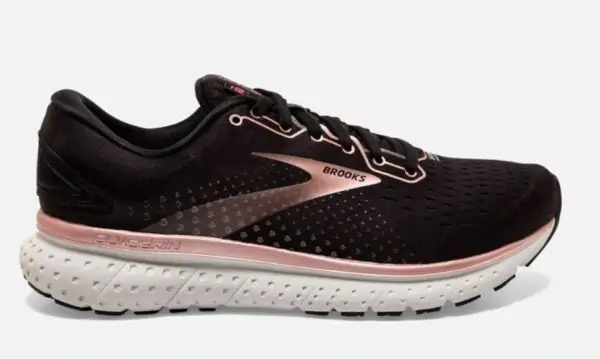 Check Price
The Glycerin 18 is a newer design that looks sleek but does not sacrifice at all in comfort. It provides neutral support that can fit different feet arches and shapes. The shoe comes with the DNA LOFT cushioning for a comfortable underfoot feeling that still provides structure. It helps to give your foot a soft transition from heel to toe, protecting every part of your foot. The Glycerin 18 is also designed with the 3D Fit Print mesh upper and interior liner that adapts to your specific stride. This provides the maximum comfort for your foot that adapts to the way you walk. This shoe is also extra lightweight weighing only 9 oz and comes in many different colors for you to choose from.
Pros:
The shoe fits great even for wider feet
Adapts to your specific stride and gait
OrthoLite sock liner for inner comfort
Cons:
Higher arches may need added insole
Side support can be lacking
Sole can be more padded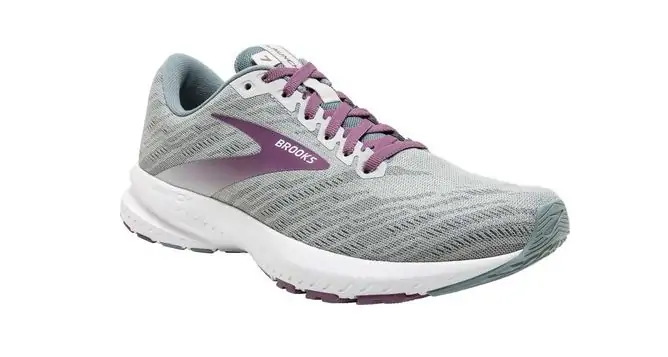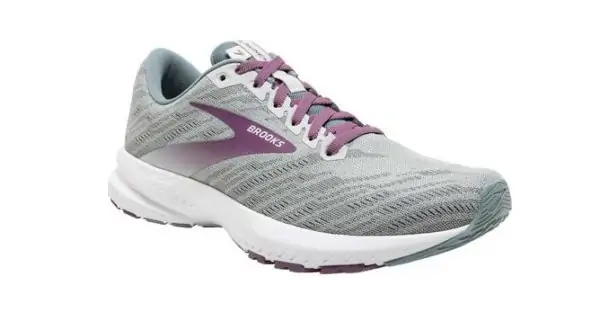 Check Price
The Brooks Launch 7 has a streamlined design that provides your foot with great transitions. This shoe is extra lightweight with the one-piece mesh upper and internal components. With these shoes, you will forget they are even on your feet. The midsole of the shoe features the BioMoGo DNA technology that rebounds and delivers comfort as your foot pushes down into the insole. The shoe is great for those that are on their feet for hours in the midfoot transition zone. The shoe is shaped to go from heel to toe quickly, letting you walk quickly and comfortably. This shoe is made for speed, great for those that need to walk quickly from patient to patient.
Pros:
Extra lightweight shoe
The shoe has a stylish streamlined design
Cushioning helps to absorb shock
Cons:
Can creak on certain floors
Toe box can be too narrow
Sole can be a bit thin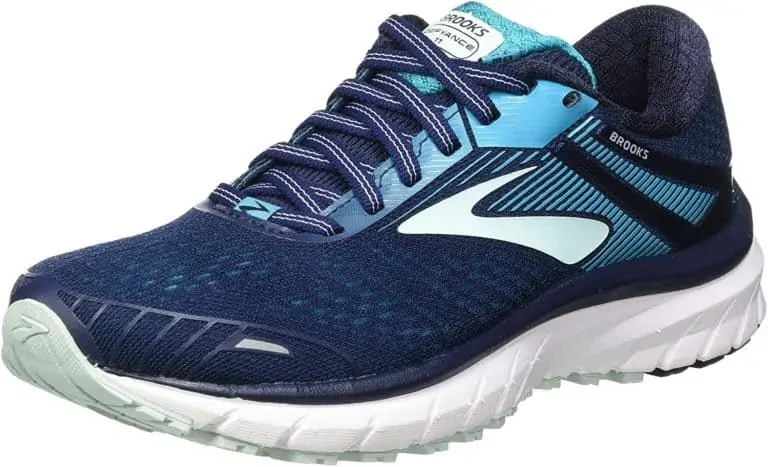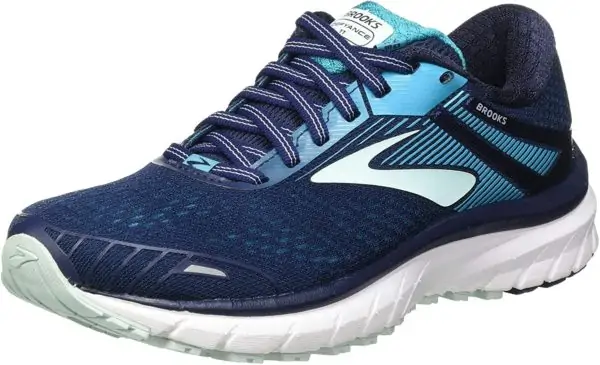 Check Price
The Brooks Race running shoe is made specifically for running, so it is great for those that need the perfect amount of stability and support. This shoe is great for those with overpronation and also provides high energizing cushioning. It feels like walking on a cloud and gives your step some spring. The shoe has a modern and streamlined design for those that like a more low-profile look. The DNA LOFT Crashpad helps to absorb any shock from harder floors. The shoe also comes with the BioMoGo DNA and 3D Fit Print that adapts to your stride. Another added feature that sets this shoe apart is the guide rails holistic support system. They help to keep excess movement in check to protect not only the feet but the knees as well.
Pros:
Guiderails holistic support system
Has comfortable fit that adapts to your foot
Neutral color that fits any environment
Cons:
Style may not be for everyone
Needs to be broken in before wearing
Can be hard to find right fit
Final Thoughts
Even though shoes may be a final thought for some nurses, it is actually an important factor that can affect your performance. Even though nurses are not labeled as athletes, walking and standing for more than 12 hours a day is extremely mentally and physically demanding. Brooks is a shoe company that keeps your comfort in mind. Hopefully, this guide was able to help you navigate through the features they have to offer to find the right shoe for you.