*articles contain affiliate links*
When you think of medical professional footwear or nurse shoes, the first thing that comes to mind might not be Crocs. Today, Crocs are somewhat of a trendy shoe option. Crocs are designed for all-around comfort with an original clog look. When we think of Crocs, we remember the slide-on style with perforated uppers. Even though this style may be great for everyday wear, the design is not adequate for medical professionals. As Crocs grew in popularity, they began to release their shoes with added features that make the shoe more work-appropriate. These additions make for comfortable Crocs for nurses that are both economical and comfortable. Healthcare professionals work long hours and walk around for a large part of their shift. To find all-day-long comfort shoes, Crocs delivers optimal comfort, perfect for nursing footwear.
What to Look For in a Pair of Shoes for Nurses
Although athletic shoes may seem like a great option with comfortable footbeds, the shoes are not always designed for those that are on their feet for the entire day. Poorly fitted or unsupportive footwear can cause a wide range of problems not only in the feet but in the legs and back as well. To help you feeling your best to help your patients, we go through certain features to look for in your medical shoes. 
The Fit of the Shoe
The right fit for all-day comfort is one that is not too loose but not too tight as well. A pair of shoes that are too tight can cause friction and blisters, giving you even more pain. Shoes that are too loose can cause slipping and be dangerous in a hospital setting.
Slip-resistant Work Shoes
Nurses walk quickly through hospital corridors and require quick movement and turns. Nurse shoes need to be able to accommodate these movements and make sure you do not slip. We recommend looking for nurse shoes with adequate treat patterns and rubber soles.
Toe Box
Ideally, a wider toe box is great for optimum comfort as it lets the toes breathe and also accommodates those with existing issues. A wider toe box ensures that the sides don't squish the toes. For those that have bunions or hammertoes, a wider toe box is highly recommended. Look for a wider shoe that still provides the support you need for walking on your feet long hours at a time.
Shock Absorption
The sole is what your feet walk on all day, so it is important that the sole provides ultimate comfort and support. Ideally, you want a sole with extra comfort or padding that provides shock absorption. The floors of a hospital floor are hard, and shock absorption can help with pain in the knee, ankle, and hips.
Additional Support
Depending on your foot, you may need different sole support. For those with existing conditions such as arthritis pain, we recommend a stiffer sole that provides more support. There are also special features that some shoes come with including arch support, contoured footbed, washable footbed, removable footbed liner, or a padded instep. This helps with all-day wear and is customizable to your foot shape. The arch support you need will depend on the height of your arches. While you can find additional inserts, it is easier to find a shoe that fits all your needs.
Ease of Cleaning
Especially when looking for a pair of shoes for a medical setting, ease of cleaning is extremely important. Hospital settings are prone to spills including water, bodily fluids, vomit, and more. Not only do you want to protect yourself from these, but you also want to make sure you can clean them easily.
What Crocs Has to Offer
Crocs offer a variety of different options to choose from to provide utmost comfort at an affordable price. Some top features that they offer include:
 – Out-sole: The new out-sole provides complete comfort with its added Crocs Crosslite Technology.
– Uppers: Unlike the traditional look, the uppers make for durable work shoes that consist of an added textile mesh. This helps to increase airflow to your feet without the traditional holes on top. The mesh also helps to provide a more secure fit that allows you to walk for a longer period of time.
– LiteRide Insoles: This newly added feature consists of added cushion to help with sore feet.
Foot Care
Not only is the comfort of the shoe important, taking care of your feet can also help with pain and developing feet problems. Some tips to keep in mind include:
– Changing your shoes after wear: Worn in shoes can lack in support.
– Stretch your feet: Giving the muscles in your feet and legs a stretch can help with soreness and pain.
– Give them breaks: Even though the shifts may be long, it is important to take small breaks in between to prevent serious injuries.
– Use compression socks: This helps to keep your blood flowing and reduce inflammation.
– Switch up your shoes: While we may have our ride-or-die pair, it is important to change it up to ensure the best support for your feet.
Best Crocs for Nurses
Check Price
These unisex shoes are the perfect work crocs for long shifts. The comfortable shoes feature a synthetic sole and slip-resistant durable sole, perfect for a hospital setting. The shoes are also waterproof and easy to clean which can make it through any work spills. Wash in soap and water for easy cleanup. More importantly, these shoes are fully molded and provide adequate cushioned comfort for long work hours. The toe box is also wide enough to allow for breathability and to prevent chafing. As for the design, these crocs come in a sleek, low work-appropriate enclosed heels design that comes in a variety of different colors. If you are looking for an affordable nursing shoe with color options, added support, and ease of cleaning, look no further.
Pros:
– slip-resistant durable sole
– easy to clean
– different color combinations
Cons:
– may not have enough support for some
– some may not like heel design
Check Price
These Crocs are similar to the last design but have added features that add to the Crocs comfort levels. This updated style is not only easily cleaned on the outside, but also a removable, washable footbed for easy cleaning. These Crocs have a slightly thicker construction to protect the feet from any work spills. These shoes are also ASTM F2913-11 tested and CE Certified, which means that the shoe meets certain standards for comfortability. This shoe is a top-notch pick for medical professionals as it hits all the criteria for comfortability, durability, and convenience. 
Pros:
– removable, washable footbed liners
– certified comfort shoes
– comes with different color options
Cons:
– may be hard to size
– heel design may not be for everyone
Final Thoughts
Just like athletes, medical professionals need to be mindful of their feet. Unlike some athletes, nurses and other medical workers are often on their feet all day. It is important to find the right shoes for the job so you can focus on the patient. With all the options that the nursing shoe market has to offer, it may be hard to choose the one that works best for you. We break down the judging criteria and give you two top-of-the-market options of Crocs for nurses to lead you to happier feet. 
More Resources on Crocs for Nurses:
Download Nurse Bingo Today!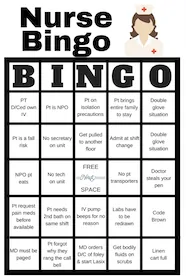 Liven up any shift with a fun game of bingo. See who can fill a row first!
Fill a whole card and lose grip with reality.
Your privacy is protected. We will never spam you.