This post has been made possible thanks to a partnership with Eko.
Selecting the right stethoscope is personal. Upgrading to a Bluetooth stethoscope is practical and a little exciting. In this post, we'll review an Eko Digital Stethoscope and give a detailed explanation of why we think it's the best Bluetooth stethoscope. If you are considering upgrading to a Bluetooth stethoscope or looking to improve upon your patient screening workflow, this post is for you.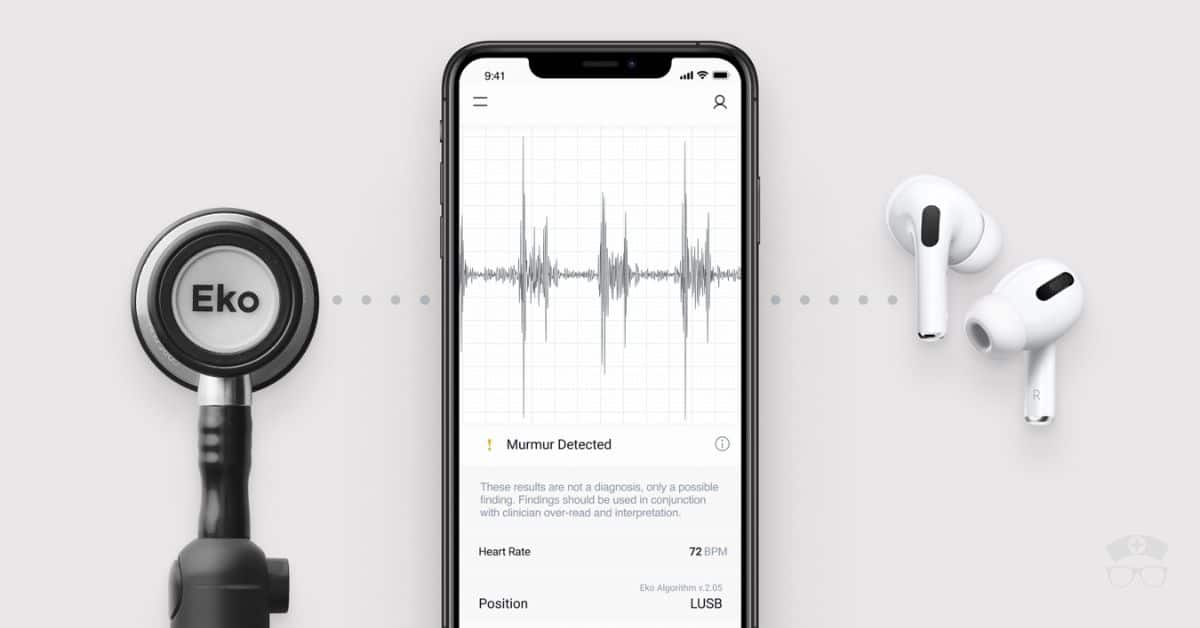 Table of contents
What is a Bluetooth Stethoscope?
A Bluetooth stethoscope is an electronic stethoscope that connects to your smartphone or mobile device via Bluetooth technology. This growing digital stethoscope technology allows healthcare professionals to hear heart, lung and bowel sounds more clearly and record interesting auscultations to share with other medical or nursing professionals.
To put it simply a Bluetooth stethoscope (or digital stethoscope) tops our list for must have gadgets for nurses.
Why Should You Upgrade to a Bluetooth Stethoscope
There are a few feature differences between a traditional stethoscope and a high-quality Bluetooth stethoscope:
Wireless Auscultation
Amplified sound
Noise-cancelling technology
Mobile and desktop software for managing recordings and visualizing waves forms
The ability to use in acoustic mode, if necessary
Long-lasting battery life
In addition to all of the technical benefits and features, there are several practical ones as well. My favorite benefit of owning a Bluetooth stethoscope is the ability to preserve sounds to listen to later and share with colleagues.
Eko Stethoscope Review
The Eko Digital Stethoscope is the most innovative and practical Bluetooth stethoscope on the market. The sleek and slim design, 40x amplification, the free innovative Eko app, and AI-analysis of heart sounds with murmur screenings put the Eko Core Digital Stethoscope in a class of its own. I also really appreciate that there are many options available in the Eko family to upgrade to a Bluetooth stethoscope. From the futuristic single-lead ECG + Digital Stethoscope, Eko DUO, to adding the Eko CORE Attachment to your current stethoscope, you have a choice and a price range that will work for almost anyone.
You can also check out my video review.
<center