*articles contain affiliate links*
Nursing is a complex profession. It is a combination of knowledge and skill that come together to deliver patient care. Many nurses find that they can learn much of what they need in the classroom. However, there are many technical nursing skills that are best mastered with a "hands on" approach sometimes in the lab, but usually at the bedside.
IV Sticks
Many hospitals have a policy that states that if the patient is admitted the an inpatient setting then they are required to have IV access. Because of this, it is important that nurses who work the floor know how to perform a good IV stick. However, many nurses won't learn how to properly insert and IV until well after they are out of nursing school. It's not that nurses don't study this skill, it's just that you really have to practice IVs to become good at them. Even though labs offer simulation technologies and mannequins, it is no substitute for threading an IV catheter through the veins of a living and breathing person.
Making an Occupied Bed
Making an occupied bed is a challenge no matter how long you have been a nurse. Hospital beds are awkward to make without a patient in them; adding a person of any size just magnifies the challenge.If you couple this with the rising obesity epidemic then you have a real pickle on your hands. You have to learn how to clean the patient and tuck the clean sheets in a way so that you are removing the dirty without soiling the clean. Sometimes this takes rolling the patient over more than once. If at all possible, you usually want to avoid rolling the patient multiple times because it can be very uncomfortable to them. There are few things more annoying than soiling your fresh linens while changing the bed. If you happen to be in an isolation room it's even worse!
Wound Care
Just like every patient is different, so are their wounds. You  should also know that every would care supply works in a different way. The only way to get good at wound care is with practice. Different skin types also vary in how they will respond the various tapes. You should always listen to your patients if they are experienced with their wound and do as little to iritate the skin as possible. Applying an ostomy bag well takes skill, patients, and sometimes a lot of luck. The more opportunities you have to 'practice' your nursing skills, the better.
These are just a few examples of the many skills that nurses improve on with practice. Just like driving a race car, sewing, writing, or any other skill, nursing skills can be improved with repetition. Nurses should also be staying up to date on new innovations and techniques that might improve their current processes and decrease their patient's discomfort.
What nursing skills do you think can only be learned 'hands on'?
Download Nurse Bingo Today!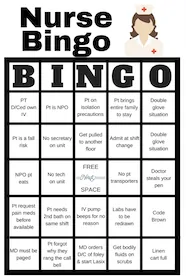 Liven up any shift with a fun game of bingo. See who can fill a row first!
Fill a whole card and lose grip with reality.
Your privacy is protected. We will never spam you.