*articles contain affiliate links*
Looking to become an ICU nurse? Great ICU nurses possess a certain set of skills. Here are the most important ICU nursing skills that you should have and include on an ICU nurse resume.
The field of nursing, in general, requires a special person with a specific personality, skillset, training, and experience. ICU (Intensive Care Unit, also called the Critical Care Unit) nursing requires nurses with a special subset of skills.
Specifically, those skills include staying calm in challenging circumstances, making decisions quickly and confidently, AND having compassion for a person who is helpless and in need of constant monitoring.
Working in the ICU has its fair share of challenges and victories. Knowing how demanding the ICU unit is, understandably hospitals want nurses with the right skill sets in those positions. After learning what the job of an ICU nurse is really like, if you want to work on the ICU unit, you'll need to prepare your resume.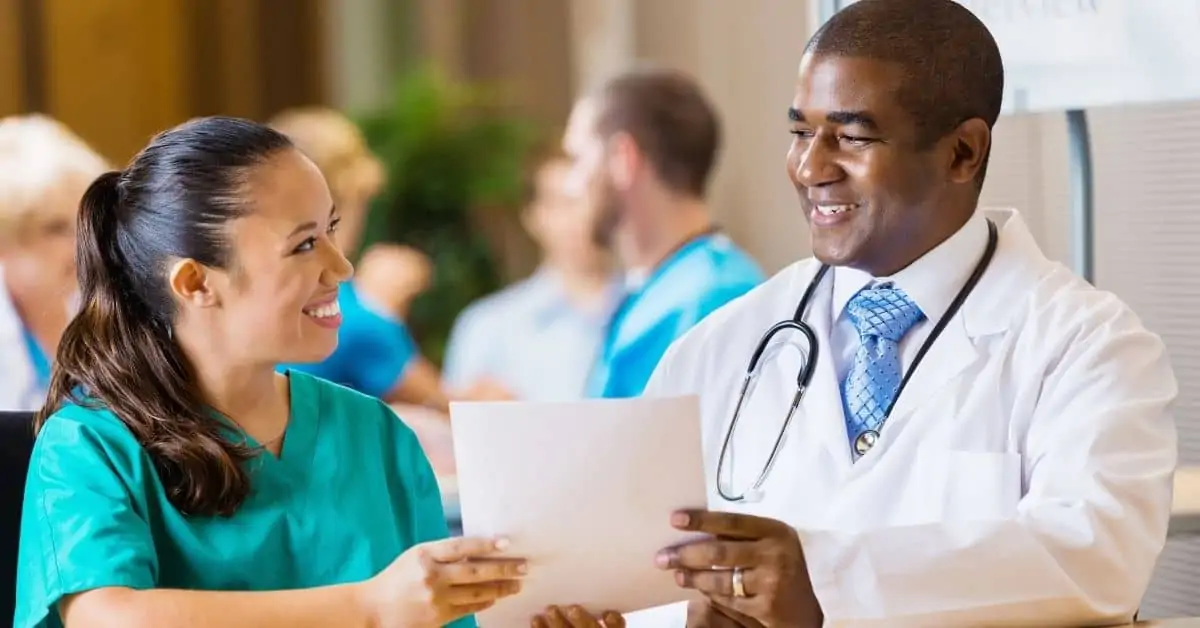 Essential ICU Nursing Skills For Your ICU Nurse Resume
The best ICU nurses have a combination of skills that are innate as well as technical skills and knowledge that they have learned. Here are the must-have ICU nursing skills you'll want to master and have on your ICU nurse resume when applying for an ICU nursing position.
Stay Calm Under Pressure
Patients in the ICU are there because they're dealing with severe injuries or illnesses that threaten their lives. They're the most critically ill patients in the hospital, and new complications can arise at any moment.
ICU nurses need to be able to handle the stress of caring for critically ill patients and rapidly adapt to ever-changing conditions with a calm demeanor and quick problem-solving skills.
Critical Thinking Skills
Nurses working on the ICU floor constantly deal with complex situations and need to have the ability to think quickly on their feet to develop creative solutions.
Nurses in all areas of nursing deal with dynamic environments on a daily basis. However, when working in the ICU, nurses need to have the ability to evaluate changing variables and calculate different care options. They then must confidently make decisions swiftly when a patient's life is on the line.
Technology Skills
Because they deal with a wide variety of patient care needs, ICU nurses need to have the knowledge, experience, and ability to work with a wide range of different technologies. That includes technologies involved with:
family education
maintaining patient records
ICU nursing goes beyond monitoring vital signs (although that is part of the job) and takes a deep dive into more advanced methods of care.
When including technology skills on an ICU nurse resume, be prepared to list the different technologies you have mastered and provide examples of experience using them in patient care.
Great Communication Skills
This essential nursing skill (like many on this list) goes beyond the ICU nurse resume and straight to the heart of caring for ICU patients.
Communication skills for ICU nurses encompass many different skills including:
Observing
Empathizing
Active listening
Speaking
Nurses must be able to use all of these skills in written, verbal, and non-verbal communication. These same skills are necessary across many different settings and with different audiences, including doctors, medical staff, patients, and patients' families.
When highlighting communication skills on an ICU nurse resume, demonstrate excellent communication skills during tough conversations.
Time Management
Most of us could probably benefit from some beefed-up time management skills. However, in nursing, they're especially important when juggling multiple patients, schedules, and deadlines.
Patients' lives are at stake, and handling tasks in a timely manner in order to meet a range of deadlines is a must.
Superb Organizational Skills
Nursing is an ever-demanding, fast-paced job that's not well-suited for anyone who lacks multi-tasking or organizational skills. Poor organizational skills can result in devastating errors.
Being able to demonstrate high level organizational skills is in high demand on any ICU nurse resume because such a skill offers desirable benefits to patients and healthcare facilities.
Work Well On a Team
Everyone loves good team members. But when it comes to nursing, working as part of a team is vital! Caring for critically ill patients is a task that requires the knowledge and expertise of a care team of people including nurses, doctors, and specialists.
ICU nurses are often the care team members involved in all aspects of patient care. As such, they must be able to work with all team members as well as ensure that they're aware of any status or treatment changes to ensure excellent patient care.
Include details on your ICU nurse resume about working with various team members, and some of the challenges and successes you've had in doing so.
Strong Ethics
The field of nursing provides a strict code of ethics that nurses must adhere to. Nurses make critical decisions regarding their behavior and patient care all day long.
Great ICU nurses follow a solid set of moral principles. Nurses depend on strong ethics to guide them because it can mean the difference between life and death. They must also uphold confidentiality standards, as they regularly come in contact with sensitive patient information.
Educating Patients and Families
Nurses play the main role in educating patients (and their families) regarding their diagnoses, treatments and care plan, prevention, and important safety precautions.
ICU nurses take the brunt of instructing patients on how to care for themselves after discharge. They must also answer any questions that patients may have to help prevent a return to the hospital.
Highlighting These Skills When Applying For A Job
When it comes to adding your nursing skills to an ICU nurse resume, it's important that you are prepared to talk about them in more detail in an interview.
For example, a potential employer may ask you to give an example of staying calm in challenging situations. Be prepared to talk about that time that your patient crashed. No one could get a response from the doctor. That meant that you had to temporarily take charge until the doctor could be reached.
Hospitals want highly trained, dedicated, organized ICU nurses with great problem-solving skills. As you're looking for your new ICU nursing position, make sure you highlight all these skills you've been developing on your ICU nurse resume.
It'll pay off by helping you land a great job!
Breakthrough ICU
Just started in the ICU and want to feel more confident? Perhaps you've been working in the ICU for years and just want to top off your knowledge? Or maybe you're interested in a specialty change and ICU sounds exciting. If you've answered YES to any of these, Breakthrough ICU is for you!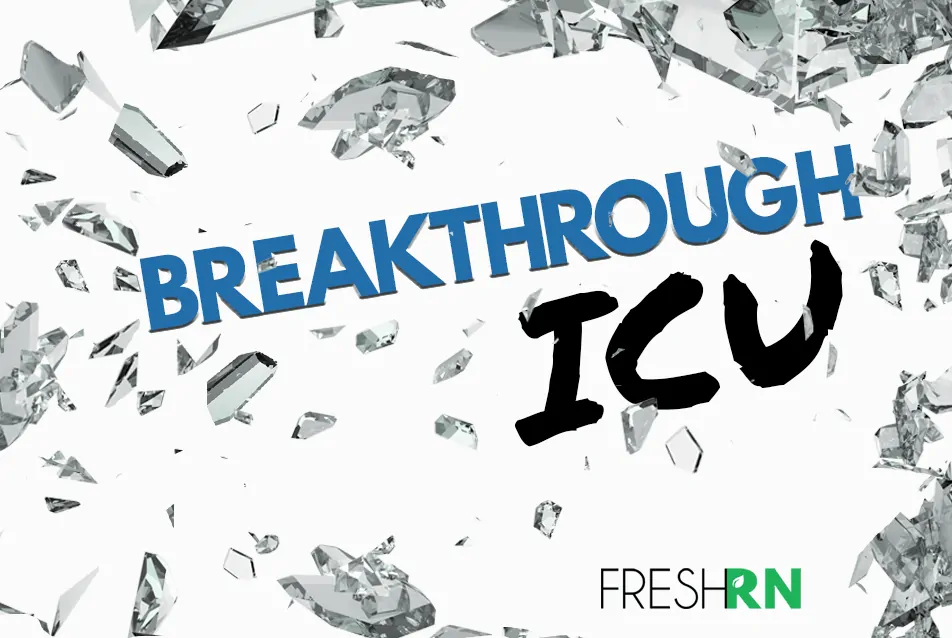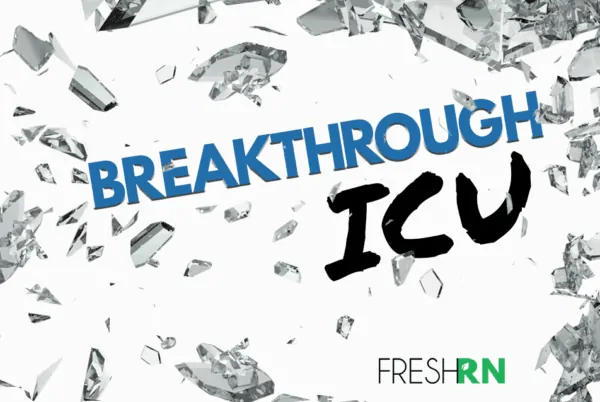 More ICU Nurse Resume Help