*articles contain affiliate links*
Creating a beautiful nursing resume is critical skills if you want to land your dream nursing job. Even though there may be a bit of training on nursing resumes in nursing school, it isn't near enough to really create a resume that will make an impression and set you apart.
Nursing Resume Questions
Many new grad nurses and well-seasoned nurses have often asked:
"How do I strengthen my resume?"
"What can I do to set my resume apart from other nurses?"
"What are hiring managers looking for when they are looking at a nurse resume?"
Nursing Resume – Must Dos
For most job applications, you will attach a resume to an email or paste it into an online form where it may be an employer's first impression of you. Even if you know someone that knows someone, and the job seems like a sure thing, a resume is still a formality that is almost always required. So you want that resume to make an impression because it may have to pass through many approvals before you actually get the job offer. Not sure when to start looking for that job? Check out When to Apply for Nursing Jobs Before Graduation.
Here's how to make that impression as powerful as possible.
Make it Easy for the Reader
To maximize any opportunities, you want to have your best and most current resume ready to send. Make it easy for yourself and the employer: use the same contact information that is listed with the State Board. If you need to update the Board, do so.
James Tysinger, Ph.D. of the Department of Family & Community Medicine at the University of Texas Health Science Center at San Antonio advises "…make sure it's easy to read and logically organized." Spelling and neatness count!
Make it Beautiful
If it's been a while since you've created a resume – or you never have, or you want inspiration – look at examples. Plenty are available online and in career guidance books. We've listed some in our perfect nurse resume article. Look for the most current examples possible: like your wardrobe, your resume format can be either in or out of style.
According to one recruiter, good formatting means using only one, conservative font. And using bullet points can give you the chance to focus on keywords to make your resume more likely to appear in search engines. (bestsampleresumes.net)
A nursing resume is very much a style choice. A traditional template in Microsoft word using Times New Roman font is probably sufficient, but if you're competing for a more coveted position in critical care (ICU, emergency department, or labor & delivery), you might want something with a little more pop.
Nursing Resume Templates
I really like searching online for inspiration for nurse resume templates. One of my favorite places to search for nursing resume examples and templates is Etsy. I'd recommend create a Pinterest board and clipping your favorites. You can either use their inspiration to create your own in an app like Canva, Microsoft Word, or Powerpoint, or spend a few dollars and buy it ready made.
I recommend just buying one, because, in the end, you're supporting a small business, you'll save a ton of time, and you know it's going to be beautiful.
Here are some of my favorite nursing resume templates: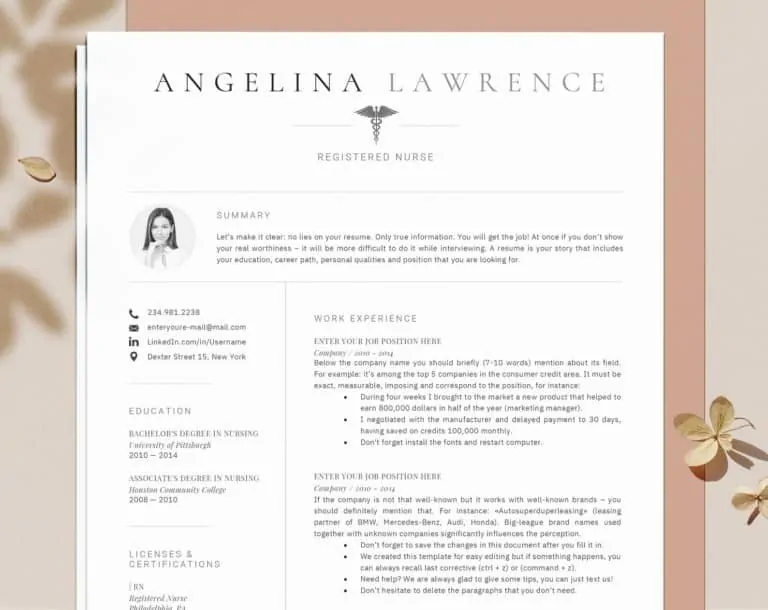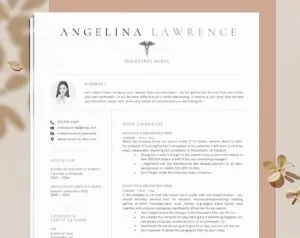 Check it Out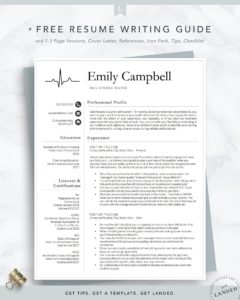 Check it Out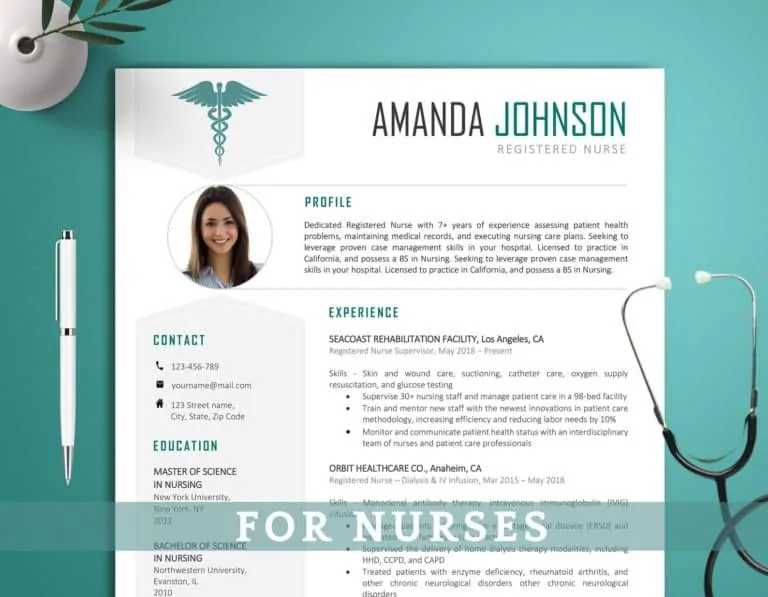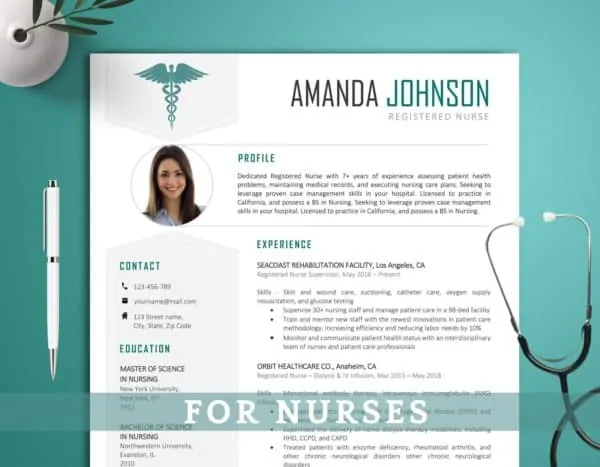 Check it Out
Relevant and Accurate Content
Beginning to end, the most important thing is relevance: what you include should be directly relevant to the position you are applying for. That means if you are looking for more than one type of position, you may need to create alternative resumes in order to highlight the most relevant information.
If you have less experience in the job market, you can emphasis training or other relevant achievements.
Do not lie or exaggerate. It's possible to write your resume in a way that makes your accomplishments to sound fantastic. You should absolutely do that, but you should never lie or paint of picture of your experience your isn't that isn't accurate.
Include Your Contact Information
This should go without saying, but include your contact information. However, I've reviewed many resumes that do not have contact information includes. They are missing either phone numbers and email address or both. Don't make it hard for a hiring nurse manager to contact you.
Something that you may not want to include is your physical address. If you're applying for a local position, slap that sucker on there. However, if you're applying for an out of town or out of state position, it might be in your best ineterest to keep it off. Hiring managers will often gravitate towards local applicants. It's easier to get them in for in-person interviews, they don't have to pay for any travel or relocation costs, and it's generally just more convenient to hire a local person.
Pro Tip – Your Email Address on a Nursing Resume
Here's one pro tip that will make an impression: Have a professional email address. If you're email address is [email protected] or [email protected], it sends a message that you probably don't want a potential employer to read into.
I recommend going to gmall.com and setting up a resume just for professional nursing activites. Here are some good formats:
First Name Last Name RN
First Initial Last Name RN
Nurse First Name Last Name
Nurse First Initial Last Name
You get the picture. Include nursing in there somewhere and your name. Avoid numbers if you help it. If you're going to include numbers, I don't recommend your birth year, as you don't want to have your application potentially impacted by age bias.
What to Include and How to Organize the Content
There are 4 basic things you need to include on a nursing resume:
Introduction / Executive Summary
Experience / Job History
Certifications and Licenses
Education
Include them in the above order to make it easier for the hiring manager to scan and find the information that is most relevant. If you can put your certifications and licenses in the left column, that's even more ideal.
Optional nursing resume sections:
Achievements
Skills
Associations and Professional Affiliations
Volunteer Activities
Do not include an objective. Your objective is obviously to get a job at the place you have applied to. It's a waste of space and time, and frankly a rookie mistake.
How Long Should a Nursing Resume Be?
For new nurses, your resume should be no longer than a page. Include relevant work experience, even if it was fast food when you were 16. If you've had a ton of part time jobs, cap it at 3, or group some fo the miscellaneous ones together.
If you have a second-career nurse, your first job at Wendy's is probably not relevant. Trim it down to the last 15 years/3 employers. You might need 2 pages for your resume if you've worked in environments that are relevant to your future job. If you've had jobs completely unrelated, don't include so much detail. You're writing a resume for a new industry, so your massive experience in another industry just isn't relevant. Include just the highlights about your past jobs that are. If a hiring manager wants to know more, they'll ask.
What to Include in a Nursing Curriculum Vitae (CV)
Academic positions may require you to provide a curriculum vitae (CV). This extensive description of your professional and educational accomplishments should include several levels of detail beyond your resume. Most often it will include:
Education (School Name, School Location, Degree Earned, Graduation Dates)
Academic Honors/Activities/Leadership Positions
Research
Internships/Clinics/Residencies/Fellowships (Employer Name, Employer Location, Specialty Area, Dates)
Practice Experience (Name of Practice/Hospital, Location, Title, Type of Practice, Brief Description)
Specialty Area
Publications
Presentations
Professional Memberships
Licensure/Board Certification
Other Work Experience (Employer Name, Employer Location, Title, Dates of Employment, Brief Job Description)
Professional Awards/Honors
Language Skills
Introduction or Executive Summary
Writing a summary or mission statement for the top of your resume is a great way to paint the picture of yourself that you want a hiring manager to have. For example, if you were seeking a nursing administrative position, your summary might read "Dedicated RN with a broad range of healthcare experience. Caring professional with superior communication and management skills. Master of Science in Nursing. Licensed in this state."
Your Formal Education
Presenting your educational achievements to their best advantage is crucial. Starting with the most recent, list schools you have attended. Highlight any honors or awards. Cite degrees you have earned and call attention to all licenses that are relevant to the position you seek.
Include the degree level you've obtained, like ASN, BSN, MSN, Doctorate/PHD. We've written in detail about the levels of nursing, if you need more information.
Licensure and Certifications
It's crucial to present information about your certifications and/or licensure as completely and clearly as possible. Always cite the highest level of certification you currently hold, for example:
LPN / LVN license
RN license
BSN/RN
AA/RN
NP
MSN
If you have any certifications, be sure to include those. Add the acronyms to your name at the top of your resume using the correct format.
What is the correct nursing credential format?
First Name Last Name, DEGREE, LICENSE, CERTIFICATION
Example: Brittney Wilson, BSN, RN
Should I Clinical Experience in my Nursing Resume?
For most experienced nurses, clinical experience will be wrapped into the experience/job history section. New nurses can include a separate section that includes clinical locations, specialties, and any other significant items. This is perhaps the most important section of your resume. Whether you're a new or experienced nurse, tailor the clinical skills and relevant work experience to the job you are applying for. For example, if you're applying for a job as a nurse manager or administrator, your excellent IV skills are largely irrelevant. You should also be specific about the type of facility (such as acute care, outpatient, rehabilitation) you worked for, your caseload and area of specialization.
If you do not have much experience to flaunt, you should provide details of your volunteer work, clinical rotations, research projects, and so on.
Relevant Volunteer Work
Medical missions, free clinics – volunteers offer clinical support in many settings. This is definitely relevant to a clinical job, so be sure to include it. Other relevant experience might be non-clinical but demonstrate other desirable skills: a second language or organization skills, for example.
Make the Time
If you are serious about finding a job, find the time to keep your resume updated. You can easily edit and maintain it online. It will take more than a great resume to get a job — but you're not likely to get a job without one.