*articles contain affiliate links*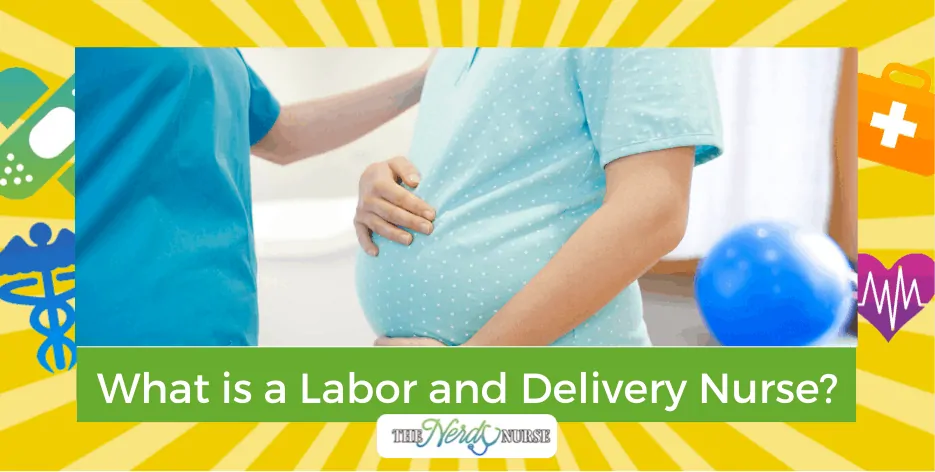 For a person who is about to undergo a medical procedure, one of the most important people that he can rely on before, during and after it is a nurse. This is especially true with a labor and delivery nurse – a person whose job, when performed with utmost care and compassion, can make him or her truly unforgettable in the mind and heart of a mother.
A labor and delivery nurse shouldn't be confused with a neonatal nurse, that can often be referred to as a baby nurse. Neonatal nurses care for the babies typically when they are in the nursery, though some in some hospitals nurses play double duty in mother-bay units.
What does a labor and delivery nurse do?
Basically, a labor and delivery nurse provides care for mothers to be beginning from the time before she is to give birth. She is also present during the actual delivery procedure itself by providing assistance and support to both patient and doctor, and any other medical professional needed at the time of delivery. After a mother gives birth, her role is to administer care for both the mother and her baby. 
Needless to say, an l&d nurse plays a very important role that has a great impact on how well a mother and child are able to survive childbirth and heal from it! It is a role that carries with it weighty responsibilities but is also very much rewarding at the same time.
Supporting Women Throughout Childbirth
The basic role of a labor and delivery nurse is to be with an expectant mother and ensure that the latter is sufficiently prepared to go through the stages of labor. She monitors the expectant mother's vitals, times and coaches her throughout the contractions, and monitors the fetal heart rate as well. The labor and delivery nurse also informs the mother if it is time for her to transition to active pushing once the mother is adequately dilated.
A labor and delivery nurse also administers and monitors any medications that the mother might need at any time during labor and childbirth, such as an epidural. If the doctor determines that a C-section delivery is the best course, the labor and delivery nurse assists the mother in preparation for that. 
Labor and delivery nurses also act as a scrub nurse during the operation by either being on standby to follow the doctor's orders or by providing a confident yet calm presence to help ease the mother's worries and guide her in successfully undergoing this major procedure. 
Supporting Mothers After Childbirth
The l&d nurse continues her care and support after the baby is born. At this stage, her duty is to now assist the new mother in caring for the infant in these earliest days after childbirth. She teaches and assists the mother in bathing the infant and coaches the mother in breastfeeding. With the goal of helping the mother recuperate so she can be confidently discharged from the hospital, the labor and delivery nurse provides care that will help the mother recover as quickly as possible and in the best possible shape. 
Becoming a Labor and Delivery Nurse
If you've always wondered how to become a labor and delivery nurse, read on ahead! An l&d nurse starts out as a Registered Nurse or RN. After becoming an RN, you simply need to get your foot in the door. Working for a couple years in med-surge has always been the traditional path, but many maternity units will accept new grads. If you want to get to the the next level, you should consider becoming an Advanced Practice Registered Nurse, specifically a nurse midwife. From here, specialty training should be obtained to gain adequate skills in helping women to deliver their babies.
Labor & Delivery Nurse Certifications and Training
There are many resuscitation training programs and certifications needed to work in the labor and delivery unit.
Here are a few that you'll likely need to maintain when working with mothers and babies:
Required Certifications
BASIC LIFE SUPPORT (BLS) CERTIFICATION
ADVANCED CARDIAC LIFE SUPPORT (ACLS) CERTIFICATION
ELECTRONIC FETAL MONITORING (C-EFM)
NEONATAL RESUSCITATION PROGRAM (NRP) CERTIFICATION
Recommended Certifications
INPATIENT OBSTETRIC NURSING (RNC-OB) CERTIFICATION
An l&d nurse will also need to know several OB Nursing Mnemonics and be able to work under pressure.
Salary Average for L&D Nurses
A labor and delivery nurse salary has a fairly wide range as of June 2019, from $43,000 to $88,000. The median salary for a labor and delivery nurse is $61,333. Such a wide salary range is due to several factors such as location, kind of institution, and level of experience. One way to level up on the salary scale is to continue with skills advancement and experience, which positively affect a labor and delivery nurse's earning potential. Another is to find a career in locations that have a short supply of labor and delivery nurses and who are high in demand. This can be by permanently relocating to the said area or by working short term contractual jobs from time to time as a way to augment income.
Labor and Delivery Travel Nurse
Labor and delivery nurses are often some of the most desirable travel nurses. If you are a labor and delivery nurse, you can command a higher travel nurse salary than many other traveling nurses. This is because of the extremely specialized knowledge and risk level associated with birth care. If you're interested in eventually becoming a travel nurse, labor and delivery nursing is a good option to consider.
Becoming a Labor and Delivery Nurse: Is It For You?
Since labor and delivery nurses run specialized jobs, like neonatal nurses, such a career path is not for everyone. It takes a special dedication to choose to work with expectant mothers, who require a special kind of care in order to survive and thrive after childbirth. This very specific function means labor and delivery nurses work with fewer patients each day. However, it also entails much closer monitoring to ensure that progress is upward, not to mention paying special attention to the infant who is equally in need of care as the mother. Some labor and delivery nurses also provide care even after both mother and child are discharged from the hospital – especially for those who have additional or unique concerns and conditions following childbirth. While you might expect a labor and delivery nurse to primarily report for work in a hospital setting, more and more of them are able to secure jobs at birthing centers all over the country.
The field of labor and delivery nurses has a very promising outlook, career-wise. More and more older nurses are approaching retirement age this decade, which means the shortage will have to be filled up by younger and equally capable l&d nurses. The job is as professional as they come, as you can expect it to be physically demanding and requires one to do long shifts. For those who are intent on specializing in this track, it can be rewarding both financially and intrinsically, with better confidence in job security compared to other specializations.
Because childbirth is one of the most memorable experiences any mother can have in her life, a good labor and delivery nurse can be in a position to determine just how well or smoothly it can go. This is true even for childbirth experiences that come with complications or turn out to be unexpectedly difficult. Having a skilled labor nurse who shows both professionalism and compassion is able to make a huge difference in how well a mother and her child are able to go through the experience.
Labor and Delivery Nursing

Labor Delivery Nurses We Bring Out The Kid In You Nurse Gift T-Shirt

Fast Facts for the L&D Nurse, Second Edition: Labor and Delivery Orientation in a Nutshell

L&D Nurse @ Your Cervix Wine Glass, 21 Oz, Labor and Delivery Nurse, Funny men Glass, Nurse Wine Glass