*articles contain affiliate links*
Remember everything you need to know in labor and delivery. Use these OB nursing mnemonics to easily recall important warning signs and action steps.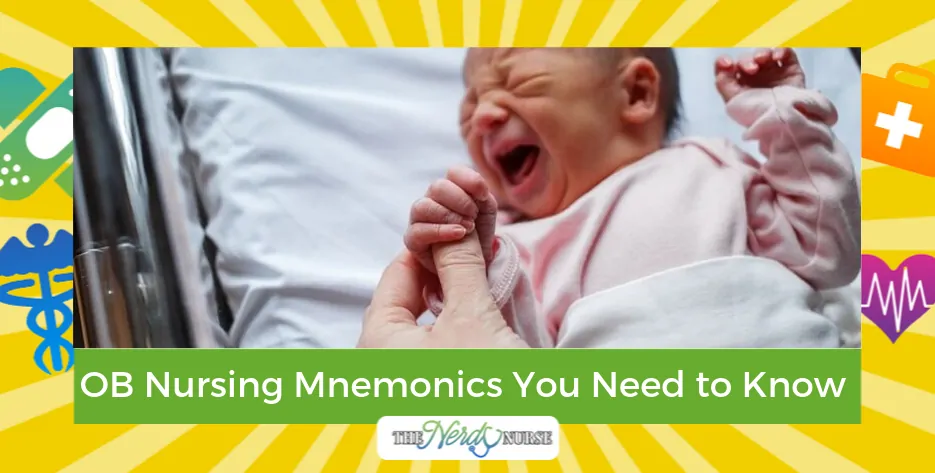 Important OB Nursing Mnemonics
When you work in labor and delivery, there are lots of maternal and newborn tests, assessments, and complications you need to watch out for.
As nurses, we love and appreciate mnemonics. They just make remembering things so much easier.
Here are the best OB Nursing mnemonics you need to know.
1. Fetal Non-Stress Test – NNN
The first one is pretty easy. A Non-reactive Non-stress test is Not good.
Just remember the 3 N's and you'll know that every time you do a non-stress test you want to get some kind of reaction from it.
2. VEAL CHOP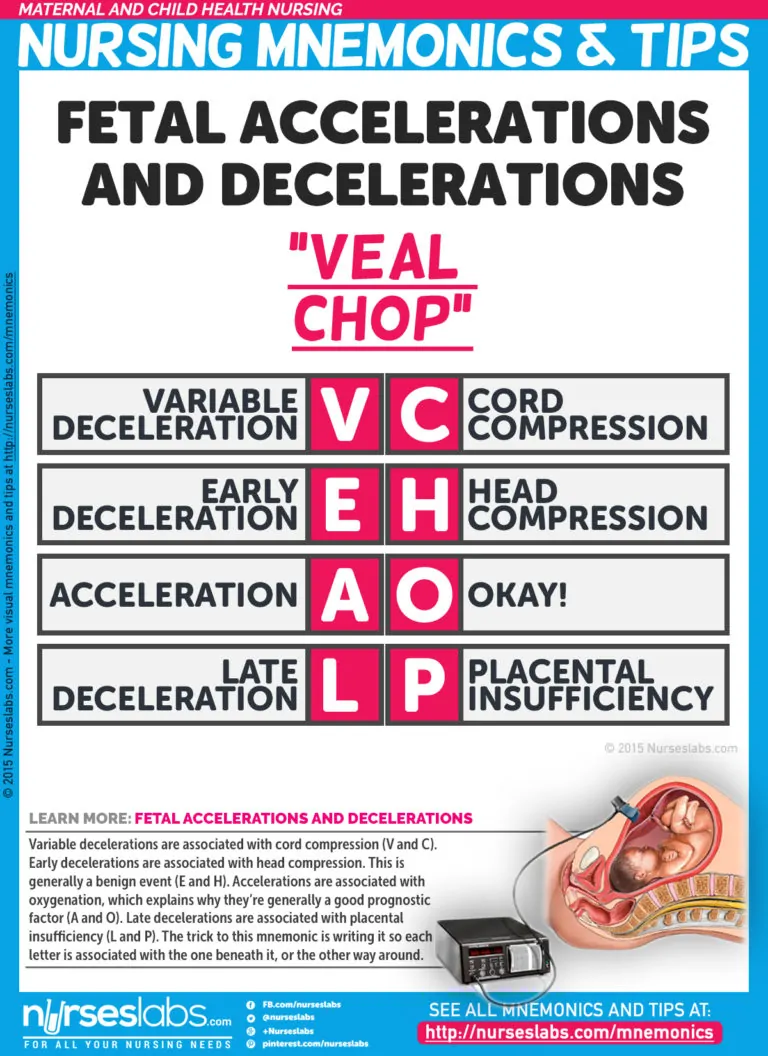 Photo from NurseLab
Use VEAL CHOP to remember what is commonly associated with each fetal heart acceleration or deceleration.
Write it out so that each letter of VEAL goes with each letter in CHOP, like this:
V C
E H
A O
L P
Or you can write it out like this:
VEAL
CHOP
Variable deceleration – Cord compression
Early deceleration – Head compression
Acceleration – Okay!
Late acceleration – Placental Insufficiency
Each letter in VEAL stands for a type of heart rate change in the baby. The accompanying letters in CHOP are possible causes of the change.
3. MUUT HEAP
This next one will help you remember how to recognize postpartum complications.
MUUT:
Mastitis
URI
UTI
Thrombophlebitis
HEAP:
Hematoma
Abscess Formation
Endometritis
Perineal Cellulitis
4. BUBBLE HE
Use BUBBLE HE to do your postpartum assessment.
BUBBLE:
Breast
Uterus
Bowel
Bladder
Lochia
Episiotomy
HE:
Homan's Sign
Emotional Status
5. ACHES
OB Nurses don't just work with birth and delivery. They also experience women's issues. ACHES is a way to remember all the complications of oral birth control pills.
ACHES:
Abdominal Pain
Chest Pain / Shortness of Breath
Headaches (Sudden /persistent CVA or increased blood pressure)
Eye Problems
Severe Leg Pain
6. INMT – It's Not My Time
It's not my time is a really helpful way to remember all the different medications used to relax the uterus during early contractions.
Indomethacin (NSAID)
Nifedipine (CA Channel Blocker)
Magnesium Sulfate
Terbutaune (Adrenergic Agonist)
7. DIF – Drop It First
When a woman comes in with contractions, use this mnemonic to assess which stage of delivery she might be at.
Duration – How long are they lasting?
Intensity – How strong are they?
Frequency – How often are they happening?
8. LARA CROFT
Is that abdominal pain something to be worried about in pregnancy? Remember LARA CROFT to check for all the serious causes of pain.
LARA:
Labor
Abruptio Placenta
Rupture (Ectopic/Uterine)
Abortion (Spontaneous)
CROFT:
Cholestasis
Rectus Sheath Hematoma
Ovarian Tumor
Fibroids
Torsion of the Uterus
9. CABS
There are four main danger signs that signal something is wrong in pregnancy.
Chills and Fever
Cerebral disturbances
Abdominal Pain
Blurred Visions / Blood Pressure / Bleeding
Swelling / Sudden Escape of Fluid
10. ABCDEF – Prenatal Care Assessment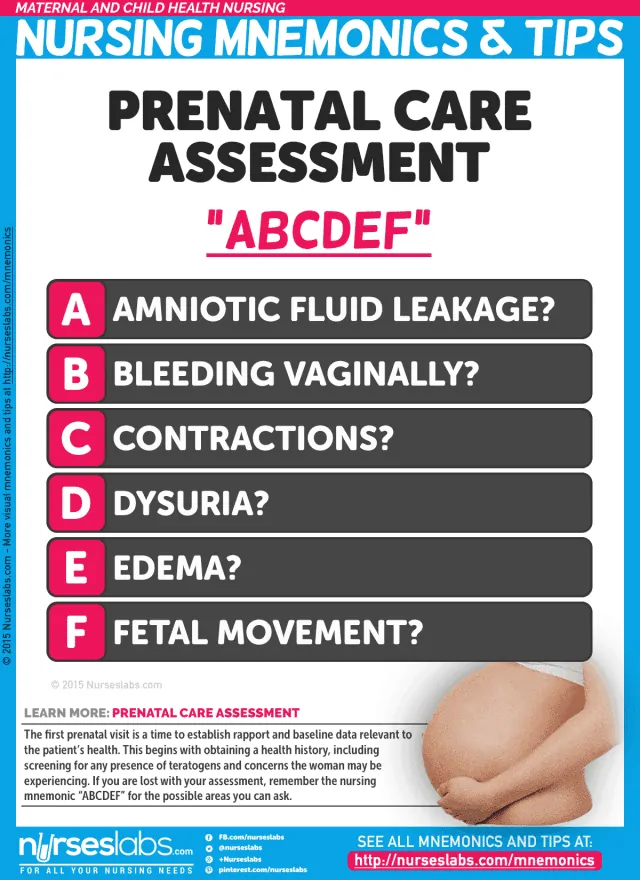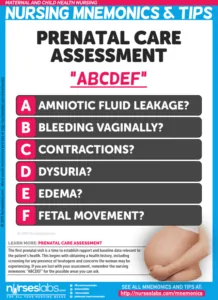 Photo from NurseLab
Just remember the first 6 letters of the alphabet are all you need to know to do a successful prenatal care assessment.
When checking a pregnant patient that isn't in labor, verify these 6 things are not happening:
Amniotic fluid leakage
Bleeding vaginally
Contractions
Dysuria
Edema
Fetal Movement – make sure this is happening!
11. 4T's – Cause of Postpartum Hemorrhage
Postpartum hemorrhage is a serious condition. After treating it, you'll need to check for the cause.
The 4T's are the most common causes of postpartum hemorrhage.
Tissue – Retained Placenta
Tone – Uterine Atony
Traumatic Delivery
Thrombin – Coagulation Disorders
12. HELLP – Severe Preeclampsia
Finally, preeclampsia is a life-threatening condition. You'll need to be able to recognize it fast. The mnemonic HELLP is the easiest way to check for all the symptoms.
Hemolysis
Elevated
Liver Enzymes
Low
Platelet Count
OB Nursing Mnemonics Can Save Lives
These are some of the most common OB nursing mnemonics. The most important thing is to find a way to remember important facts and assessments that will stick in your mind. Create your own mnemonic. Some nurses also find success by creating a little song for them (putting words to "Mary Had a Little Lamb").
Do what works for you. Mnemonics help you work smarter, not harder.
More Nursing Tips
If these OB nursing mnemonics helped you out, you might find these tips helpful too.
Mosby's OB/Peds & Women's Health Memory NoteCards: Visual, Mnemonic, and Memory Aids for Nurses

Nursing Notes 60 High Yield Pocket Nursing Reference Cards, Durable Plastic (3.5

Quick Review: Maternal and OB-GYN Nursin (Quick Review Notes)

2 Year Subscription to Nursing.com Nursing Student Academy with ScrubCheats: 6000+ Resource Library, NCLEX Style Practice Questions, Free Nursing.com App, Live Tutoring Sessions

Download Nurse Bingo Today!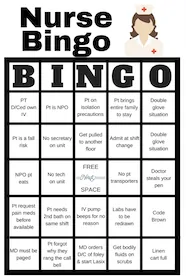 Liven up any shift with a fun game of bingo. See who can fill a row first!
Fill a whole card and lose grip with reality.
Your privacy is protected. We will never spam you.