*articles contain affiliate links*
If you enjoy working with geriatrics, wound care, and being creative, then you should consider wound care certification. How do you become a wound care nurse? Read on and learn!
Whether you consistently work directly with elderly patients or you hope to work with them someday, obtaining Wound Care Certification will benefit your career. Learn what you need and how it will benefit you in this guide.
What Is a Wound Care Nurse?
It's no secret that our population is aging. Baby boomers are getting older and requiring specific care. People in this demographic have specific medical needs. In fact, according to the Wound, Ostomy and Continence Nurses Society (WOCN), hospitals need trained medical professionals that are experts in treating chronic age-related wounds and skincare issues.
Nurses with this training are called Wound, Ostomy, and Continence Nurses (WOC or WOCN – pronounced woah-sin).
They care for both chronic and acute wounds. A chronic wound is something that is ongoing, usually caused by a disease. An acute wound is a new wound like a scrape or gash.
What Does a WOCN Nurse Do?
A WOC nurse with a Wound Care Certification works specifically with wounds in a variety of settings. Here are just a handful of the many things a wound care nurse can do:
Treat wounds directly
Reduce patient's risks of pressure ulcers
Wound Care Nurse Job Description
If you want to become a wound care certified RN, knowing the job description is really important before making this your career of choice.
This job description from the University of Wisconsin explains all the responsibilities and performance measures of the job.
It reads, in part:

Registered Nurse decisions and actions on behalf of patients are determined in an ethical manner. She/he establishes goals
and a strategy for meeting the discharge or continuing care needs of the patient, family, and/or other care provider as
required or carries out discharge plans as noted on the critical pathway or multidisciplinary plan of care. Care is provided in
collaboration with other nursing staff members; she/he delegates and supervises care in accordance with nurse practice acts
and the professional nursing role.
Where do Wound Care Nurses Work?
Wound nurses can work in a variety of settings, but most often you will find them in hospitals or home care. In fact, every home care nurse will do some level of wound care, some becoming certified in wound care is a logical evolution for a home care nurse.
Wound care nurses that work in the hospital are involved in the wound care discharge planning process for patients with the most difficult wounds. If a wound vac, complicated ostomy, or another type of special wound intervention is required, a wound care nurse is likely involved. They also take part in the management of specialty beds, innovative dressings, and wound education in a hospital.
Home care nurses often become wound care nurses by default, regardless of holding a certification. However, a nurse holding a wound care certification may be assigned a specialized schedule that includes the most difficult wounds and patients that require more time. This means you may end up making fewer visits (seeing less patients in a day), which is desirable to many nurses who are looking to build deeper relationships with patients and spend more time doing direct patient care and less time driving around.
Wound Care Nurse Salary
How much a wound care nurse makes depends on experience, certifications, and location. Some states pay higher than others. The average hourly wage for wound care nurses is around $35 per hour. The average annual salary is about $75,000 per year.
As with any nurse salary, your mileage may vary. It is, however, a higher paying nursing specialty.
How To Become a Wound Care Nurse
One of the best ways to become a wound care nurse is to complete a wound care nurse program. After you complete one, you'll have both the knowledge and experience to work in this area full-time.
So… how do you become wound care certified?
Wound Care Nurse Certification
The best wound care certification course is the Vohra Wound Certified Nurse (VWCN™) program.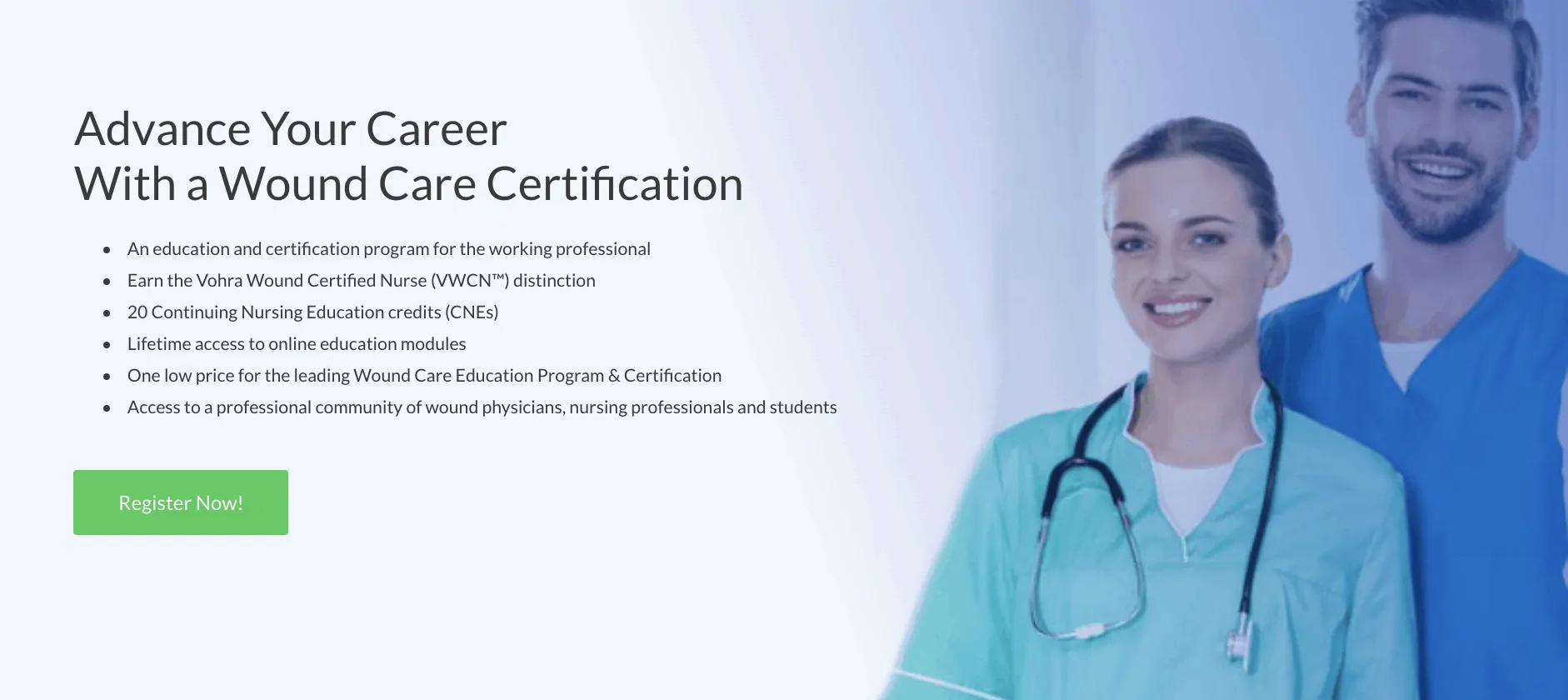 This is an online-only program, so you can fit it into your schedule. It consists of the following parts:
11 core modules
2 bonus modules
Individual quizzes
Downloadable study guides
A final exam
Is this the only wound care nurse program? No, but it's the leading in the industry.
Options for Certification:
Wound Care Certification for facility-based nurses: 13 total modules, 20 ANCC CNE credits, $650
Wound Care Certification for home-based nurses: 11 total modules, 16 ANCC CNE credits, $450
Who can earn a Certification from Vohra?
Almost any medical professional is eligible to earn a certification including:
Registered Nurses (RN)
Licensed Vocational Nurses (LVN)
Nurse Practitioners (NP)
Physician Assistants (PA)
Doctors (MD/DO)
Anyone who wants to learn more about wound care!
Note: Allied health professionals including physicians, occupational therapists, physical therapists, and medical assistants are eligilble to take the course and earn the certification. However, the continuing education credits are only offered to nurses, that includes RNs, LPNs, LVNs, ARNPs.
Wound Care Nursing Skills
To succeed as a WOC nurse, you'll need to have specific skills as well as the certification. As with other nursing jobs, you'll need to be flexible. One minute you might be cleaning a new wound and the next you might be treating a bedsore.
Here are the most essential skills you will need if you want to be a WOC nurse:
Patience
Gentleness
Desire to stay updated on current techniques
Communication skills
Ability to education patients and families
Attention to detail
Foresight to prevent wound infections or complications
Nursing Interventions For Wound Care
Most of the nursing interventions for wound care are going to be independent. WOC nurses must make decisions on their own about how to treat the wounds and educate the patients and their families about how to care for them.
Another very common intervention is prevention. Frequent wound care will prevent infections and ulcers, especially in chronic wounds.
Final Thoughts
Wound care is a very creative nursing skill. If you enjoy finding unique and innovative ways to clean, protect, and prevent wounds, then a career in wound care nursing maybe right for you.
Does this sound like something you'd like to consider in your career? If so, make plans for going after a certification that is respected and honored. Learn how to educate patients and families with kindness and soon you can be a wound care nurse.
Get your Wound Care Certification Today!
Wound care nursing is an exciting and well-paying nursing specialty. You can advance your career in wound care or take the steps to start by earning the Vohra Wound Certified Nurse (VWCN™) distinction. Vohra offers the leading Wound Care Education Program & Certification, which includes 20 Continuing Nursing Education credits (CNEs), lifetime access to the modules and training, and connection to a community of wound care professionals. Plus you get $50 off with code NERDY50!
More Nurse Career Guides
As you further your nursing career, here are some more specialties you should consider next.