*articles contain affiliate links*
Guest Blogger: Jenna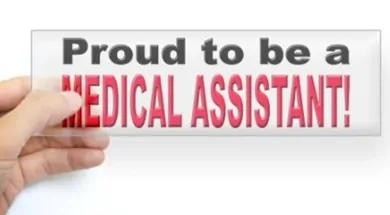 If you are looking to change careers, consider that there are several opportunities within the medical field. For example, there is a very high demand for medical assistants, and this particular career path also provides ample opportunity for growth and advancement.
What is a Medical Assistant?
Medical assistants are often the first line of contact between the patient and the physician, and they work in a variety of medical environments, including hospitals and private clinics. On an average day, a medical assistant could check patients in at the receptionist's desk, perform patient interviews and record medical histories, and organize patient files. From a clinical standpoint, they could perform diagnostic tests like blood pressure and respiratory readings, collecting samples from patients, and labeling and transferring those samples to the lab.
The main purpose of the medical assistant is to perform basic medical duties, which were traditionally performed by doctors and nurses, to free them up to perform more advanced tasks. Medical assistants also make it possible for physicians to see more patients, and to see them more quickly. Medical assistants are crucial to every-day medical office operations, and help ensure that the office runs smoothly.
While medical assistants are not nurses, and should never refer to themselves as a nurse, they are a much needed member of the healthcare team who assist help patients get the care they need.
Training Required
The amount and type of training you need varies by state. Some states only require medical assistants to complete a certificate program. Other states might require that medical assistants receive more formal training and licensing, especially if they are to perform clinical duties. For example, the State of Florida suggests  that all medical assistants be certified either by the American Association of Medical Assistants (AAMA), or by the American Medical Technologists (AMT). Both certifying bodies require candidates to complete a qualified, accredited training program, or have a certain number of years experience before taking the certification exam.
Other states require little more than a high-school diploma, and on-the-job training. Keep in mind that while the on-the-job route allows you to earn money while you are training for your new career, it can also result in a much lower hourly pay rate vs. getting training and certification before working.
You can also take the combination route where you work as a medical assistant and you supplement your on-the-job training with coursework from an accredited program. This will provide you the advantage of earning money while you learn, gaining valuable experience in your chosen field, and giving you the additional formal training that you need to become certified.
Regardless of the path you choose, medical assistant training is a must.
Finding a Training Program
The program you choose will be determined by the state in which you wish to practice. If you plan to live and work in Florida, then you would attend a school that meets the academic and certification requirements for that state, and look into medical assistant schools in Miami, a hot spot for the industry. If you aren't sure that you will stay in the same state after graduation, consider a program that offers the highest level of certification or licensing, to ensure that you are covered wherever you go.
If you are unable to attend school on-site, there are also several online programs that offer medical assistant training. Before you select one of these programs, however, make certain they offer a level of training and certification that enables you to meet all necessary state requirements.
To learn more about the requirements for medical assistants, and medical assistant schools in Miami, and other cities, check out the link provided and contact the medical board for your state. In most cases you can find the website by entering the name of the state and the words "medical board" in the internet search string.
Career Outlook
According to the 2010 Bureau of Labor Statistics (BLS), the median salary for a medical assistant is $28,860 per year, or $13.87 per hour. The average pay, however, does not take into account higher levels of training or certification. The top 10 percent of medical assistants, those with more experience and training, can earn more than $40,190 per year.
The BLS estimates a growth level of 31% between 2010 and 2020; much faster than the national average for all occupations. This growth is due, in part, to an aging population with a larger demand for medical services. Additionally, healthcare facilities show a greater need for support workers with medical training, to perform both clinical and administrative tasks.
Opportunity for Advancement
Working as a medical assistant provides a foot in the door and, with additional training, a medical assistant can move up to other medical jobs such Licensed Practical Nurse, Occupational or Physical Therapy Assistant, or Psychiatric Aid.
In many cases, the employer could offer reimbursement for additional training and certification, as an incentive for the student to return and use her new skills within her workplace.
See also:
Top 3 Realizations Medical Assistants Experience in This Career in Healthcare