*articles contain affiliate links*
Nurses are generally known to be hard workers who are on their feet all day attending to the needs of others. Since they're "on the go" most of the time, they need equipment that will work as hard as they do – including their lunch bags! You can't just use any old brown bag as a nurse lunch bag. The perfect nurse lunch bag has features that go perfectly well with most nurses' routines, hold those delicious nurse lunches, and here are some of them:
Best Features of the Perfect Nurse Lunch Bag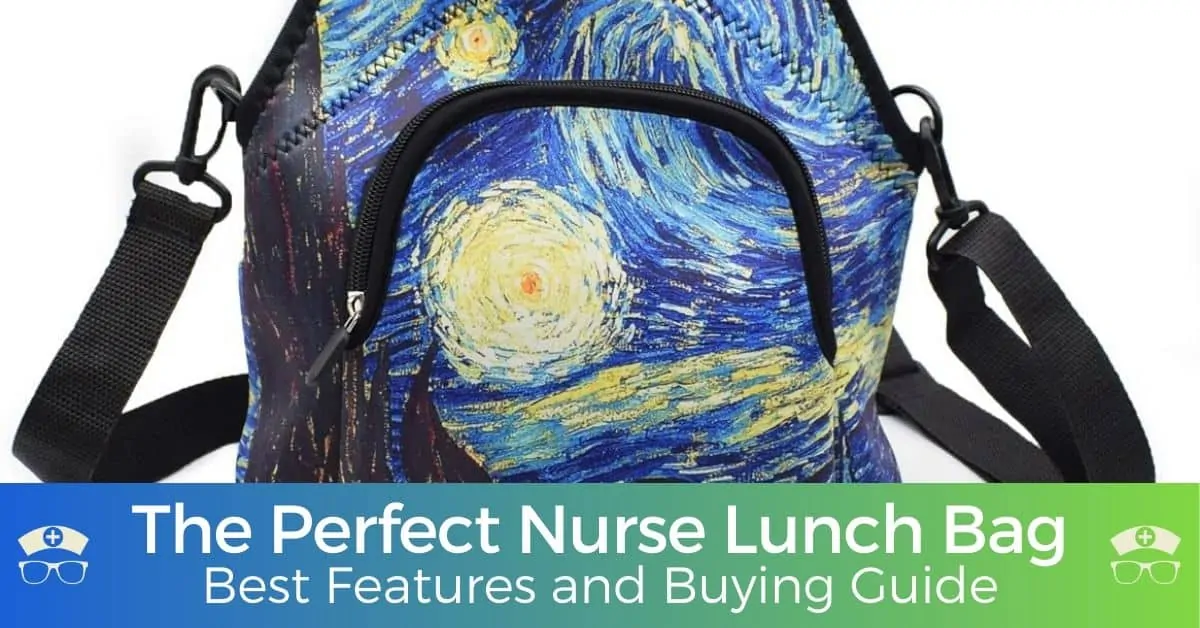 1. It should place an emphasis on comfort and convenience.
The perfect nurse lunch box should have features that deliver comfort because nurses already have a lot on their plate to begin with. Some of these nice-to-have features that provide comfort include:
2. It should be easy to maintain and keep clean.
Nurses are professionally trained at keeping things sterile, so the same must be said about the way they maintain and clean their nurse lunch bag. The best lunch bag for nurses should have features that make it hassle-free to clean and maintain, such as:
3. It should offer a variety of compartments for everything a nurse needs to bring.
The best lunch bag for nurses are the ones that offer nifty pockets and compartments that hold enough food to last them throughout the longest (and most stressful) shifts. The compartments are great for keeping things organized, so nurses don't spend so much time rummaging through their packs for what they need to eat during their precious ten-minute breather in between shifts:
4. The perfect nurse lunch bag is durable and lasts for many years.
The best lunch bag for nurses are the ones that they can rely on for a long time so they get more value for their money. The durability factor must be reliable on a daily basis to ensure that they don't have to attend to the hassle of a broken strap or a ripped flap.
5. The best lunch bag for nurses should also be nice to look at!
Function aside, it's also nice to have cute nurse lunch bags that perk up even the gloomiest of days. Don't underestimate the power of cute nurse lunch bags to give you a little lift, because everything that can give a perk-me-up when a shift is extra stressful will help!
Since no two nurses are alike, each one will have their own special preference when choosing the best lunch bag for nurses. If you're looking to purchase a nurse lunch bag for someone you know, this list is a great way to evaluate the options that are readily available to you. Hopefully, you find the one that has the greatest features for the budget you have for it. There are many quality options in your local store, on Amazon, Etsy and the like – so have fun looking for the one that you think is the best fit!
More Resources for Nurse Lunch Bags:
Lokass Lunch Bags for Women Wide Open Insulated Lunch Box With Double Deck Large Capacity Cooler Tote Bag With Removable Shoulder Strap Lunch Organizer For Men/Outdoor/Work(Grey)

LOKASS Lunch Bag Cooler Bag Women Tote Bag Insulated Lunch Box Water-resistant Thermal Lunch Bag Soft Liner Lunch Bags for women/Picnic/Boating/Beach/Fishing/Work (Peony)

Fred E.M.T. (Emergency Meal Transport) Insulated Lunch Tote

Meal Prep Lunch Bag / Box For Men, Women + 3 Large Food Containers (45 Oz.) + 2 Big Reusable Ice Packs + Shoulder Strap + Shaker With Storage. Insulated Lunchbox Cooler Tote. Adult Portion Control Set

Lunch Bags For Women,Insulated Lunch Box Tote Bag Lunch Organizer Lunch Holder For Men/Beach/Party/Boating/Office/Fishing/Picnic (Purple)

Lunch Bags for Women Men Reusable Insulated Thermal Lunch Bag Large 13