*articles contain affiliate links*
When you need to look something up, these are the best medical dictionaries for both nursing students and seasoned nurses!
Nurses and nursing students memorize a lot of facts. While mnemonics help nurses in a pinch, you just can't replace how easy it is to use an extensive medical dictionary. There's just no way to memorize everything!
If you want to invest in an easy-to-use medical dictionary that has everything you'll ever need to look up, then these are the best ones out there.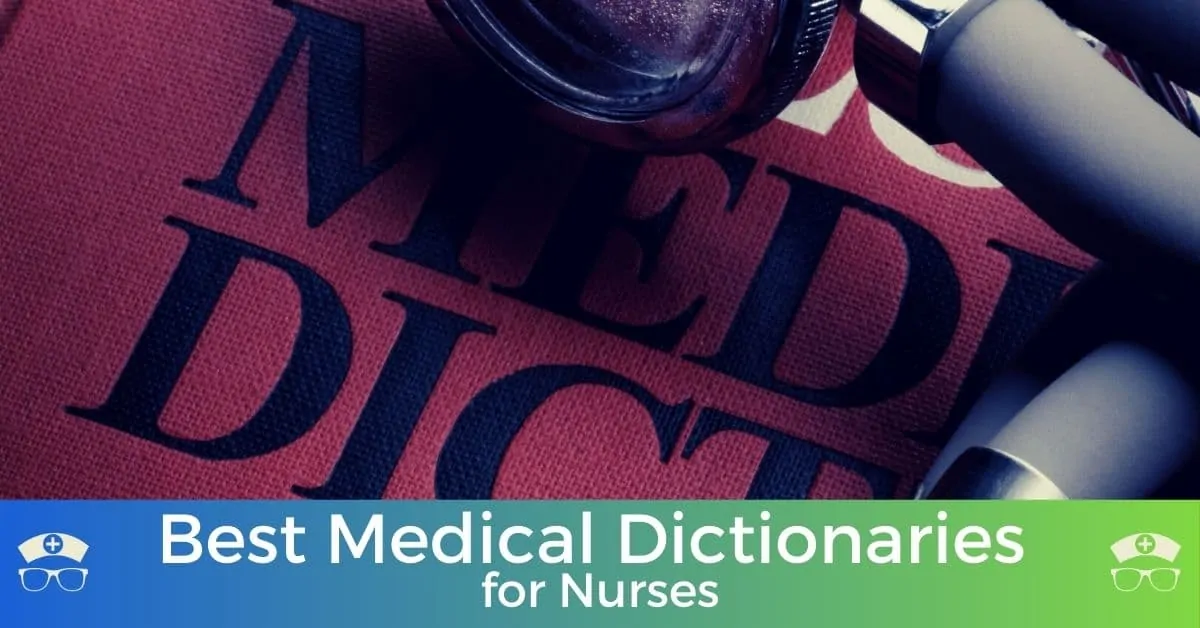 Best Medical Dictionaries For Nurses
Whether you are looking to replace your old one from nursing school or you are a nursing student and need your first one, these are the best medical dictionaries out there today. Read on, find your favorite, and don't forget to Pin this post so you can find it again later!
These are in no-particular order. All of them are amazing.
Buy It Now
When it comes to medical dictionaries, you can always count on the maker of the English dictionary. Miriam-Webster's Medical Dictionary is thorough, compact, and affordable. Always buy the newest edition because it will have the most updated terms. I love how this dictionary even includes pronunciation guides and covers generic equivalents of common drugs.
Buy It Now
On the opposite end of the spectrum, you can also purchase a medical dictionary pamphlet. This is a really great idea if you just need something that has the most commonly used terms on it. This pamphlet is fantastic for nursing students. The best thing about it is that it's laminated so you can even use it at work without it getting torn up.
Buy It Now
Another favorite medical dictionary among nurses is the Mosby's medical dictionary. This is one of the most exhaustive dictionaries that you can buy. It has 56,000 definitions and they are always creating new updates to stay current.
Some nurses say this is a really heavy book – which means it's sturdy but it also means that it isn't very portable.
Buy It Now
Nurses that enjoyed the previous edition of this dictionary rave about how amazing the updated version is. Taber's Cyclopedic Dictionary has colored tabs so you can easily find what you need. A lot of people loved the hardcover version much more than the Kindle version, so keep that in mind.
Buy It Now
Known as "the world's most trusted medical dictionary," Dorland's Illustrated Medical Dictionary is relied on by nurses everywhere. This is extremely comprehensive and has handy pictures that explain key concepts in a detailed way. Just be warned that this is a desk book – it is very heavy. They also have a pocket dictionary if you need something portable.
Buy It Now
This book brings complex medical terminology to life. It uses stunning visual aids and real-life stories. The Language of Medicine helps nursing students understand medical concepts by applying them directly to the human body. The examples it provides aren't just textbook definitions, they are engaging and easy to grasp.
Buy It Now
This is a must for anyone in nursing school. It is both a workbook and study guide that explains medical concepts in a way that helps you memorize it and learn it for good. Medical Terminology by David Anderson breaks complex words down to their simplest forms so you can understand what you are memorizing.
Buy It Now
This is another book written just for nursing students. It creates a frame-based learning approach. This means it breaks complex concepts into smaller sections so they are easier to understand. Medical Terminology: Simplified really is simplified! It even has critical thinking exercises inside and a bookmark that students can use to quiz themselves with.
Buy It Now
Medical terminology is a completely new language and one of the best ways to learn a new language is by learning the roots of the words first. That's the beauty of Medical Terminology Systems. It uses a word-building approach to explain the prefixes and suffixes of new words so that you can understand them and actually learn them.
Buy It Now
Finally, this list would not be complete without a "for dummies" book on it. Medical Terminology for Dummies is perfect for both nurses and nursing students. It shows you different ways to memorize these difficult terms. It's easy to read and even shares tips for retaining this knowledge.
More Nursing Student Resources
These resources will help nursing students and even seasoned nurses. If you enjoyed finding out the best medical dictionaries for nurses, then you'll love these helpful articles too.
Download Nurse Bingo Today!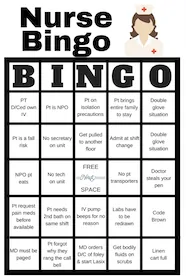 Liven up any shift with a fun game of bingo. See who can fill a row first!
Fill a whole card and lose grip with reality.
Your privacy is protected. We will never spam you.