*articles contain affiliate links*
This is the only backpack you ever need! It fits everything you carry as a nurse. Find out why it's the best nurse backpack for work!
Are you a nursing student or even a full-time nurse and you need a bag that will hold everything you carry? I discovered one of the best backpacks for a nurse, traveler, and parent. It's the same bag! In fact, it has so many pockets that you can use it as a medical bag too.
Best Nurse Backpack For Work
The Knack Pack is hands-down the best backpack for nursing. I've used it when I traveled with my family and I know firsthand how durable and roomy it is.
This is also the best nurse backpack for work. Keep reading and I'll show you all my favorite features, as well as how to choose between the three sizes of this Knack backpack.
Keep reading my knack review and decide whether it's right for you!
3 Nurse Bag Sizes
There are three different sizes of Knack bags, read through the descriptions and choose the one that will fit into your lifestyle the best.
Take my advice – buy the large size. Even if you think you might possibly run out of room, it's lightweight enough that you won't think it feels bulkier, and it will hold everything you use.
All three have the same basic designs with expandable sections. The main differences will be the height and width – but you'll notice the height as the biggest difference.
The small backpack will fit a 13-inch laptop inside and hold around 2 outfits. It is 17-inches tall and expands to 9-inches deep. This is best for something that will fit into tiny lockers.
The medium Knack sack is 19-inches tall. It will hold a 15-inch laptop and around 3 outfits. The water bottle pocket is slightly larger than the small bag. This is a very popular bag because it expands to 9.5-inches deep and still fits nicely into lockers.
The large size is the best expandable travel backpack for anyone that is going to fly. It will hold so much stuff! Not only will it safely store a 17-inch laptop, but it can hold up to 4 outfits and is actually 2-inches wider than the other two backpacks.
My Favorite Features Of The Knack Nurse Backpack
This has earned my pick for the best backpack for nurses because it has some seriously amazing features. It's more than just a nurse bookbag. This is a way to keep all of your shoes, clothes, and other supplies organized when you travel between your house and your job.
Expandable Compartment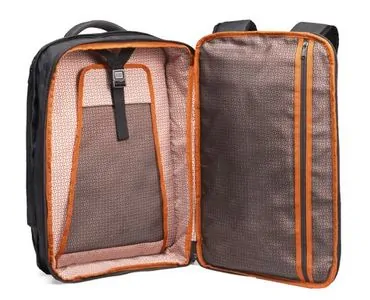 You never know what you are going to have to carry to work from day to day. This bag has an expandable compartment that is large enough to hold scrubs. clothes, and even a pair of shoes. Plus, every Knack Pack comes with a laundry bag so you can keep your dirty clothes separated.
Easy-To-Reach Top Pocket
Every nurse bag needs a pocket that is easy to reach when they need it most. This is where most nursing students and professional nurses will store things like their phone and credit cards, chargers, and even some extra pens.
Front Triangle Pocket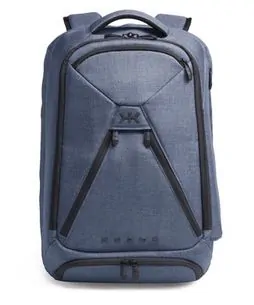 I love this feature for a registered nurse backpack. On the very top of the pack is a triangle-shaped pocket. Here, you can store really small things like your glasses, smart watcher/charger, or eye drops. Since it is shaped like a triangle it holds more than you think.
Zippable Water Bottle Pocket
Finally, there is a zippable water bottle pocket on the side of the backpack! This is the perfect home health nurse backpack because your water bottle won't fall out. You can finally take a hot travel mug of coffee with you and not be afraid of it falling out. It stays put. It's amazing!
Best Nurse Backpack for Work: Knack Bags
If you need a smart backpack, then you need to check out Knack bags. I believe it is the best nurse backpack for work. It's an expandable bag that you will use whenever you travel – whether that is just to work or around the world! You can even use it as a nursing clinical bag to hold all your books and clothes.
After using it myself, I can honestly say that Knack makes the best nursing bags for nurses. I've never seen a nurse bookbag that can actually stay organized until I used this one. Go check it out – you are going to love it too!
How the Knack Backpack Saved Our Flight and My Sanity
When we traveled to Disney world we didn't realize that a lightsaber counted as bag and without the Knack bag we might not have been able to fly home. Plus I'm pretty sure I would have had a nervous breakdown and probably never been allowed to fly again, because I was already on edge from travel anxiety and Disney exhaustion.
Get the Best Nurse Backpack Today!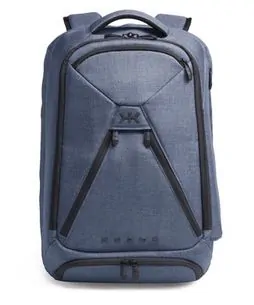 I cannot recommend this backpack enough. I wish I had it in nursing school. This bag is perfect to talk all your work essentials with you and to fully embrace "One bag life." If you travel for conferences, this is the perfect back for a 2-3 trip and will save you from having to also carry rolling luggage.
More Of The Best Things For Nurses
If you enjoyed my Knack Backpack Review, then you will really enjoy reading about more must-haves for nurses.
These are some of my favorites!