*articles contain affiliate links*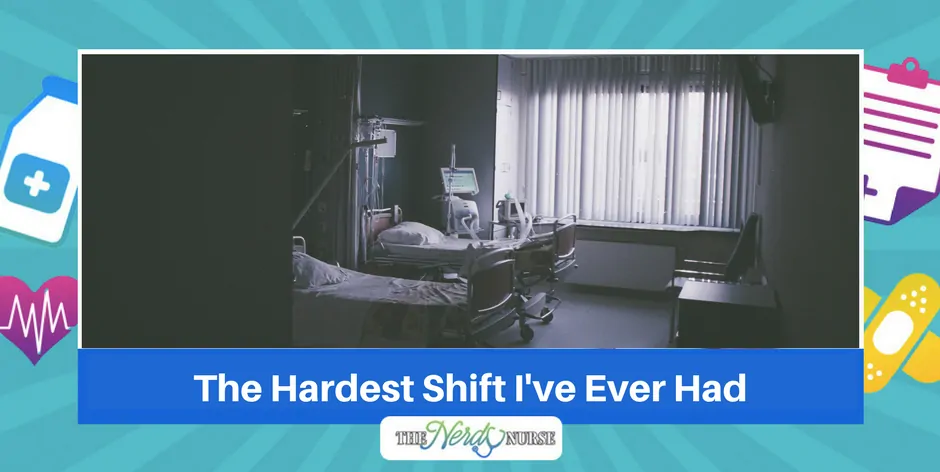 One of most terrible nights as a nurse was early in my career. It was shortly after I moved to night shift becoming the night nurse I always swore I wouldn't be.
My patients were all high acuity patients. It was a night full tubes, drains, fall risks, confusion, decubitus ulcer, vascular wounds, PICC lines, central lines, shunts, stents, pacers, OG tubes, family conflicts, blood transfusions, fresh post-ops, spina bifida, and sadness. In addition to the loads of problems the fact that nearly all of my patients required constant attention and management made for a very busy, and emotionally trying evening.
The Hardest Shift I've Ever Had
I had a young, dialysis dependent, dead leg, totally dependent, spina bifida patient who didn't care is she lived or died. Also, a middle-aged patient who lost over 300lbs after a gastric bypass (years ago) along with his entire stomach who was now was vomiting up toilet bowls full of blood. Even after all that, he said he'd do the bypass again, because he said he thinks he would be dead without it. An elderly woman who was begging me to take her OG tube out. A middle-aged woman whose leg cellulitis was so bad it looked like someone had cooked it an oven that was so confused she was playing in her own feces. And one elderly fresh post op from an exploratory lap.
My my admission, the post-op, was my easiest patient.
The patient who would have usually took the most time, energy, and effort. The patient who I should have been able to spend the most time with was the one I spent the least with. I am thankful that she had a wonderful family who were both very helpful and understanding. I am thankful that she was strong, and had a wonderful first night. I'm glad I could be her night nurse.
The rest of my patients required so many interventions, help, pain management, nausea management, emotional support, education, cleaning, changing, dressing, ext, that I was unable to chart the first note until 0700. I didn't even begin to check my charts until 0600, in a mad rush to beat the doctors to them.
It took hours to chart. I didn't leave until 9:30 am, and I can only hope I charted everything I should have. So many opportunities to omit precious notes can occur when you have more patients than time, and I hate that.But I can honestly say that I did my very best. I took good care of my patients. And I honestly fell I made at least some small difference in a few of their lives.
Successes Even in the Most Difficult Shifts
My biggest success story of the evening including removing an OG tube from a patient who told her family and doctor that she was ready to go to her `"eternal home" and see her mother. The patient thanked me, smiled at me, and then had a very restful night. It was a lot of hard work. Other impactful events included a family conflict and a very compassionate doctor who took time away from his busy evening to discuss end of life decisions including DNR/DNI with the patient and her family.
Sometimes I Cry With My Patients
There were many moments yesterday that I cried with my patients. I did my best to be supportive, but I couldn't help but feel their pain, their stress, their despair.
I did my best to care for them in a way that delivered them the dignity and respect that they often did not receive. I cared for them as the physicians ordered and as they requested. I kept their pain manageable and their linens clean. I obtained all of the information requested of me and the patients to the best of my abilities. I really just hope I documented well enough to prove it.
Stressing Over Charting
It will probably never be something I even have to see or worry about again. But every day I put my license, my livelihood, and my families safety and prosperity on the line. Nights like that night cause me stress and fear. It makes me question becoming a night nurse. Because even though I know I cared for my patients the best I could, I am not sure if the chart would prove that when it was all said it did because I did not have the time to chart things as they were done.
We all know if we didn't chart it, it wasn't done.
5 more minutes till I leave for work. It's raining outside. I work with a wonderful group of very supportive women who I know are there for me and are always very helpful, even on stressful, tearful, and eventful night shifts. Tonight will be a better night. My patients will be better. My charting will be better. My day will be shorter.
It has to be!
Download Nurse Bingo Today!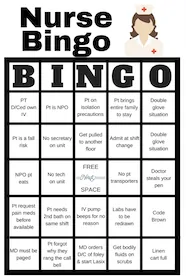 Liven up any shift with a fun game of bingo. See who can fill a row first!
Fill a whole card and lose grip with reality.
Your privacy is protected. We will never spam you.