*articles contain affiliate links*
Don't just survive working nights, thrive at it! These 10 smart tips for night shift nurses will help you conquer whatever is holding you back from being the best nurse you can be.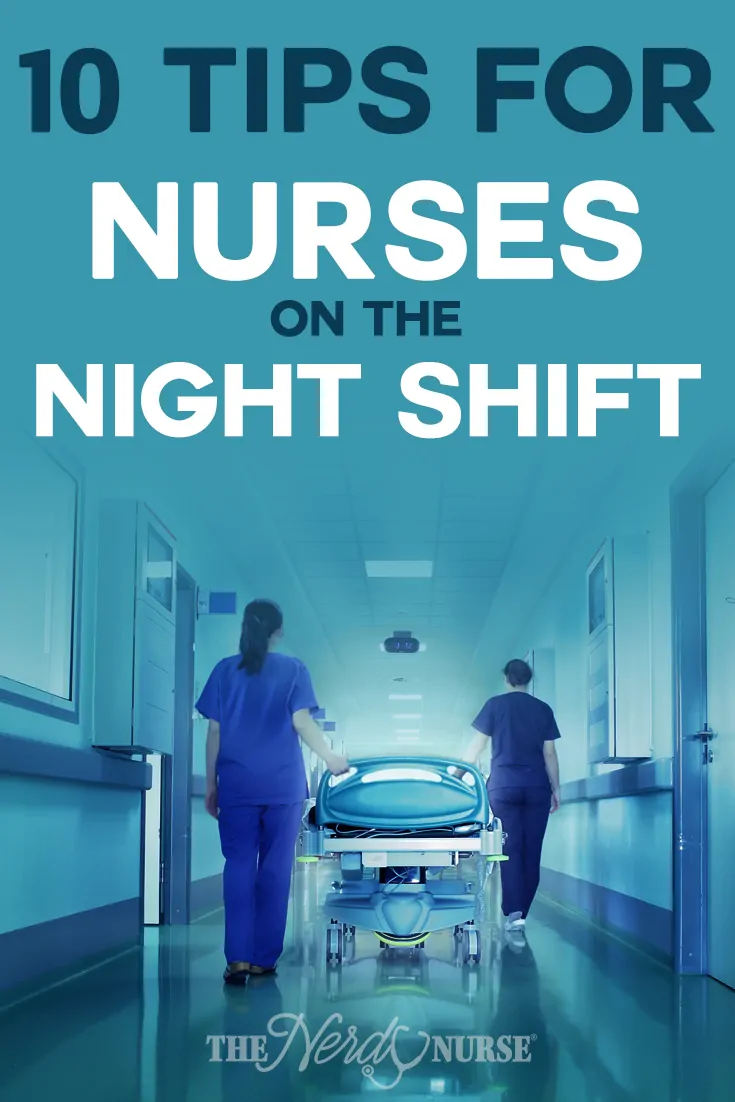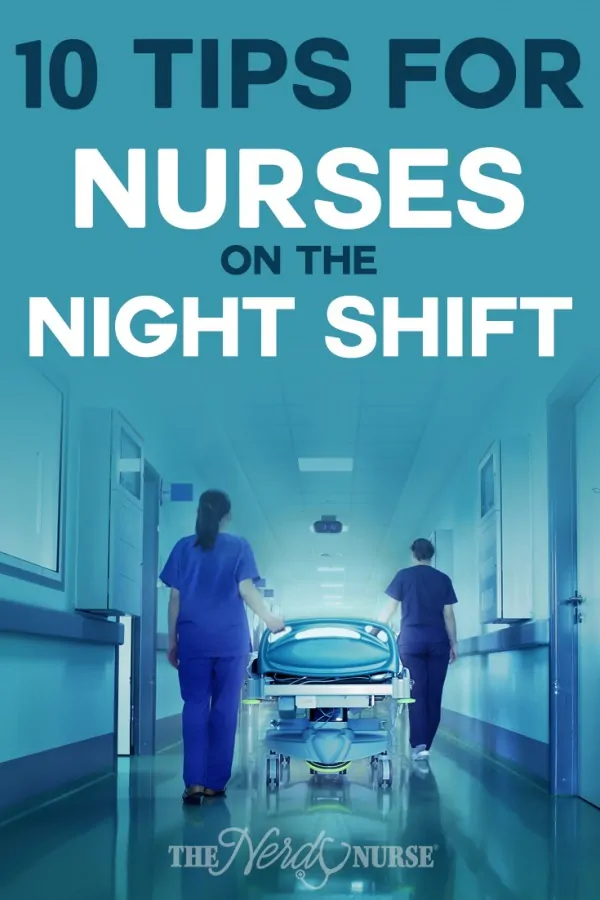 If you have a night shift nurse job, you better start saving up on that sleep and getting ready for long nights that will switch between being arduously boring and tremendously busy, seemingly at random. Unlike the day shift in hospitals and medical clinics, the night shift often sees a less steady flow of traffic, though things can get really messy and hectic should an emergency occur overnight.
10 Tips for Night Shift Nurses
Below, read through 10 tips that can be helpful to you as you prepare for the night shift routine, so you're not instantly overwhelmed whether you're rotating from the day shift or starting a brand new position entirely.
#1 – Avoid the Coffee (for the most part)
One of the worst ways to set yourself up for an energy crash later in your shift is by relying too heavily on mugs of coffee to keep yourself awake and alert. Drinking a lot of coffee early in your shift may help you feel energized at the start of your shift, but you'll find yourself lacking only a few hours later, and eventually, you won't be able to stay alert no matter how much coffee you stuff yourself with.
If you need coffee, try a single cup later on in your shift when you just can't manage any longer without it, for a last-minute alertness-boosting aid. That way, you won't feel the coffee crash until at least your shift is over.
#2 – Be Prepared for the Unexpected
When you regularly work the day shift, you can expect either a steady stream of patients or at least know the ebbs and flows of typical clinic or hospital day traffic. At night, it's often more difficult to stick to a routine, namely because there can be long stretches where nothing is happening, only to be interrupted by a serious emergency out of nowhere.
By always being prepared for an unexpected event, you won't have to brace yourself as hard should you suddenly be needed to help during an emergency at 3:30 a.m.
#3 – Know your Allies
Night shift nurses in hospitals are often known for being rather tight-knit, probably as a response to the lack of urgent happenings every other minute, allowing nurses, doctors, and other personnel to get to know each other better. Night shifts can be hard to sit through, especially if you're more of a day person, so knowing who you can rely on during those long, rote stretches can be a big advantage to you in the long run.
#4 – Request the Day Shift Whenever Available
Some nurses who work only the night shift complain about having their career momentum stalled, particularly those who were moving up quickly when previously working the day shift. This has less to do with the job performance of those working the night shift and more to do with the big advantage of working during the day, which is the networking aspect.
Most of the hospital or clinic's higher-ups will be at work only during the day, for the most part, meaning they'll interact primarily with day-shift nurses per routine. If you're struggling to get noticed and only work night hours at the moment, you may want to consider adding some day shift hours as well, if available, to raise your visibility to those who can help you move forward on your career path.
#5 – Wear Bright Colors
When there's no natural sunlight to keep you in a cheery, alert mood, and you only have dully-colored nursing scrubs to stare at otherwise, you can feel like you're living in a muted environment, which can be depressing.
By wearing bright, cheerfully colored nursing scrubs, you can not only boost your mood but also that of your patients, who not only have to put up with a medical incident but also staying awake at whatever remote hour it is.
#6 – Eat Well (and bring a snack)
You'll want to be sure to eat a full-fledged meal before you begin your shift. If you sleep right up until the start of your night shift, try eating what would amount to a typical breakfast before you begin work, to help you get your day started on the right note. If instead, you sleep immediately after your shift, try eating something more akin to a late lunch or dinner.
That way, you'll help normalize your night shift routine and keep those hunger pangs at bay as well. If you can only manage to eat a small amount prior to work because you're not accustomed to eating at unusual hours just yet, make sure to bring a snack along with you. You may not be hungry right before work, but you may need a pick-me-up during your shift to keep your attention where it needs to be.
#7 – Take your Time
During the day shift, you may have had to wait in traffic for an hour or so in order to reach work. The night shift has no such traffic qualms, so don't feel rushed to leave for the hospital or clinic hours before you need to be there. The more you treat your night shift like a day shift, the more normalized your routine will become, and you'll be able to maximize your free time more ably.
#8 – Have a Backup
If you're the type of person who tends to accidentally doze off during nighttime hours when things get slow, you may need a backup to keep you on-track and on-schedule. Set your cell phone to buzz every fifteen minutes if that helps make sure you wake up should you accidentally fall asleep on the toilet during your bathroom break. Or take a short break and give yourself a laugh with these night shift memes.
#9 – Be Honest to Yourself and to Others
Not everyone is cut out for working the night shift, and if working long hours overnight is beginning to impede your ability to perform effectively, you need to be honest with yourself and your supervisor. For the sake of your own well-being, as well as the well-being of incoming patients, you need to know when you can't manage something.
#10 – Adjust as You Go
It can be difficult to prescribe help in scenarios that you're currently unaware of. Sometimes, there are quirky regulars who come into the hospital at night with similar conditions, and other times there may be an annoyed neighbor who makes a point to come in and complain to your clinic's staff after-hours.
There is a lot of the unexpected to expect on the night shift, so hang in there in the meantime, and make adjustments to your routine and your approach as you go along. Eventually, you'll adjust just fine, and be ready and waiting for any trouble that may come your way during the wee hours of the hospital or clinic's schedule.
Night Shift Nurses – Thrive At Your Job
Maybe it wasn't your first choice, but there are so many benefits to working as a night shift nurse. Yes, there are struggles, but once you learn how to thrive in your job (and get your life to work with your odd hours), it can be so rewarding. The most important thing you will need is support from family and friends.
About the Guest Blogger:
This article was written by Brett of ScrubsGallery.com, a leading online provider of nursing scrubs and other medical uniforms. Utilizing the proper scrubs helps to promote positive attributes in the work environment including cleanliness, hazard-avoidance, sanitation, and professionalism. Brett and the rest of the ScrubsGallery.com team advocate for safe, selective scrub choices for nurses and other professionals in the field, including those options available at our online location.
Disclosure: This is a sponsored guest post.
Download Nurse Bingo Today!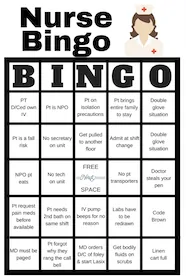 Liven up any shift with a fun game of bingo. See who can fill a row first!
Fill a whole card and lose grip with reality.
Your privacy is protected. We will never spam you.