*articles contain affiliate links*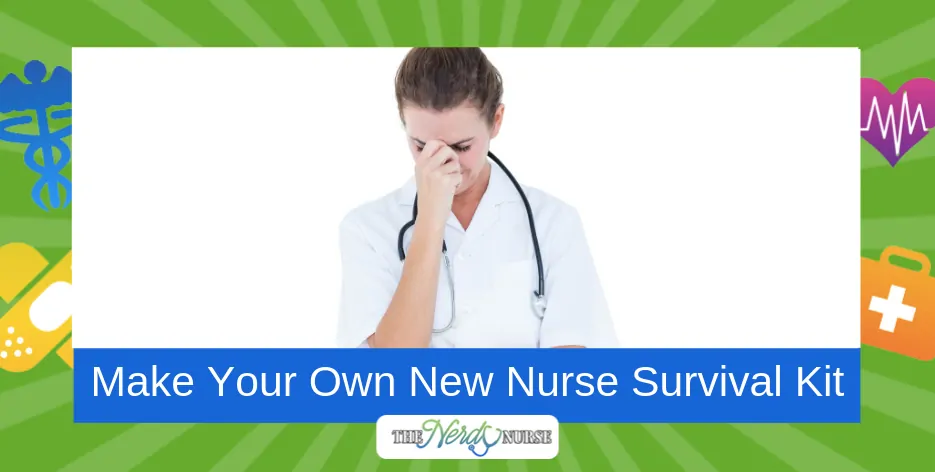 Every brand new nurse needs a new nurse survival kit. There are two kinds – a funny one that encourages nurses when they feel stressed out. Then there is also a more practical survival kit that I personally think all nurses need.
How To Make A Funny Nurse Survival Kit
As nurses, our jobs are pretty intense. The best way to make it through the long shifts is to find ways to laugh. This funny nurse survival kit makes a fun gift or just a printable reminder that life is better than the terrible days.
To make a funny nurse survival kit, just follow these steps:
Print out the printable I created.
Figure out what size you need to print. It is created to be 8.5×11 – a normal paper size. But you can choose from your printing options to scale it 50% and it fits perfectly on a lunch-bag-sized paper bag.
Fill the paper bag with the items on the list.
It's ready to be given as a gift!
Download the New Nurse Survival Kit Printable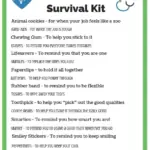 What To Put in It
You can also be creative and make up your own survival kit. Feel free to be as "punny" as you wish! This is a fun time to let your humor shine. You can use PicMonkey or Canva to create your own and put whatever you want in it.
Whatever you choose to put inside the bag, make sure they are smaller items with a fun little pun in the name.
Gain Confidence & Crush Your First Year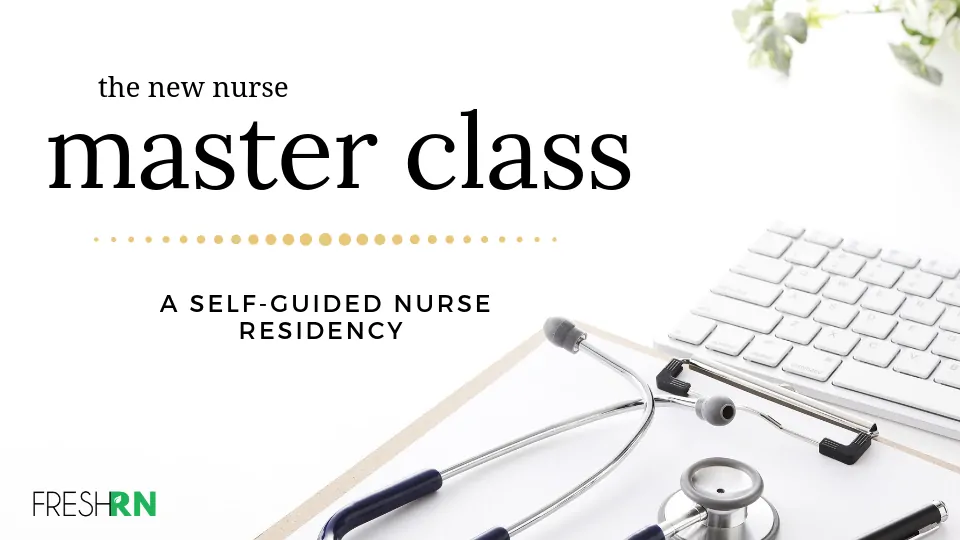 Your first year as a nurse can be daunting. You need someone in your corner telling you what your managers really need from you, helping you learn to interact with your precentor, and really just manager your like. Find all that an more with the Fresh RN New Nurse Master Class.
Start Now
A few ideas that aren't used on my survival kit include:
A balloon – to remind you to reach for the sky
A string – to tie up loose ends
A nail – to remind you of the times you nailed it
How to Make A Practical New Nurse Survival Kit
The first one is a ton of fun. But sometimes being a nurse requires more than candy and puns. For the long days and sore backs, I put together a very practical nurse survival kit. This makes a wonderful gift for every nurse – from someone that just graduated nursing school, to an experienced nurse.
If you giving this as a gift, make it special. Find a beautiful basket to hold everything. Decorate it in their favorite colors. And include a handwritten card with some encouraging words.
But if this is for you, then find a useful plastic tub that can store everything when you aren't using it.
What To Put in A New Nurse Survival Kit
A nurse survival kit should encourage the nurse and remind them that they are changing lives and making a difference. It should also be filled with very useful items that they either always need or find themselves searching for frequently.
Here is what I put in my survival kit. You can add to it as you think of things that make a nurse's life easier.
How to Use A New Nurse Survival Kit
These nurse survival kits are wonderful, aren't they? How are you going to use them? Here are some ideas to get you started.
Give It As A Gift
Do you know someone that is graduating from nursing school? What about an important work anniversary, or promotion? If you know of a special occasion coming up for a nurse friend of yours, give one of these kits. It is sure to bring a smile to their face.
Keep It For Yourself
I can't stress enough the importance of self-care. Definitely make yourself a survival kit that you either keep in your backpack, in your car or at home for after work.
More Nurse Posts To Make You Smile
I hope you enjoyed this post about nurse survival kits. Want more posts that make you laugh? I have a few of my favorites here: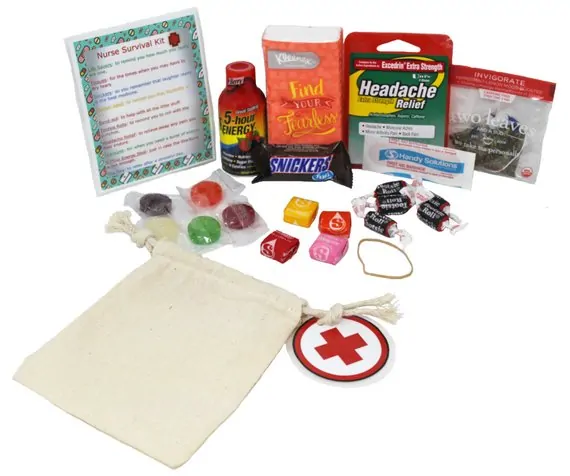 Funny Survival Kit

Nurse's Survival Kit Coffee and Wine Funny T-Shirt

Nurse Survival Kit

Nurse Survival Kit | Caregiver Survival Kit | Muslin Bag Gift Set | Fully Loaded and Pre-Made Bundle