*articles contain affiliate links*
There are many differences between working as a nurse on the floor and working as a nurse in an administrative role. However, a nurse should never forget "where we came from" and should utilize the caring and thought process applied in hands-on patient care in whatever role they have chosen. The reasons for this should be obvious, but I will clarify.
The Nursing Process Remains the Same
Assessment, Diagnosis, Outcome, Planning, Intervention and Expectations (ADOPIE). This shouldn't change in any role in nursing you choose. It's an approach to problem-solving that is constant and ever-adapting. Nursing is about taking a look at the bigger picture. Administrative nursing, particular the role I have chosen, is about an even BIGGER picture. Whether you are in clinical management, education, informatics, or elsewhere, the nursing process  should be a part of your daily routine.
The Patients  May Change
One of the most valuable lessons I learned in nursing school is that the patient isn't always lying in a bed or sitting on an exam table. Often times the real patient yu are treating are the family members at the bedside, the coworkers who  care along side with, or pharmacy on the phone who you have to call to get clarification from. Sometimes the patient that needs the most help is entirely different than a nurse might originally imagine.
Working as a nurse in and administrative role your patients are almost never traditional. You're patients may be charts, other nurses, a vendor, your manager, or any number of possibilities. Your job changes from caring for a patient in the bed to caring for those who care for those in the bed. Of course it's always about the patient. But in order to provide the best patient care, and to aid in the healing process, it is imperative that someone cares for those who care for the patients.
Administrative Nursing To Make More Money
While a nurse should always been well compensated for whatever role they perform, going into administration to make more money is really the poorest reason for it. Honestly, you will be horrible as a manager  or any other role that requires authority. You will be  a slave to budgets and your thoughts will constantly be on your wallet. You will miss the bigger picture of better patent care. You will want things done cheaply rather than efficiently. You will make nursing under your supervision a horrible and loathed process. You will not be a good manager and the nursing profession doesn't need you.
Stick to Your Roots
Hopefully, you became a nurse because you had a sincere desire to help people. Your roots in caring should stay without throughout your career, no matter what form of nursing you choose to pursue. If you use the nursing process, and remember it should always be about the patient, then you will be successful in any aspect of nursing you settle into. The roots of caring in nursing are strong and we'll be glad to have you work alongside and to guide us.
Download Nurse Bingo Today!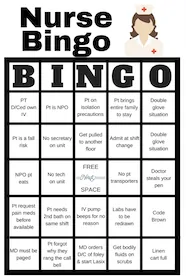 Liven up any shift with a fun game of bingo. See who can fill a row first!
Fill a whole card and lose grip with reality.
Your privacy is protected. We will never spam you.