*articles contain affiliate links*
My colleagues have been quite upset with the fact that I don't plan on working PRN in bedside care. Some of them feel I wasting my nursing degree to move away from bedside care and into informatics. I will miss many things about bedside care nursing, but I know that I will be able to much better serve patients in my new role as a Clinical Informatics Specialist.
The instant trust that a patient gives you just because you were assigned to them.
The honesty and trust that I am afforded simply because of initials that follow my name. There are some patients that lie, but most are honest and trust me to use the information they give me only for their medical care.
The enlightening conversations about religion and personal values that I've participated in with patients.
Getting post-it notes describing bodily functions and having it be entirely professional and appropriate.
Helping a patient go from helpless to hopeful.
The bitter sweetness of getting called-off for low census and receiving in R-day. (Get out of work free card)
The sense of accomplishment after completing a particularly difficulty nursing task whether it be a dressing change, complex and involved linen change/bed bath/poop clean, or a rolly-vein successful IV stick.
Problem solving with physicians and helping to remedy patients problems and concerns.
The ballet that is a rapid-response of code. (While I NEVER wanted to participate in a code, I have always been some impressed with the teamwork exhibited by healthcare providers in this ultimate time of need.
Being the only Nerd around. I have taken a secret joy in being the go-to tech person. Many nurses fear technology, as one who embraces and loves all things geeky, I am usually the go to person for purchasing advice, broken computers, and EMR issues. It will be odd and humbling to not be the only person who can/wants to help with these matters.
Bedside Care Nursing has been an Honor
I have had the honor being involved with people in their most vulnerable states. I have done my very best to treat every patient with the utmost respect and dignity and provide them with the best care possible. I have laughed with them, cried with them, been frustrated with them, been surprised and impressed with them. I have enjoyed the rollercoaster that is nursing. And I will continue to ride this train, just in different car.
I won't pretend that I am not thrilled with my new role, and I don't anticipate having any regrets in leaving bedside care. In fact, in 10 years my back will likely be thanking me for not breaking it while lifting patients. I wish that others nurses could see that what I will be doing in healthcare is important and will make a difference in patients lives. It will make a difference in their lives. I hope I can continue to call myself a nurse without fear of persecution because I don't perform bed baths and med passes on a daily basis any more.
Old Fashioned Nurse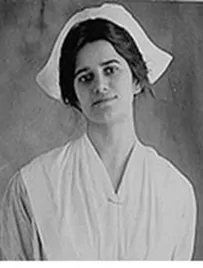 Patient care is something I am good at. When I told a very well respected surgeon that it was my last day on the floor, and at that hospital he replied "I hope you don't plan to leave bedside care forever." I was honored by this. He is an incredibly talented surgeon and I truly feel that God works through his hands. For him to be concerned about "losing a great nurse" was such a wonderful feeling of satisfaction and gratification. If I somehow made an impact and impression on him, and he thought I was great, then I must have been doing something right. Call me old-fashioned, but I still offer the doctors my pen, my computer, my chair, and a cup of coffee in the morning. They help me provide excellent care to patients, and I have gotten their mutual respect and appreciation for these simple gestures. I've said it before, and I'll say it again, I'd rock and cap and wear white, if they wouldn't laugh me out of the place. There are just some traditions I really respect and admire.
Caring for the Chart
There are a million more tiny things that I will miss, and I'm sure I will remember often the great responsibility and honor it was to nurse patients at the bedside. I hope that I can help others fulfill this task in the most efficient and productive manner possible with my work on the ERM systems. My nursing goal is to help the nurses care for the patient and not for the chart, and consequently, I'll be doing a lot of caring for the chart myself. I look forward to helping nurses use technology to provide the best possible patient care. I hope they don't think of me as one of those people "Who doesn't work the floor." I've been in the trenches, and I don't intend to forget what it is like to care for a patient with my own two hands.
Download Nurse Bingo Today!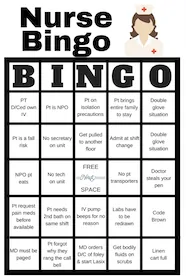 Liven up any shift with a fun game of bingo. See who can fill a row first!
Fill a whole card and lose grip with reality.
Your privacy is protected. We will never spam you.