*articles contain affiliate links*
Whether you are a new or an experienced nurse, IV insertion makes all kinds of nurses nervous. These essential tips will help you out when it's time to insert the IV.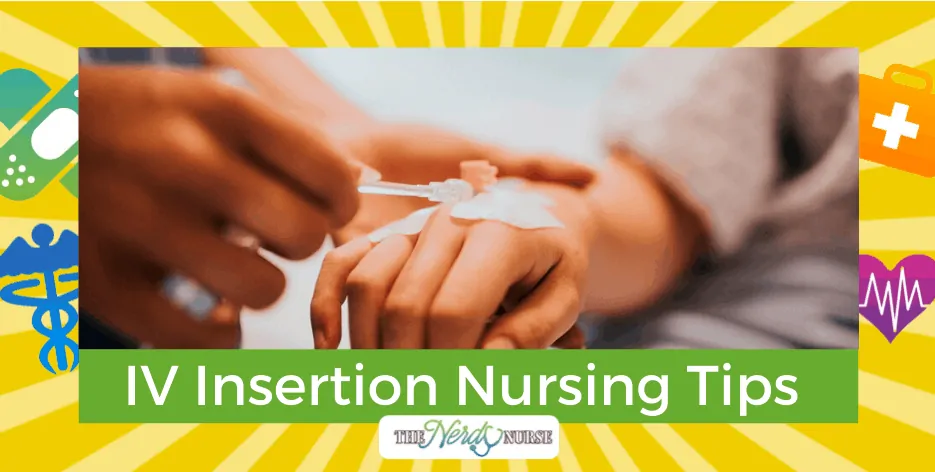 IV Insertion Tips
Inserting an IV is one of those skills you learn in nursing school. But it takes practice and confidence to get it right the first time.
If you are nervous about IVs, that's totally normal and understandable. Blowing a vein or causing the patient pain is both embarrassing and miserable as a nurse. I hope these tips will help you become more successful at IV insertion so you can walk in with the assurance that reassures and calms the patient.
#1 Relax
You might feel nervous, but don't bring this energy into the room with the patient. Relax and be confident in your abilities. If your hands are shaking or your heart rate is too high, it will make it more difficult for you to concentrate and hit the vein. Plus, your emotions could be contagious and make the scared patient even more worried.
Before walking into the room, take a deep breath. Remind yourself that you really can do this.
#2 Talk to the Patient
Talk to the patient and explain what you are doing. Ask them how nervous they are and if there is anything you can do to help them feel more comfortable. Sometimes by helping them relax, it helps you relax as well.
#3 Perfect the Tourniquet
Before you even begin to look for a vein, make sure the tourniquet is one correctly. If you skip the tourniquet completely, you won't see as many veins as when you use it, so it's very important to use one.
Be careful not to make it too tight. This will cut off the circulation, which means there won't be any blood in the veins to make them puffy.
If it is too loose, the blood will keep flowing and won't pool correctly for a good puncture.
#4 Use a Blood Pressure Cuff as a Tourniquet
If you aren't confident in your tourniquet skills, use a blood pressure cuff instead. These are often more comfortable for the patients too, which will help to keep them calm.
Put the blood pressure cuff on upside down so the tubes are facing away from you. Then, pump it up just below the patient's diastolic pressure. This is the most comfortable for the patient. If you make it tighter than that it could cause them pain in their fingers and obstruct the blood flow.
#5 Use The Right Catheter/Cannula Size
Remember to choose the size of the catheter, based on the type of care the patient needs. Use smaller-gauged catheters for patients in non-emergency settings and larger ones for surgical patients are ones that might need a blood transfusion.
You might want to use 22g in a bag of blood that would run for less than 4 hours, or you might use a bigger size if you're going to pressure a bag in.
#6 Cover the Site With Heat
Cover the IV site with a hot, moist towel before trying to insert the IV. This will help bring the veins to the surface and dilate them.
#7 Apply Nitroglycerin Ointment
Another way to help dilate small veins is to apply nitroglycerin ointment to the IV insertion site. Just leave the ointment on for about two minutes. Then disinfect the area with alcohol.
#8 Be Careful With Hand Positions
Always ask your patients to keep their hands below their hearts and make a fist. As you make your insertion, remember to tell them to relax their fist, this will prevent the vein from rolling.
#9 Wear Tight Gloves
If the gloves are too loose, you won't be able to feel the vein accurately. Don't tear the tip of the gloves off because that's unsafe. Instead, wear gloves that are really tight.
#10 Start on the Non-Dominant Side
Of course, it's best to ask the patient which side they prefer, but if they don't care, always try to start on their non-dominant side.
#11 Use a Vein Finder
These little gadgets for nurses are such a huge help. Vein finders are extra helpful for children or infants. They light up vein pathways so you can have a visual direction of where you should insert your catheter.
#12 Aim Shallow
When you put a needle in a vein you can always go further in, but you can't go back out once you've gone too far. Aim shallow and take your time. Go slow and keep going deeper until you hit it.
#13 Stabilize the Vein
Right below the entry sight, pull the vein nice and tight. This supports the vein for the needle entry, makes it less painful for the patient, and prevents the vein from rolling.
#14 Let the Alcohol Dry Before Puncturing
Rubbing an alcohol swab on the insertion site can help the vein become more visible. But make sure it dries completely before beginning to insert it. Otherwise, it could be more painful for the patient.
Take Charge of Your Nursing Career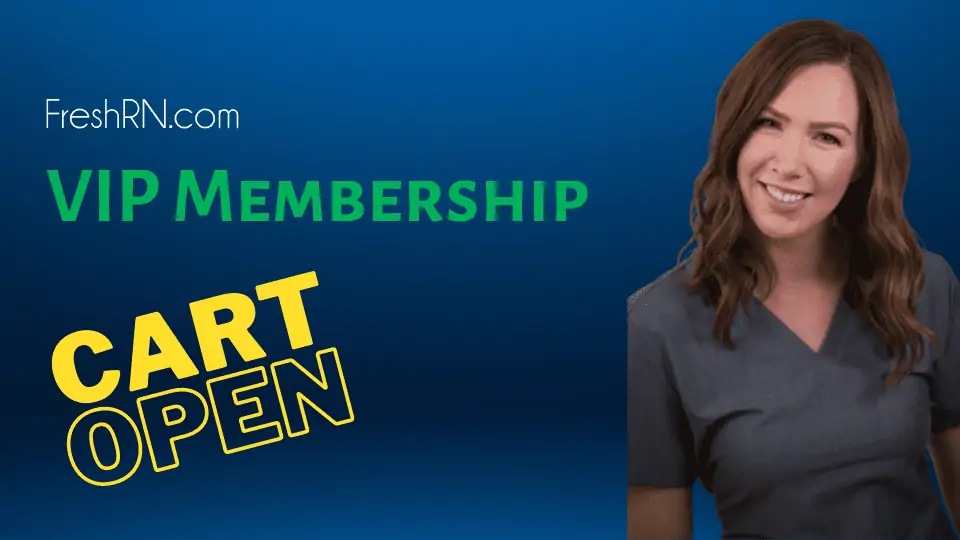 Your first year as a nurse is daunting. You need someone in your corner telling you what your managers really need from you, helping you learn to interact with your preceptor, and really just manage your life. Find all that an more with the FreshRN VIP - Membership.
I'm Ready to Thrive
#15 Find the Right Vein
This is one of the hardest tips to get right and it can make all the difference. Try to go for deeper veins, not just the ones right below the surface. The veins that you usually can't see right away provide better insertion sites. Superficial veins right near the surface are usually too thin.
#16 Go From the Top Not the Side
Insert the catheter from on top of the vein. If you do it from the side it could push the vein sideways, even if it is anchored in your hand.
#17 Know How You Learn
Are you a visual person? Or are your more hands-on? Own how you learn so you can master the art of IV insertion. If you are visual, this video might help you out. Nurse Janx also has some really helpful tips too.
#18 Distract the Patient
The most painful part of IV insertion is right when the needle goes in. To help nervous patients, ask them a question right before you go in that way they are answering – and perfectly distracted – during the "worst" part of it all.
#19 Not Getting Blood? This Might Be Why
Has this ever happened to you? You inserted the needle and you are sure it is in correctly but you aren't getting any blood. This is probably because you are in a sclerotic vein.
IV Insertion Nursing Tips
No matter how correctly you do things, sometimes veins roll or it doesn't work the first time. This is out of your control, so be kind to yourself. Explain calmly to the patient why it happened and just try again in a different spot.
Master IV Insertion with the IV Video Course
If you find yourself anxious when starting IVs and want to get a perfect stick, I've got the perfect solution for you. The IV Video Course from the IV Guy. Packed with 6 video modules with step by step instructions, this is exactly the course you need to master IV insertion.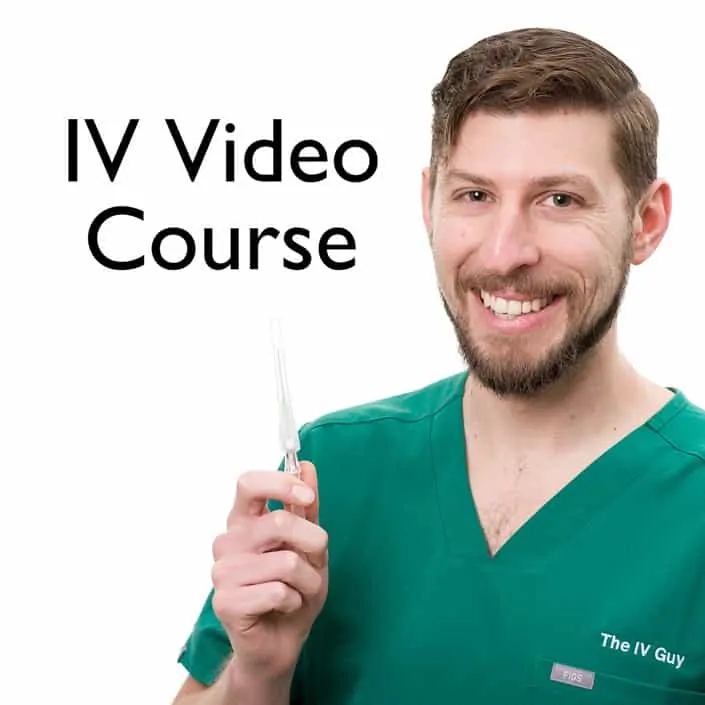 More Nursing Tips That Will Make Your Job Easier
Here are some more nursing tips that will help your job as a nurse be even easier and less stressful.
IV Starts for the RN and EMT: RAPID and EASY Guide to Mastering Intravenous Catheterization, Cannulation and Venipuncture Sticks for Nurses and Paramedics from the Fundamentals to Advanced Care Skills

IV Practice Arm – Phlebotomy and Venipuncture Practice Arm – Designed for Training and Perfecting IV + Phlebotomy + Venipuncture Procedures and Techniques

The Art of the IV Start: Common Techniques and Tricks of the Trade for Establishing Successful Peripheral Intravenous Lines

IV Practice Kit with Phlebotomy/Venipuncture How-to Guide Designed by Medical Professionals for Students to Practice & Perfect IV, Phlebotomy, Venipuncture Related Skills – The Apprentice Doctor

Download Nurse Bingo Today!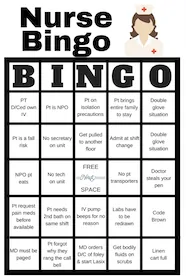 Liven up any shift with a fun game of bingo. See who can fill a row first!
Fill a whole card and lose grip with reality.
Your privacy is protected. We will never spam you.