*articles contain affiliate links*

A post over at ProBlogger, Act Like a Pro, clearly lays out something that was touched on in many of the sessions at Blog World Expo: Be confident in your area of expertise. You are an authority, so own it.
Why I Started Blogging
Forrest Gump said "Now, it used to be I ran to get where I was going. I never it thought it would take me anywhere."
Blogging is to The Nerdy Nurse like Forest Gump it to Running.
When I originally started my blog, I knew that it had potential to do things for me and take me places. At the time that wasn't my focus. My focus was to release some of the built of frustrations I had while dealing with lateral violence as a new nurse. My intention was to have someone say to me "You are not alone." I didn't realize that I would be the one who would be helping others. After all, I initially started blogging to help myself. Because I didn't shout from the rooftops how wrong bullying in nursing was, I was going to lose my mind or perhaps be one of those statistics where nurses leave their profession forever.
I am an Expert
But after blogging for a while now, it has become apparent to me that I am an expert. At the risk of sounding arrogant, I have avoided saying that very phrase: I am an expert. But, what makes me an expert and why should I tell people about it?
I am an expert in using social media to promote innovation in healthcare and technology because I live and breathe it everyday. I am an expert on lateral violence and the methods to be used to combat it because I experience it first hand, have spent countless hours researching the phenomena, and know the legal implications a company can face if they allow it to happen. I am an expert because my passion in the areas of nursing and technology has forced me to constantly strive to promote innovations to help nurses and medical professionals work smarter not harder.
Why is it so Hard to Say: I am an Expert?
But why has this been so hard for me to put these words into print? Why have I been almost embarrassed when I go to a blogging convention and someone complements me? Why have I almost felt guilty to own my own expertise? Why is it a challenge for me to be completely convinced of my worth as an expert and an influencer?
I've never been one to be a doubter of myself. But I've already really never had anyone confirm how great they thought I was, except for my mother. My whole life I've been striving to prove my value and worth to those around me while often being told that I should keep quiet, no one cared about what I thought, and my confidence would be associated more with conceit than with self-motivation and positive attitude.
That's Just Crazy
In fact, I've even been crazy when I tried to express to someone the importance of voicing your opinion to hospital authorities about changes taking place that I wasn't comfortable with. Crazy for wanting to advocate for myself, my fellow nurses, and my patients. If that's the criteria one requires to be considered crazy, well book me a room at the mental institution, because I'm dog-gone insane.
This is the point where I made the distinction between two very different types of people in this world. Leaders and followers. Movers and shakers and status-quoers.
My response to the crazy comment to this individual was: If it wasn't for people like me then we'd all still be living in caves and clubbing each other over the heads. We'd be marveling every time lightning struck the ground and blessed us with fire. We'd die at 30 and we'd all be none-the-wiser.
I don't know about you, but I like my meat cooked and my head free from club-bashing.
Hesitation in Owning Your Expertise
What do I attribute this hesitation to owning my expertise?
For me it is being a female growing up in the South.
Down here women are still not given the respect and authority we deserve. My very own father cannot accept the fact that my husband is a stay at home dad and I am the sole bread-winner.
I am not saying that the rest of the world can embrace change easily, but we always seem to be 100 years behind the rest of the country. It certainly doesn't help to build your confidence when your own father tells you to know your place as a a woman.
Blogging Makes You Aware of Your Authority
My journey in the blogosphere has afforded me opportunities to branch out and travel across the country on a few occasions. When I am away from here, I'm told I am funny, and smart, and entertaining. My nerdy little ego is stroked to the likes of which I never have gotten in my hometown. When I tell people new people I meet how annoyed everyone seems to be with me in my neck of the woods they seem almost flabbergasted. Perhaps they are just being friendly, and considerate. Afterall, I'm a fond believer in stroking each other's egos at blogging conventions and in social media, but truly this southern pond is a tiny place.
Geographic Small Ponds and Big Fish
So for you all you big fish out there, your geographic pond may be a tiny one. You may be seen as a nuisance to those around you who are perfectly content with the status-quo. They may be forever content with settling, the minimum. But if you aren't, there is a place for you. You do not have to feel alone in your desire to innovate and improve the world around you. I can confirm that there are those in this world who will value your opinion and your expertise.
You Are an Authority
You are an authority on the things you are passionate about. Own it. Tell the world about it. Blog about it. Share it with everyone. And if they don't care to hear it, then they can stay in the small pond.
Tell the World How Great You Are!
With the internet and social media being ubiquitest in our everyday lives, there is no excuse for not telling the world how great you are. Because you are!
My name is Brittney. I'm a patient, nurse, and technology advocate. I'm The Nerdy Nurse. And I am an expert.
If you'd like to get a little taste of the empowerment I experienced at Blog World Expo, you can still get your BlogWorldExpo Virtual Ticket.
Download Nurse Bingo Today!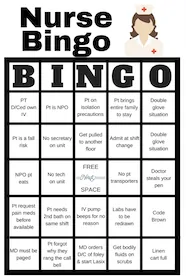 Liven up any shift with a fun game of bingo. See who can fill a row first!
Fill a whole card and lose grip with reality.
Your privacy is protected. We will never spam you.