*articles contain affiliate links*
Types of Nurse Practitioners
Nurse Practitioners (NPs) are advanced practice nurses that are sometimes referred to as mid-level practitioners. However, they are providers and in 20 states NPs have full practice authority, which means that they don't have to be supervised by a doctor. In the other states, NPs still have more authority in comparison to RNs, however, they would need to have a medical doctor sign in some cases of patient care decisions. In this post, we will look at the types of nurse practitioners and nurse practitioner specialties.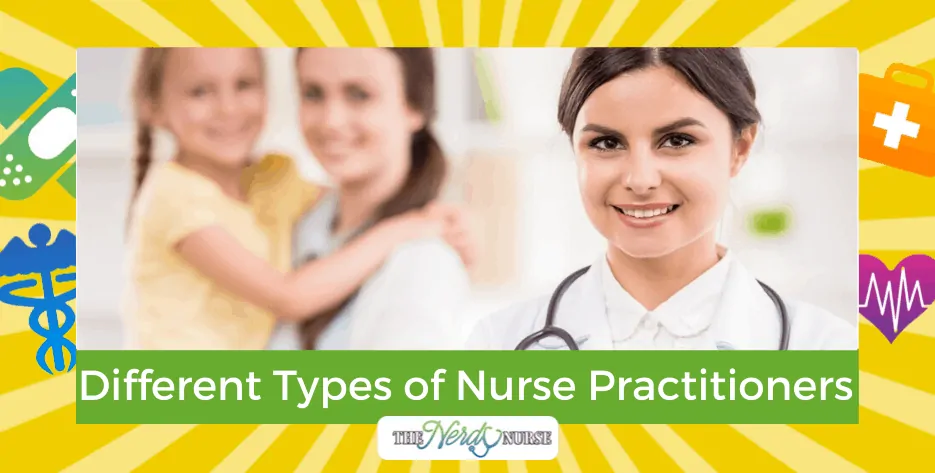 What do Nurse Practitioners do?
Nurse Practitioners (NPs) are trained to assess the needs of patients, diagnose diseases and illnesses, order and interpret laboratory and diagnostic tests, prescribe medication, and formulate treatment plans for patients.
How long does it take to become a Nurse Practitioner?
A Nurse Practitioner is an advanced practice registered nurse (APRN), in order to become a Nurse Practitioner you would need to do the following:
Firstly obtain an RN (registered nurse) license. This would take you about two to four years depending on the course of study route you choose to take. If you opt for an associate's degree or a diploma in nursing (AND), it would take you about two to three years to complete. If you opt for a Bachelor of Science in Nursing (BSN), it would typically take you four years. Once you have completed your chosen program, you would need to pass the NCLEX-RN, which is the National Council Licensure Examination. Now, you are an RN.
Secondly, you would need to obtain your Master of Science in Nursing (MSN) in your chosen specialty. Depending on your chosen program, it would take you two to three years to complete. Most of the programs would prefer for you to have a BSN, however, there are programs that intake ASN (Associate of Science in Nursing) and RN- this Master program would take you generally between two and two and a half years to complete.
Lastly, you would need to obtain APRN Certification, which takes less than a year. Once you have graduated, you can take your APRN certification exam to meet the state licensure requirements. The timeframe varies, but it generally takes a couple of months of studying to pass the exam and become certified. You can obtain specific APRN certification through the following organizations; National Board of Certification and Recertification for Nurse Anaesthetists, Pediatric Nursing Certification Board and the American Midwifery Certification Board.
So to become a Nurse Practitioner it would take you four to seven years.
Core values of Nurse Practitioners
Empathy
By working as a Nurse Practitioner, you should know the true value of compassionate care and empathy. This is your ability, as a nurse, to be aware of, to understand, to be sensitive to, and to experience the feelings, experiences, and thoughts of your patient. Empathy is respecting the dignity of your patients as well as appreciating their self-actualization and independence.
Teaching
When you're working as a nurse you would have the important role of assisting patients and their families with information that would be needed to maintain the optimal health of the patient. The information that you would be providing is based on your assessment of the patient, which is complete, relevant and accurate. You would also clarify the information that is provided by the other healthcare team members.
Communication
Being a Nurse Practitioner requires you to have good communication skills, to be able to exchange messages, thoughts, and information- it is of utmost importance in the process of nursing. You will also be using your communication skills during the assessment of your patients- behavior, signals, speech, and writing- and you will implementing, planning and evaluating the nursing care provided to your patients. Communication is important because you will be dealing with many people- patients, their families, healthcare team members, and other groups of people. You need to be competent in written, oral and in the techniques of therapeutic communication.
Applied Therapeutics
As a nurse practitioner, you would be applying therapeutic modalities such as nutritional and pharmacological interventions and so on. When you apply these modalities, it is based on your knowledge of these therapeutic uses, in addition to your skills in the assessment and evaluation of the patient.
Ethical and Legal Considerations
There are specific legal and ethical boundaries when you're a Nurse Practitioner, and you evaluate, plan and provide nursing care based on these boundaries. You can find the Code of Ethics for Nurses, which provides an informative framework on how to perform correct and safe practices as well as behavior. This also comes down to ethical behavior, which involves confidentiality, accountability, fidelity, responsibility, truthfulness, and justice. When it comes to legal considerations, in nursing it is defined as regulatory, statutory and common law. There are also professional standards of care that provide legal guidelines for nursing practices. In terms of patient care, it would be issues such as abandonment, negligence, battery, informed consent, malpractice, and assault. Therefore, it is of utmost importance for you, as a nurse, to know and understand the legal boundaries- this would enable you to not only protect the rights of your patient but to protect your rights as well.
Psychomotor Skills
As a Nurse Practitioner, you would learn psychomotor skills by practice- once you have achieved your understanding of the basic principles of skills when you're studying. It's part of the nursing fundamentals, laying of hands to provide your patient with comfort, and using specific skills for an accomplished patient assessment to be able to evaluate and provide nursing care.
Critical Thinking
As an NP you are constantly needed to make appropriate and accurate clinical decisions, therefore you should have the ability of critical thinking to be able to make decisions when there's a problem with a patient. Remember, not all problems have clear textbook solutions, sometimes you'll experience a situation that has no textbook solution- you should be able to think and act accordingly.
Professionalism
As a nurse, you would need to be professional in terms of your behavior when it comes to patients, yourself, others and the public. Your behavior would reflect the true values of nursing as a profession. You are professional also by being knowledgeable in your specialty, being conscious in then actions you take, and by having the responsibility of others and yourself.
Nurse Practitioner Specialties
We've talked about how to become a nurse practitioner and what the job may entail. Now let's look at the types of nurse practitioners so you can find the specialty that is right for you.
Primary Healthcare Nurse Practitioner
Once you earn your certification of PHC-NP, you become a Primary Healthcare Nurse Practitioner. This type of nurse practitioner will be a specialist in your patient's primary healthcare and you will be able to provide effective, accessible and comprehensive care to patients of all ages.
Psychiatric-Mental Health Nurse Practitioner
Your focus would be on your patient's mental illness- just like psychiatrists. Your duties would entail treating your patients, prescribing their medication, counseling the patients that have mental health issues like anxiety, depression and other disorders. Once you earn your PMHNP-BC you will become Psychiatric-Mental Health Nurse Practitioner-Board Certified.
Pursuing this speciality? See our tips to pass the PMHNP exam.
Family Nurse Practitioner
By earning your FNP-BC certification, it will make you Family Nurse Practitioner-Board Certified. This specialty allows you the most flexibility in terms of working in a healthcare setting, or even to start your practice. By working as a Family Nurse Practitioner, you will be working similarly to a family doctor. You will work in clinics, hospitals, start your practice or in medical offices. Some of your duties would entail prescribing medication, diagnosing and treating patients, providing overall wellness check-ups, and so on.
Neonatal Nurse Practitioner
As a Neonatal Nurse Practitioner, you would be working in neonatal intensive care units (NICUs) and in nurseries. Your duties would include providing critical and generalized healthcare to infants and new-borns while being an interface with healthcare providers and parents. You can acquire various different certifications, Neonatal Intensive Care Nursing (RNC-NIC), Inpatient Obstetric Nursing (RNC-OB), Maternal Newborn Nursing (RNC-MNN), Low-Risk Neonatal Nursing (RNC-LRN) or Neonatal Nurse Practitioner (NNP-BC).
Pediatric Nurse Practitioner
This is a great specialty if you love working with younger children in the age range of infants to adolescents. Your duties would entail the primary healthcare of young patients to achieve healthy emotional and physical development. Once you earn your PPCNP-BC you will become Pediatric Primary Care Nurse Practitioner-Board Certified.
Women's Health Nurse Practitioner
When working as a WHNP- Women's Health Nurse Practitioner, your duties would entail the primary healthcare of women. This could include fertility, prenatal management, overall wellness care, and planning. You can work in different settings from family planning clinics, to adult or internal medicine, to ambulatory OB-GYN clinics, and more.
Dermatology Nurse Practitioner
As a Dermatology Nurse Practitioner, you will be involved in the diagnosis and treatment of skin conditions and injuries, which could range from acne to burns, to skin cancer, to rosacea or psoriasis and more. You will be performing skin exams, recording your patient's medical history and test results as well as assess your patient's condition. You will also be providing preoperative and postoperative care for the patients that have undergone surgical procedures or other treatments. Once you achieve your DCNP certification you will become a certified Dermatology Certified Nurse Practitioner.
Adult gerontology Nurse Practitioner
Much like a family Nurse Practitioner, your specialty would entail providing primary care in outpatient places like medical offices or clinics. You would mainly be working with adults, however, you would be working with older patients who need to come in for routine checks or have chronic or minor illnesses. When you complete your certification you will earn your AGPCNP-BC credential, making you Adult-Gerontology Primary Care Nurse Practitioner-Board certified.
Aesthetic Nurse Practitioner
As an Aesthetic Nurse Practitioner, your role would be to help your patients boost their confidence and feel at their best. You would perform procedures that are non-surgical and use therapeutics to assist your patients with their appearance cosmetically, for instance, anti-aging fillers, acne treatments, and so on. Once you earn your CANS certification you will be a Certified Aesthetic Nurse Specialist.
Emergency Nurse Practitioner
When working as an Emergency Nurse Practitioner, the care that you would be providing in the emergency room is of a broad spectrum. This is why you would have to learn and know the facets of primary care, that are many- this is so that you would be able to work with the variant population and being able to understand the healthcare needs of the patient. You would need to earn your ENP-BC, which is the Emergency Nurse Practitioner-Boars Certified credential.
Now that you know the types of nurse practitioners and nurse practitioner specialties you can make a better decision on if this career is right for you. You will want to consider nurse practitioner salary as well as the demand for nurse practitioners in your area. What type of nurse practitioner can you see yourself becoming?
Family Nurse Practitioner Certification Intensive Review, Third Edition: Fast Facts and Practice Questions – Book and Free App – Highly Rated FNP Exam Review Book

Practice Guidelines for Family Nurse Practitioners

Nurse Practitioner Bracelet, Gift For Nurse Practitioner, Stainless Steel Bracelet:

Womens Nurse Practitioner Not For The Weak Strong T Shirt For Women