*articles contain affiliate links*
Colorado Technical University has created a FANTASTIC infographic representing various Nursing Specialties.
Options for nurses have grown dramatically as breakthroughs in treatment and science have exploded in recent years. And demand? With nearly 55% of all nurses expected to retire during the next decade, opportunities for those with the skills and passion to serve in this profession are vast. Exploring this prestigious calling is a first step for all future, licensed nurses. Of those taking the examination all licensed nurses must take and pass, 59% held an Associate Degree in Nursing. Many who pass this exam will continue on to receive their R.N. and advanced degrees in nursing.

Of course this is only a fraction of the career paths and opportunities available to you if you choose nursing as your profession. You could choose Nerdy Nursing, I mean, Informatics Nursing… It's just one among the many other great choices and alternatives to bedside care. There are so many areas that you can use a nursing degree to positively impact healthcare.
Just as nurse uniforms have changed over the years, so have the specialties available to nursing professionals. Do not limit yourself and face burn out early in your career. Explore your options and find a specialty that moves you.
You can also follow the creator of this great nursing infographic on twitter! Special thanks again to Colorado Technical University for this great infographic representing some nursing spice!
Download Nurse Bingo Today!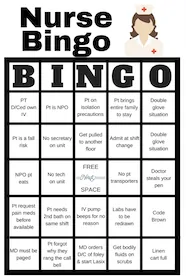 Liven up any shift with a fun game of bingo. See who can fill a row first!
Fill a whole card and lose grip with reality.
Your privacy is protected. We will never spam you.